M.A. Program Specializing in Educational Policy
Department of Educational Studies
Image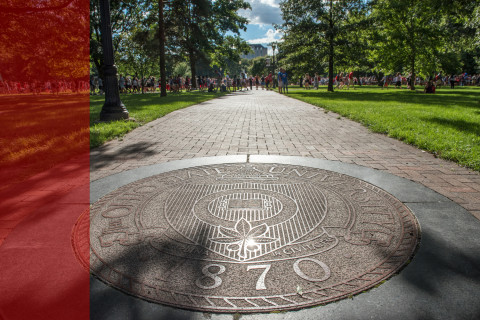 Required Foundations Course (choose one, 3 hours)
ESPHE 6250 History of Education (3)
ESPHE 6410 Philosophy of Education (3)
Required Multicultural and Human Diversity Course (choose one, 3 hours)
ESEPOL 5217 Comparative Education (3)
ESPHE 8201 Social Foundations of Education (3)
ESCFE 8209 Cultural Processes in Education (3)
Required Research Course (6 credit hours)
ESEPOL 7225 Educational Policy Inquiry (3)
Additional research course approved by your advisor
Specialization Requirements (15 credit hours)
ESEPOL 6000 Introduction to Educational Policy (3)
ESPHE 7222 History of Educational Policy (3)
ESEPOL 7224 Educational Policy Analysis in Contemporary Culture (3)
ESEPOL 7100 Writing for Educational Policy Audiences (3)
ESEPOL 8312 Politics and Political Leadership in American Education (3)
Elective Requirements (minimum 3 hours)
ESEPOL 8352 Educational Policy in Democratic Society (3)
ESPHE 8410 Ethics and Education: Equality, Freedom and Justice in Schools (3)
ESHESA 7568 Higher Education and Public Policy (3)
ESHESA 7569 Higher Education Governance and Policy Analysis (3)
ESLTECH 6223 Issues and Practices in Educational Technology (3)
ESTEPL 8421 Inquiry into Teacher Education (3)
Students who intend on pursuing policy work after completion of their degree will complete a minimum of 3 hours of practicum for their elective course.
Practicum
ESEPOL 8193 Independent Study for Policy Practicum
Students writing a thesis will complete a minimum of 3 semester hours with a member of their committee to reflect their research and writing of the thesis.
Thesis Preparation (minimum 3 semester hours)
EDUCST 7999 Thesis Research: Educational Studies
-OR
Guidelines for Formatting Theses, Dissertations and D.M.A. Documents: http://gradsch.osu.edu/Depo/PDF/Guidelines.pdf.
Thesis
Graduation Review
Application to Graduate: http://gradforms.osu.edu
Master's Student Procedures – Final Semester: https://gradsch.osu.edu/completing-your-degree/final-semester/final-semester-checklists
For more information about courses, please go to www.buckeyelink.osu.edu and click on Schedule of Classes.
Non-thesis minimum of 30 credit hours;
Thesis minimum of 33 credit hours