Obesity Sciences (OBESITY-GIS)
Image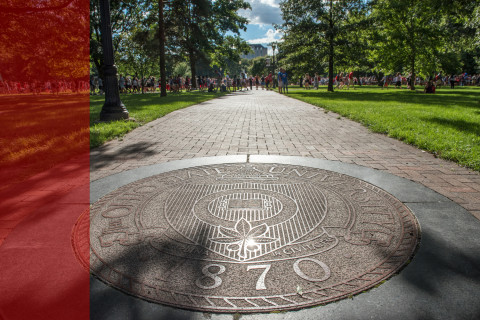 Graduate Interdisciplinary Specialization Program
---
Course work (10 hours)
Core Required Course (3-4 hours)
HDFS 7570 or PUBHHBP 7570 Obesity, A Multidisciplinary Foundation (2 hours)
Capstone Project Independent Study Course (1-2 hours)
Students will enroll with a faculty mentor for 1-2 credit hours of independent study to be counted toward their GIS requirement. Students will be aligned with the mentor to immerse themselves in the mentor's research and to learn a new area of obesity research. Student will enroll in independent study credit through his/her mentor's department. An additional requirement is that the student will integrate his or her GIS coursework to create a scholarly deliverable (e.g., review paper, meta-analysis, intervention design, and program evaluation) and present the product in a capstone symposium with other students in the GIS. Symposiums will be scheduled during the last three weeks of the autumn and spring semesters of the independent study and open to the university community.
Elective Courses (minimum 9 hours, at least 2 separate courses)
Students will choose at least two separate courses from the following list of courses that represent the content modules: biomedicine, policy and industry, behavior, and sociocultural. Additional or alternate courses may be included with input from their GIS advisor.
Biomedicine
HUMNNTR 7761 Macronutrient Metabolism (4)
HUMNNTR 8801 Diet, Nutrition and Cancer (3)
ANIMSCI 8833 Diet, Nutrition and Cancer (3)
PUBHEPI 6415 Nutrition in Public Health (3)
PUBHEPI 8411 Epidemiology of Obesity (3)
Policy and Industry
PUBHHBP 7542 Settings and Special Populations in Health Promotion (3)
PUBHHBP 7558 Social-Ecological Strategies in Prevention (2)
HDFS 5897 Special Topics in Prevention Science (3)
PUBAFRS 5890 US Food Policy (3)
PUBAFRS 5900 Food Systems Planning and the Economy (3)
Behavior
MEDDIET 6300 Advanced Nutrition and Metabolism (3)
MEDDIET 6900 Nutritional Genomics (3)
MEDDIET 6200 Community Nutrition and Health (3)
CONSCI 8270 Managing Consumer Risk (3)
ESCE 5271 Wellness: Achieving a Healthy Lifestyle (3)
HUMNNTR 5705 Nutrition and Physical Performance (2)
HUMNNTR 7804 Advanced Community and International Nutrition (3)
HUMNNTR 8836 Advanced Nutrition Genomics (3)
KNHES 7726 Changing Physical Activity Behavior (3)
KNHES 7720 Measurement in Physical Activity Behavior (3)
Sociocultural
CSFRST 7574 Aesthetics, Appearance Management, and Self-Presentation (3)
ESSPSY 7028 Cultural Diversity (3)
HTHRHSC 7010 Health Literacy (2)
HDFS 7500 Families, Systems, and Health (3)
NURSING 7491 Health Promotion and Disease Prevention across the Life Span (3)
NURSING 6430 Cultural Competence in Health Care: US and Global Contexts (3)
SOCWORK 6201 Social and Economic Justice (3)
SOCWORK 6202 Diversity and Cultural Competence (3)
Fast Fact
Applications to enroll in the GIS are accepted during the first three weeks of autumn semester and the first three weeks of the spring semester and are reviewed soon thereafter by the GIS Coordinating Committee.
Students enrolled in the Graduate Interdisciplinary Specialization (GIS) in Obesity Sciences must be Masters or PhD students in good standing (i.e., GPS ≥ 3.0) with permission of their primary advisor and currently enrollment in the University. To earn GIS designation on their transcripts upon graduation, students must complete at least 10 hours of graduate-level course work. At least 9 hours must be completed from outside the home graduate program, but may include cross-listed courses (e.g., PBHHBP/HDFS 7570). Obesity: Multidisciplinary Foundations (cross-listed in Human Sciences and Public Health) is a 2-credit required core course that should be taken the first spring semester after enrollment in the GIS.

*At least 9 credit hours (approx. 3 courses) out of the 10 credit hours required must be completed from outside the student's home graduate program. These 9 credit hours may include cross-listed courses (e.g., PUBHHBP/HFDS 7570).
Minimum hours: 10 (9 credits outside of student's program)