Section Items
Candidate Preservice Assessment of Student Teaching (CPAST)
Multi-Institutional Collaboration
The vision of the VARI-EPP project is to collaborate with Educator Preparation Programs to develop freely available valid and reliable instruments. These forms address the Council for Accreditation of Educator Preparation (CAEP) call for educator preparation programs to develop instruments that are valid and reliable for use in accreditation. This Project is funded by Race to the Top, University Center for the Advancement of Teaching (UCAT), and American Association of Colleges of Teacher Education (AACTE) State Chapter Grant.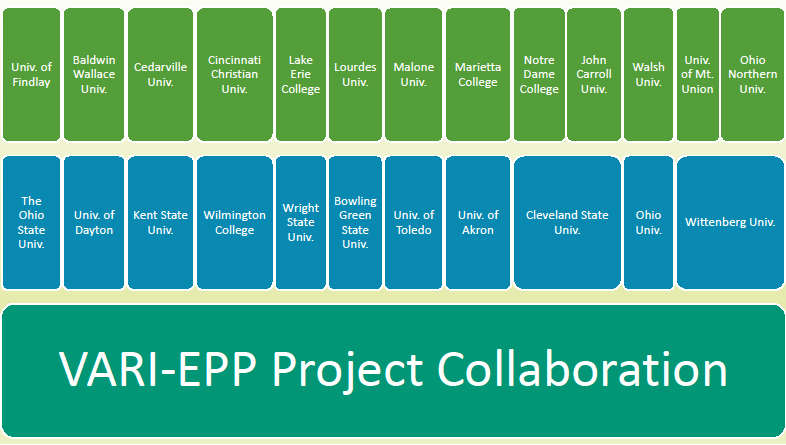 CPAST Form
The CPAST Form was researched and developed by VARI-EPP. It is a valid and reliable formative and summative assessment during the student teaching practicum.
The form has two subscales: Pedagogy (13 rows) and Dispositions (8 rows). And each of the 21 rows contains detailed descriptors of observable, measurable behaviors to guide scoring decisions. University supervisors are required to complete a self-paced 90-minute online training module before using the instrument. And an additional "Look Fors" resource is also available to provide and elaborate on the qualities and behaviors for a given level of performance of each row (i.e., evidence and sources of evidence).
The current daily administration of the CPAST instrument including creating and maintaining supervisor trainings, onboarding of new institutions, and data collection and distribution is provided by The Ohio State University. As CPAST partnership is at no cost to institutions, this administration is provided as part of the University's land-grant mission and in a spirit of mutually beneficial collaboration between EPPs. If your institution is interested in becoming a CPAST partner, please review the CPAST summary and then contact EHE-CPAST@osu.edu for more information.
If you are interested in using the CPAST Form, contact EHE-CPAST@osu.edu.
CPAST Partners
There are currently approximately 100 institutions using this form nationally to meet their assessment goals. CPAST partners are given access to a wealth of documents including the form itself, preCPAST information, SPA addendums, and personalized data reports (for institutions residing in a state with 5 or more partners only). Partners should access this information via BuckeyeBox, to which they are invited upon MOU. MOUs are renewed every two years. Partners are not to post materials publicly per the validity requirements on the form.