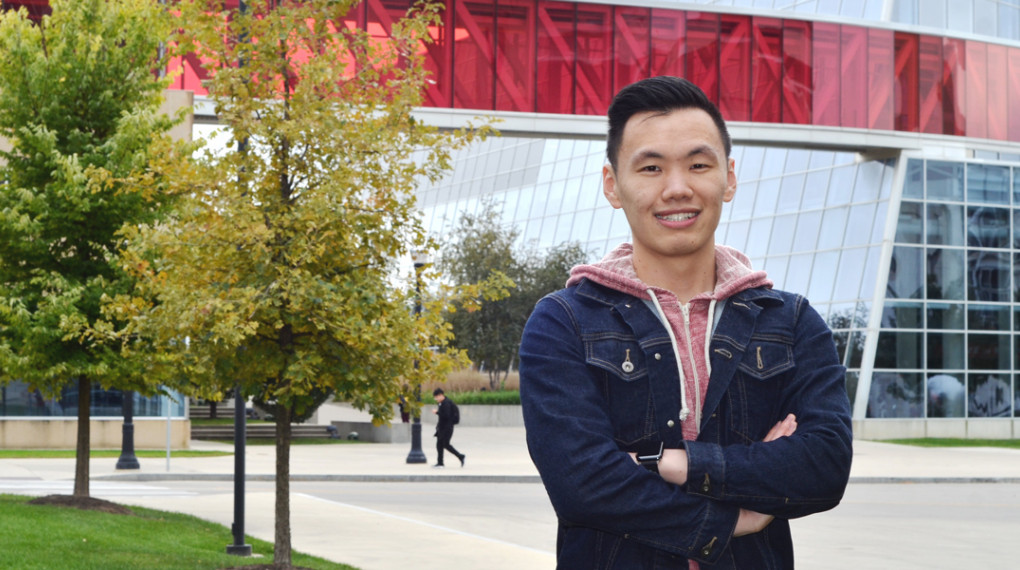 YIZHI "IAN" LI
Hometown: Shanghai, China
Program:  PhD, Consumer Sciences

Degrees: MS, Hospitality Business Management - Michigan State University
Section Items
"Each faculty member provides the most and best attention to their students. Advisors really care about the success of their students."
Tell me about your research interests and why it's important to you.
My research focus is consumers' psychological and behavioral responses to hospitality establishments' services, diversity management as well as gender/queer studies in hospitality, and the emerging lifestyle hotels. As minority groups are substantially understudied in the hospitality field, my research helps hospitality establishments to understand the needs of their consumers, and more importantly to protect employees from a minority community. Additionally, since the concept of lifestyle hotels is relatively new, little is explored in the academia on that topic, and I would like to be one of pioneers to tap on that discourse. 
Why is Ohio State the best place for you to do this research?
Both Wendy's and White Castle have their headquarters here in Columbus, and the dynamic city is known to be the test market for hospitality establishments. The Ohio State University is a prime location to conduct hospitality research because of the easy access to representative samples. Additionally, being a well-established university, Ohio State has tons of resources for students to utilize, such as the writing center and prompt library services.
What's the strength of the Consumer Sciences doctoral program?
The consumer sciences doctoral program accepts very limited number of students each year so that each faculty member can provide the most and best attention to their students. That being said, a sense of closeness is created in the program. Advisors are considered as friends by the students and they really care about the success of their students. For the same reason, students also know each other well, which creates plenty opportunities for them to collaborate with each other when conducting research.
You founded a student organization at Ohio State. What made you want to do this?
The department has a student organization for undergraduate hospitality students but not for graduate students. Starting from there, some faculty members suggested the idea of creating a student organization of our own. I did see a need to bring PhD and masters students together in the Hospitality and Retail Management program so our graduate students, especially incoming ones, can feel a sense of connection with other senior students and better adjust their academic and social lives. On top of that, having a student organization can provide more opportunities for our students to gain travel funds for academic conferences. Thus, I took the initiative and founded The Hospitality and Retail Management Graduate Student Association.
What advice would you give to students looking at the programs in Consumer Sciences?
Be prepared. Be prepared to be submerged in busy school work and the knowledge you'll gain. Be prepared to take initiatives to design and lead your own studies. Be prepared to join the family created by your fellow students and faculty members. Be prepared to be a proud Buckeye on game days. And be prepared to enjoy the offerings from the city of Columbus.
How do you manage the demands of your doctoral program, running a student organization, and still have a personal life?
Good time management and prioritizing things is the key. I tend to postpone things, but I do keep deadlines in mind and leave enough time to finish my tasks. On the other hand, being a doctoral student and running a student organization at the same time does mean I have to sacrifice some of my personal life, but that doesn't mean I have no personal life at all. People say time is like water in a sponge, there is going to be some if you squeeze hard enough. For instance, whenever I feel stressed out by school work, I could go to the RPAC to sweat it off. Some other times, I would combine them together as I would hang out with our faculty members and get things done while I'm with them, both school work and organization-related issues.
When you look back at your educational experience at EHE, what will you always remember?
One thing I'll always remember is the sincerity from the faculty members. Everybody projects the image that they are there for you and they want you to be successful in the future. This doesn't mean that they will act like your parents and nag at you, graduate students as adults need to take full responsibility of what they do. Another thing is that we get to create our own curriculums as long as they are approved by the program. The faculty members listen to whatever you are interested in and advise you to take courses in relevant departments such as Fisher and psychology. They do value the student's personal interest highly. For instance, I am the first one in our program to take a seminar form the sociology department because of my research interest.
What makes Columbus a great city to live and learn?
Columbus is known to be one of the fastest growing cities in the States. This city is very much alive and full of opportunities. It is not too big but also not so small with so many things you can do, such as, the Greek Festival, the monthly Gallery Hop, and the Food Truck Festival. There are districts like downtown, the Arena District, and Short North where you can experience the urban life, and also metro parks like Highbanks that only takes a short drive where you can embrace nature. Here in Cbus you'll also meet people from all over the world for them to be your fellow students, uber driver, or restaurant server. Cbus is a great city to live in and learn for it is dynamic and vibrant.