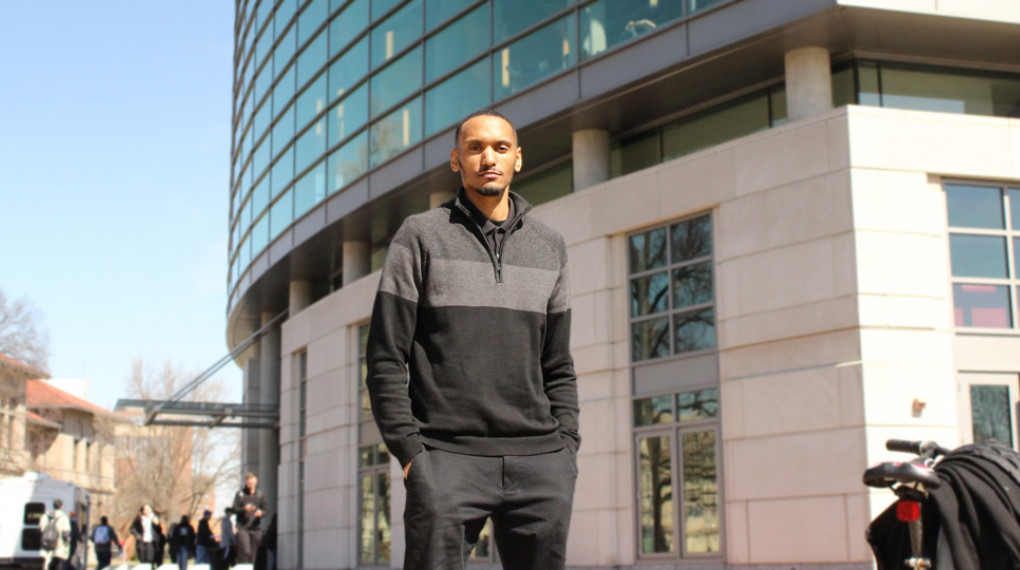 Section Items
"The HESA program at Ohio State is one of the best in the country. I think for anyone who wants to work in higher education or student affairs, coming out of HESA will leave you very well-prepared."
Why did you decide to study at Ohio State?
I completed my master's degree here. I was already very familiar with the HESA program and Ohio State. I'm hard-pressed to think of a better training environment for current or aspiring higher education administrators. When you take into account the caliber of the program as well as the organizational complexity and dynamics of Ohio State, there is just so much that you can learn in this unique environment to apply to situations in future practice.
What is the best part of studying at Ohio State?
As someone who studies how colleges work, just being here. I have access to so many great students, colleagues and leaders whom I can learn from on a day-to-day basis. I can go on about the resources and opportunities to develop academically and professionally (of which there are plenty), but above all it's the people that make this a great place.
What do love about the HESA program at Ohio State?
The HESA program at Ohio State is one of the best in the country. I think for anyone who wants to work in higher education or student affairs, coming out of HESA will leave you very well-prepared. As an EdD student specifically, the curriculum and dissertation-in-practice align perfectly with the knowledge and skills I will need to solve the kinds of problems I want to solve. Also, some of the biggest names in our field teach in the program, and everyone is friendly, approachable and genuinely wants to see you succeed.  
What makes you successful in the HESA program?
Being in the EdD program while working full-time challenges you to be more intentional with your time. When classes begin, I like to spend the first weekend taking a bird's eye view of my upcoming semester. I break down all of my assignments into smaller pieces, and then add them as to-do list items on my calendar. I maintain both work and personal/school calendars, so at any given moment I know what I should or could be working on. While it may seem like a lot of work, it's really not. By creating this structure and striving to stick to it as much as possible, I can identify gaps in time that I can dedicate to other things (i.e., family, leisure, etc.). For me, this practice helps to reduce stress and keeps me motivated due to built-in checkpoints.
Also, think about what it is you envision yourself doing or want to learn more about. The more clarity you have, the more you can orient your assignments, coursework, and other opportunities towards those ends. This helps you stay engaged as well as make the most of what HESA has to offer.
Talk a bit about the diversity of experience you get in the HESA program.
My cohort consists of folks from completely different backgrounds, professional experiences, personal characteristics and identities. I really appreciate the discussions we have in our classes, which is where you really see our diversity play out. One person will bring up something and then someone else might bring in a completely different perspective to it – pushing everyone to think more critically about it. Our diversity definitely contributes to the strength of the program.
What makes your professors stand out to you?
Honestly, the faculty in the HESA program are a big reason why I decided to apply for it. Not only are they the cream of the crop, but they care about your success. They will talk to you, open their calendars for you, give you advice, etc. They care about your experience. They don't necessarily have to go above and beyond, but they do.
How has Ohio State and the HESA program inspired you?
The No. 1 source of inspiration is the students. It's really fulfilling to see someone come in as a first-year student not really knowing what's going on or what they are going to do. Then, to watch them go through the trials, tribulations, and triumphs of college enroute to the finish line. Knowing that your efforts helped them aloung that journey is really rewarding.
There's an abundance of top-notch and high-quality leaders at Ohio State, from professors to administrators, to staff members. There are so many who I look up to in my classes, in my department and on campus. It's hard to not be around people who are really good at what they do and not think 'Wow. I want to be like that one day. I want to be like that kind of person.'
What are your career aspirations?
I hope to lead a student services division one day, as director, and perhaps eventually assistant dean or dean. I've played sports my entire life, so I've always loved setting goals and achieving them with a group of diverse yet commonly dedicated individuals. As a natural strategic thinker and planner, the prospect of building something that removes barriers or creates opportunities for others and watching it grow and develop over time is exciting.
What do you like about living in Columbus?
I have lived in Columbus now for over seven years. I like Columbus for a lot of reasons. First, it's a major city but has a low cost of living. So, you can still enjoy a lot of the things you'll find in other places, but you won't have to break your wallet to do so. Second, as an avid sports fan, I really like the sports culture. I love that people outwardly root for their team, and nothing compares to game day during football season. Third, I like the location of Columbus. It's not that far of a drive to get to a lot of other major cities. Columbus is up and coming in a lot of ways. It's the biggest city in Ohio. A lot of jobs are being created. The economy is strong. There is a very diverse population here. It is Midwestern living at its finest.
What is a piece of advice that you give to other students considering HESA?
The EdD program is part-time, but it is not a passive endeavor. When it boils down to it, you have to be internally motivated and connected to a "why" in order to be successful. Think deeply about how this experience may fit into your personal journey and career aspirations. In other words – think about why this makes sense for you as you consider the program. You will be challenged, so when you go through those rough patches being able to remember what your goals are and why you are even doing this will help you to persevere. That said, it will all be a very rewarding experience.