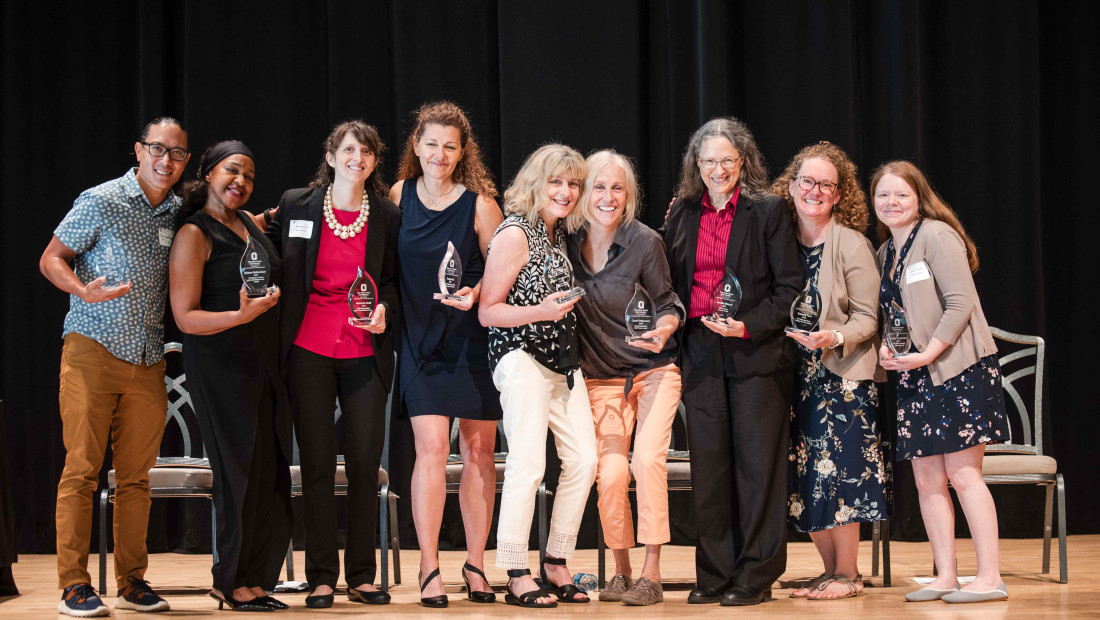 Each year, the College of Education and Human Ecology recognizes the incredible work of our dedicated faculty and staff with a variety of awards. These awards honor the outstanding contributions that help the college achieve its vision, mission and goals.
Congratulations to the recipients of the 2023 EHE Distinguished Faculty and Staff Awards! These recipients were recognized at the Faculty and Staff Convocation on August 17.
See the video below of Dean Don Pope-Davis surprising each recipient by informing them of their award.
---
EHE Distinguished Staff Award
Leslie Carpenter, Executive Assistant to the Chair, Department of Human Sciences  
This award honors outstanding EHE staff who create an environment that fosters respect, integrity, fairness and professionalism.  
Leslie Carpenter is greatly appreciated by the Human Sciences community for the quality of her work and her attention to detail and engagement. She provides exceptional customer service to enhance faculty, staff and student experiences.
EHE Distinguished Staff Leadership Award
Amanda Crall, Graduate Associate Manager, Office of Finance and Business Services  
This award honors exceptional staff leadership within the college. Recipients motivate others by mentoring or coaching, provide excellent service and create an environment that reflects EHE's mission, vision and goals.  
Amanda Crall demonstrates excellent leadership skills through her commitment to seeing tasks through to completion. She was recognized for her professional and engaging approach to projects and her ability to make team members feel valued.
EHE Distinguished Teaching Award
Tim San Pedro, Associate Professor, Department of Teaching and Learning  
This award honors individuals for excellence in teaching that encourages inquiry, reflection and innovation. Recipients value multiple perspectives and infuse technology while encouraging scholarship and collaboration.  
Tim San Pedro was recognized for his emphasis on disrupting dominant educational paradigms and valuing students' diverse experiences. He is known for fostering a welcoming classroom environment and encouraging critical discussion.
EHE Distinguished Faculty Service Award
Danene Fast, Assistant Professor—Clinical, Department of Teaching and Learning  
This award honors individuals who make extensive contributions to furthering the mission of EHE. Their contributions allow faculty, staff and students to focus positively on achieving excellence.  
Danene Fast was selected for this award for her commitment to preparing teachers to work with students who have visual impairments. Her work affects hundreds of students in Ohio and throughout the country who are traditionally marginalized.
EHE Outstanding Staff Team Award
Robin Chenoweth, Communications Specialist, Office of Marketing and Communications
Carol Delgrosso, Media Production Specialist, Office of Marketing and Communications  
This new award honors an outstanding group of EHE staff members who work as a team to advance the mission, vision, core values and community pillars of EHE.  
Robin Chenoweth and Carol Delgrosso have been recognized for their award-winning work on creating and producing EHE's monthly Inspire Podcast. The podcast shares the voices and impact of the college and brings to light important issues in education and human ecology.
EHE Distinguished Research Award
Sanja Ilic, Associate Professor, Human Sciences  
This award honors individuals who advance the field through transforming and integrating knowledge, facilitating learning, solving compelling problems, contributing to public policy, evaluating practices and programs or interpreting knowledge for relevant audiences.  
Sanja Ilic focuses her research is on investigating and promoting food safety among consumers, food handlers and populations at risk. This award recognizes the impact of her research in this field, nationally and internationally.
The Rudine S. Bishop Diversity Enhancement Award
Elaine Richardson, Professor, Department of Teaching and Learning  
This award honors faculty or staff who have demonstrated commitment to enhancing the diversity of the college. The individual chosen for this award will have clearly demonstrated their belief in the value of breaking down barriers and diversifying the college.  
Elaine Richardson is a transformative scholar with international contributions. This award recognizes her ability to lead and sustain diverse relationships with the community and to connect what we do in the college with the community.
EHE Faculty Impact Award
Jackie Blount, Professor, Educational Studies
This award honors outstanding EHE senior faculty who have made significant and sustained contributions to their fields of study and reflected excellence in all aspects of their career, including teaching, research, leadership and service.  
Jackie Blount's work has made tremendous contributions in the fields of philosophy and history of education. She joins an elite group of faculty who have received this prestigious award.