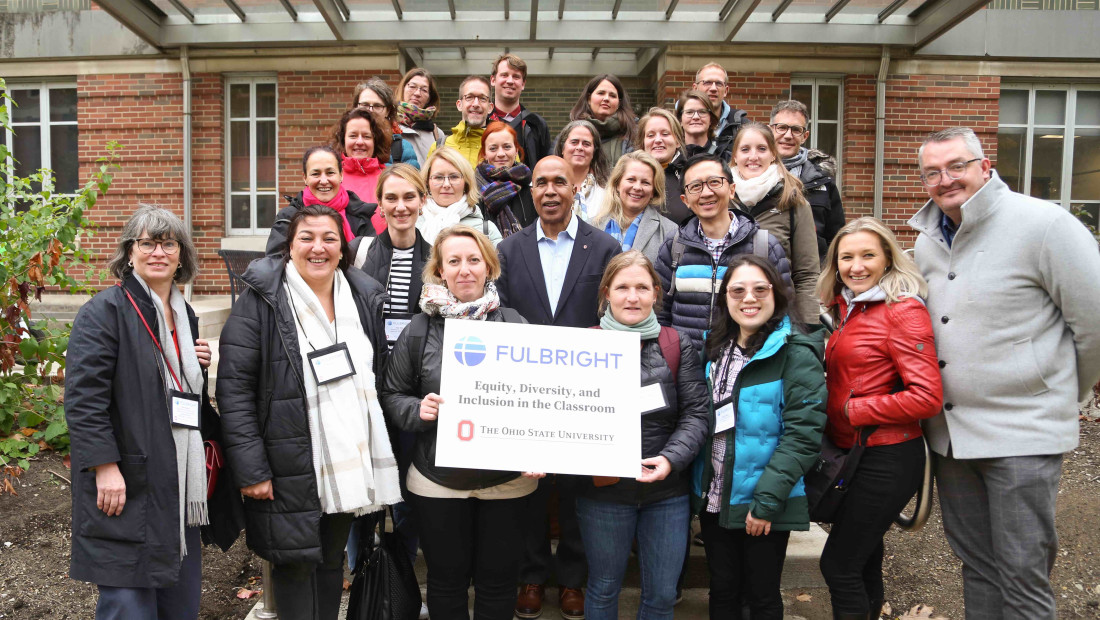 "The more we know about others, the less we make up." This concept, put forward by the college's Distinguished Professor Donna Y. Ford, is at the root of why the college prioritizes local and global engagement as one of its five foundational pillars.  
"When I say others, it could be regarding race, ethnicity or people living in poverty or the reverse, people with high income," Ford said. "We want to miss those stereotypes, those biases and those lies about people we really don't know."
The benefits of understanding and respecting others are shown by research to be many: among them, a gain in informational diversity leads to more creativity in problem solving; more empathy for others creates more harmonious living.
Gaining the benefits of new perspectives is why the German-American Fulbright Commission sent 23 German teachers to Ohio State and the college for 12 days in October for an in-person teacher seminar on Equity, Diversity and Inclusion in the Classroom.
The visit followed more than two months of virtual professional development in spring 2021. It was hosted, as was the in-person visit, by the college and the university's offices of Diversity and Inclusion and International Affairs in partnership with Fulbright Germany. Ford's workshop, focused on how to create a culturally responsive curriculum, was among the many offerings. 
Ivan Stefano, director of Ohio State's Intercultural English Language Programs and co-director for the seminar, emphasized that it was the college's first hybrid Fulbright offering.
"The online seminar prepared the teachers with the concepts, the issues, the pedagogy," he said. "Now they have seen it in practice and had conversations with some of the university's top scholars in enacting equity, diversity and inclusion in the classroom, in addition to our partner schools in Franklin County."
Francis Troyan, associate professor of multilingual language education and co-director for the seminar, said that although the pandemic forced the cancellation of the in-person trip in March 2020, "We think the hybrid approach might be better because we can build background knowledge online, then, when they come, we can focus on the experiences."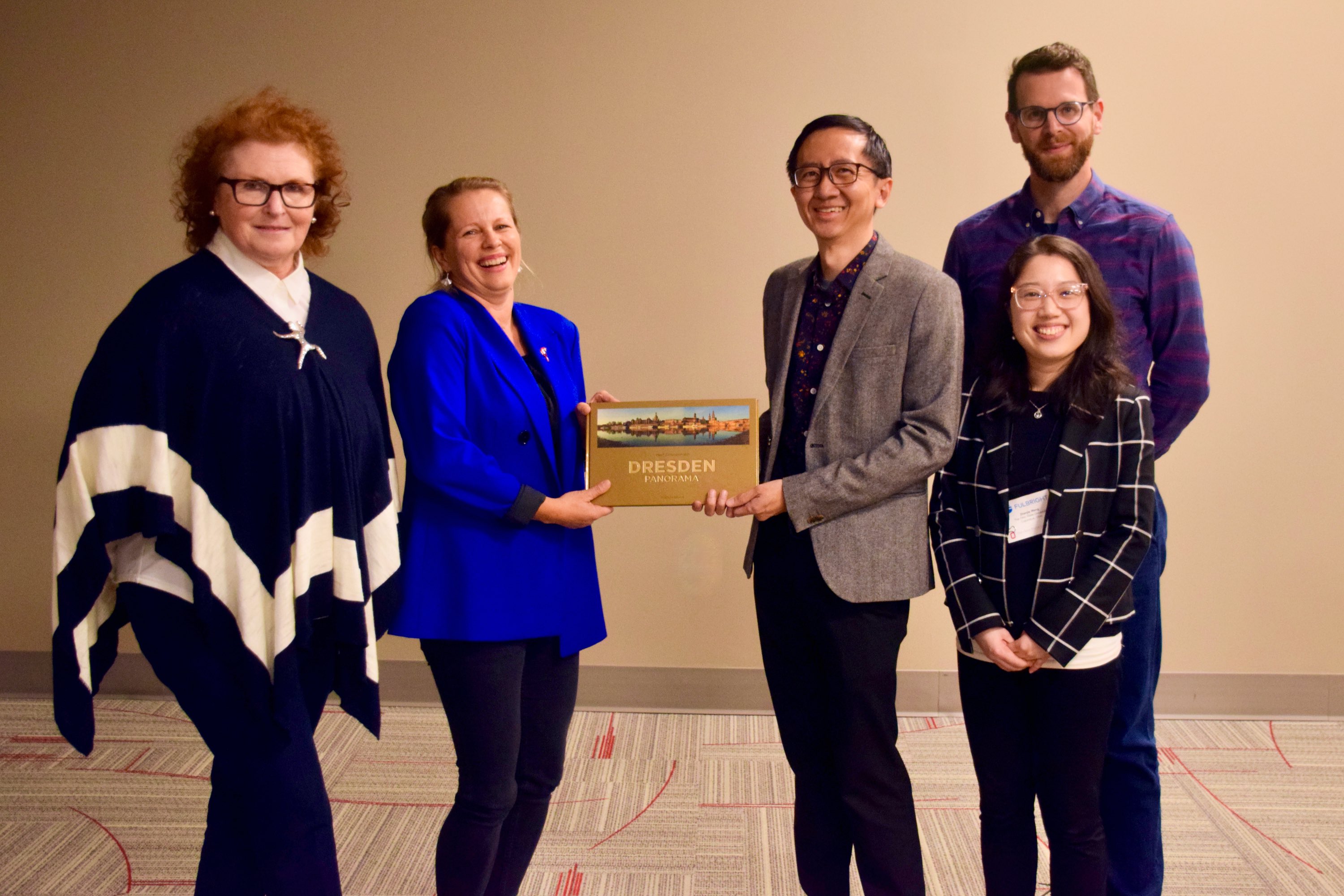 Teacher participants describe benefits of new perspectives
Stefano and Troyan said the teachers agreed during the debriefing that the school visits were among the most rewarding aspects of their learning about how to incorporate culturally responsive teaching into the classroom. The teachers visited both public and charter schools.
"We structured the visits using what I would call an immersion model," Troyan said. For instance, on one school visit, "The group that visited the World Language Middle School (a Columbus City School) arrived in the morning, and each (German teacher) was matched with a teacher in their field. They shadowed that teacher for a couple of class periods. Then we met as a group with the principal to talk about the school culture, how parent outreach is facilitated and how every aspect of school culture is nurtured."  
At the Arts IMPACT Middle School, also a Columbus City School, Stefano said the principal offered several classrooms for the Fulbrighters to visit. "They could choose an art, English or science class and observe the students and teacher in action," he said. "Then the principal gave a talk about the school's focus. After that, they saw more classes, then talked again as a group with teachers, the principal and some students as well."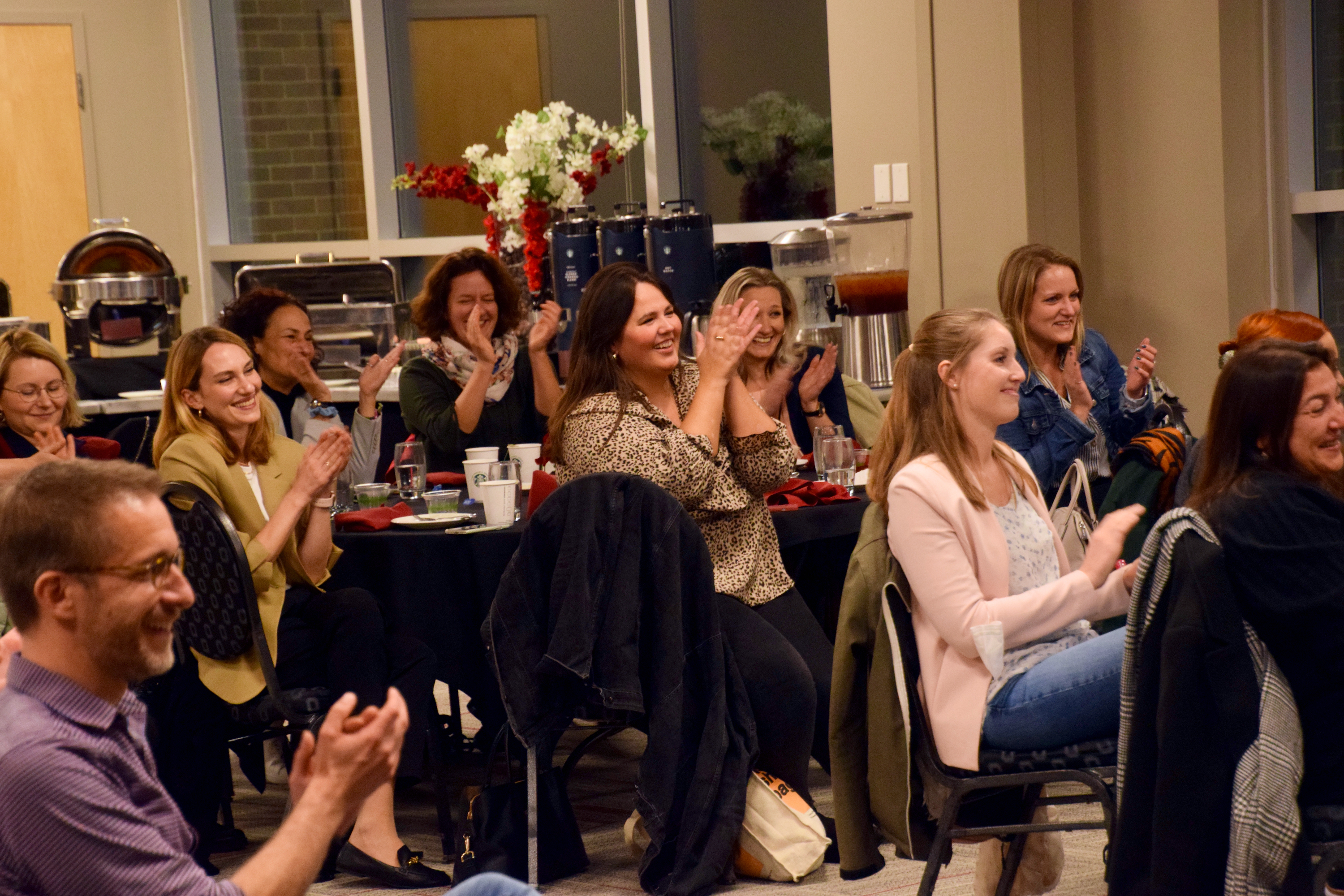 Leila El Berins, one of the visiting Fulbrighters, teaches grades five through 10 in Heidelberg. "When I got the invitation, I was fascinated by the topic of diversity and inclusion," she said, "because in my class of 26 students, they are from 12 or 13 countries with many different languages and histories, and they have been in Germany for one year. Others were born in Germany, so there are huge differences."
El Berins had not found any professional development activities as extensive as this seminar, especially not any focused on teacher training. Her interest came, in part, from her own background. 
"My father is from Egypt," she said. "I have to thank my mom because I grew up with multicultural books, songs and more. She took a lot of effort to make me feel comfortable. But my father is a (medical doctor), and it's often easier for (those with advanced professional degrees) to be accepted."
El Berins and her group visited three middle schools, including the charter Arts and College Preparatory Academy. "The school visits were amazing for me," she said. "I'm going to talk to my art teacher and say, 'Let's find a way to make everybody feel welcome, to make some bigger projects to include everyone, to find talent. When kids are good in sports, it's easier to fit in, even if the language is difficult. But with art projects, music, you might reach a different group of students who might hide." 
She also connected with teachers willing to plan online meetings between their students and hers. 
"We have an assignment in ninth grade that is called 'All about me,'" she said. "It would be fabulous for our students to talk to their (Columbus) students who are English learners or American-born native speakers and learn about them."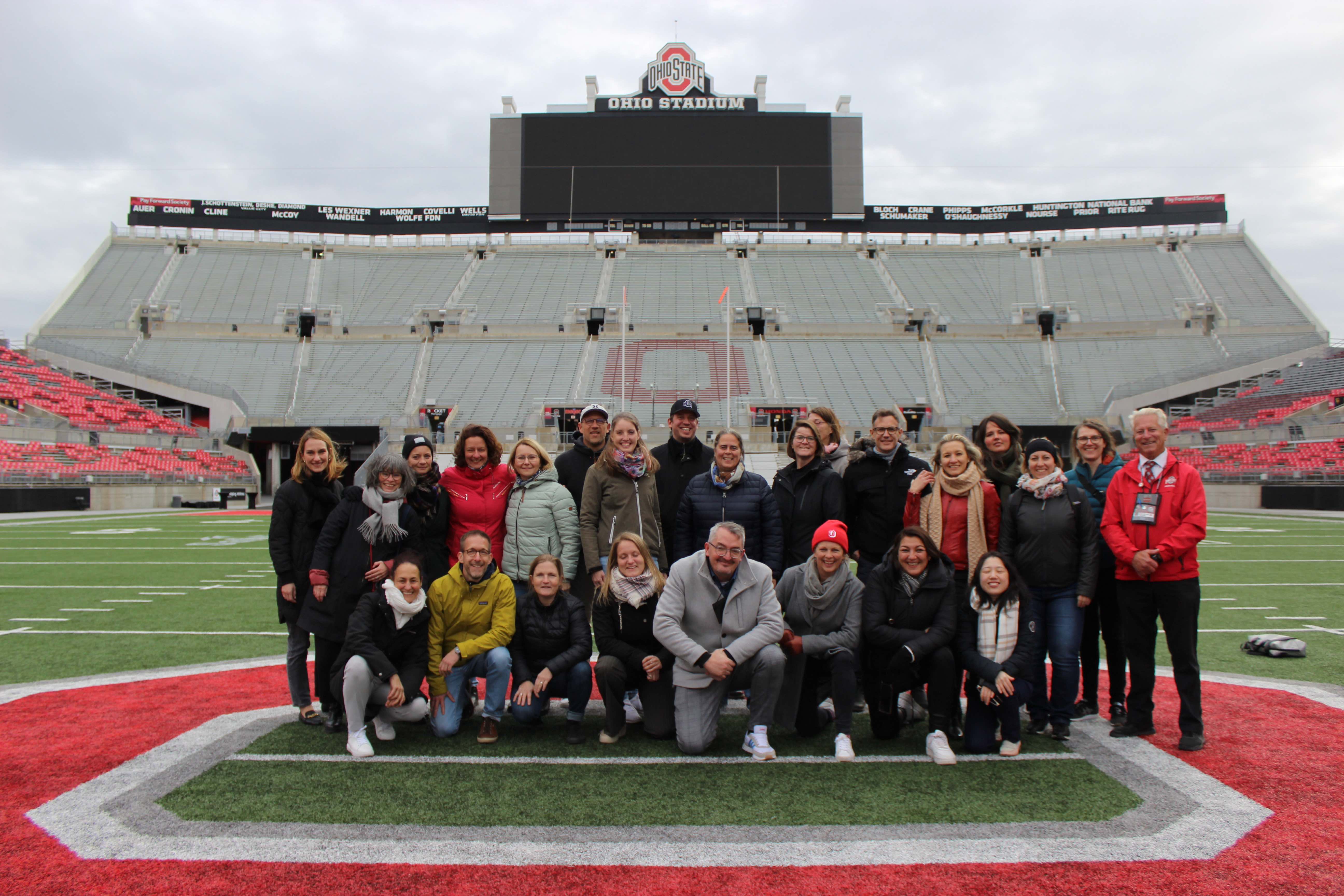 Ulf Gerdelmann is a teacher at a comprehensive school, grades five through 10, in Wiesbaden near Frankfurt. "I've never heard of a (professional development) program in diversity, equity and inclusion with this much variety," he said. "We can do training, but it's usually more limited. When we got the schedule for our visit, I was impressed. We've covered many different aspects of diversity." 
The program's focus on diversity was even more than he had expected. "And I really like that," he said, "because it's made me think about how to deal with LGBTQ questions, with racial questions." He cited Carlotta Penn's workshop about incorporating multicultural children's literature into the classroom, so students see themselves represented. Penn, who directs global affairs in the college's Office of Equity, Diversity and Global Engagement, has a PhD from the college's multicultural literature program.  
"I found that (workshop) inspiring," Gerdelmann said. "You have to really look at the individual child and think, 'What do they need? What examples should I use in my teaching?'"
From the practical point of view, he appreciated the workshop by Moira Konrad, associate professor of special education, who presented the Individual Education Program (IEP) process used in American schools. She explained how to set goals and described high-leverage practices for teaching students with disabilities.
"Inclusion is an important topic in my school," Gerdelmann said. "I have one student who is blind and three students with learning disabilities. (Konrad) offered many concrete examples of how to teach special education kids. There are quite a few I'm going to implement in my classroom."
Guided daily by coordinator Zhenjie Weng, Troyan's doctoral advisee who just successfully defended her dissertation, the visitors engaged with additional faculty and staff, both within the college and at Ohio State. They went on a guided tour of Ohio Stadium and experienced different buildings on campus for each meeting. 
They also learned about local culture, including a tour of the Ohio Statehouse and dining in local ethnic restaurants. The one weekend included in their visit was spent with local families, some of whom were Fulbright alumni. 
Even as Troyan and Stefano write the final seminar report to the German-American Fulbright Commission, plans are in the works for a new group of German teachers in 2024.
"I met so many fascinating, passionate people," El Berins said, summing up her experience with the seminar. "I will always remember what I learned — how important it is to stay engaged with my students."