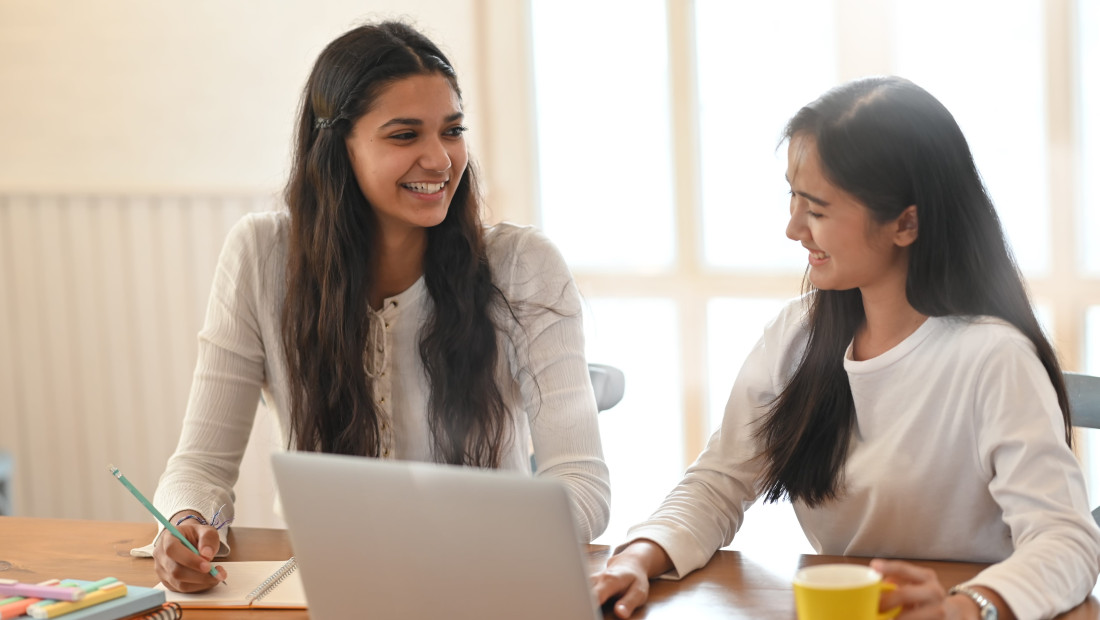 College students are continuously faced with new challenges of increasing difficulty. Through the college's Dennis Learning Center, Ohio State students have someone in their corner, supporting them as they navigate learning in college: academic coaches.
Undergraduate and graduate students are trained by the Dennis Learning Center staff on coaching techniques such as active listening, asking powerful questions, demonstrating empathy and encouraging behavioral change.  
The Dennis Learning Center's mission is to support Ohio State students through innovative and inclusive programs that enhance learning, motivation, belonging and success. Academic coaching is a newer and growing service that provides personalized support to struggling or stressed students.  
Those who come to the center meet one-on-one with a peer academic coach to discuss ways they can improve their academic performance through evidence-based learning and motivation strategies. Topics discussed in coaching sessions include effective study strategies, time management strategies, maintaining motivation, reducing procrastination, test-taking skills and managing stress to enhance well-being.  
In coaching sessions, academic coaches ask students open-ended questions to explore the reasons behind students' academic struggles. After identifying the areas for improvement, the coach suggests evidence-based strategies that the student could use to achieve their academic goals.  
Finally, the coach and the student collaborate to set goals and create concrete action plans for the student to work on their own after the session ends. Coaching sessions are student led, with coaches guiding, probing and offering suggestions along the way.  
Through the coaching process, students learn how to improve their academic outcomes while gaining confidence in their academic and self-regulatory skills.
Intern guides students in coaching sessions, supports academic success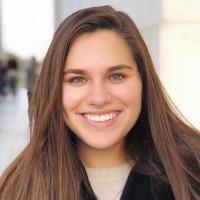 Sydney Rubin, a second-year, Higher Education and Student Affairs (HESA) master's student, joined the Dennis Learning Center in August of 2022 as a graduate academic coach. She previously interned with Ohio State's SpringForward program, where she learned about the Dennis Learning Center and how it supports students through academic coaching.  
"I am passionate about student success holistically, and one of the cornerstones of student success is developing positive academic beliefs and effective learning strategies," Rubin said. "With the potential to work one-on-one with students on their academic strategies, the Dennis Learning Center seemed like a perfect fit for me."
"Academic coaching is an important service because it contributes toward holistic success by considering the student's needs, goals and contexts as a learner."
Rubin studies best practices and student development theories in her master's coursework but takes a practitioner approach to the work she does at the Dennis Learning Center.
"I enjoy learning about student development theories, but I am always thinking about how I can apply it to my work with students," she said.
This notion of theory-to-practice struck Rubin as she sat in her Special Topics in Higher Education (ESHESA 7897) with Sarah Bohman, who earned an EdD in the same program that that Rubin is studying.  The class was learning about innovation through design thinking. "That's academic coaching!" Rubin recalls her revelation as she made the connection.  
The solution-generation process of design thinking is often used by private sector companies. Rubin and her classmates were asked to use the design thinking process to create an innovative solution to a problem in higher education.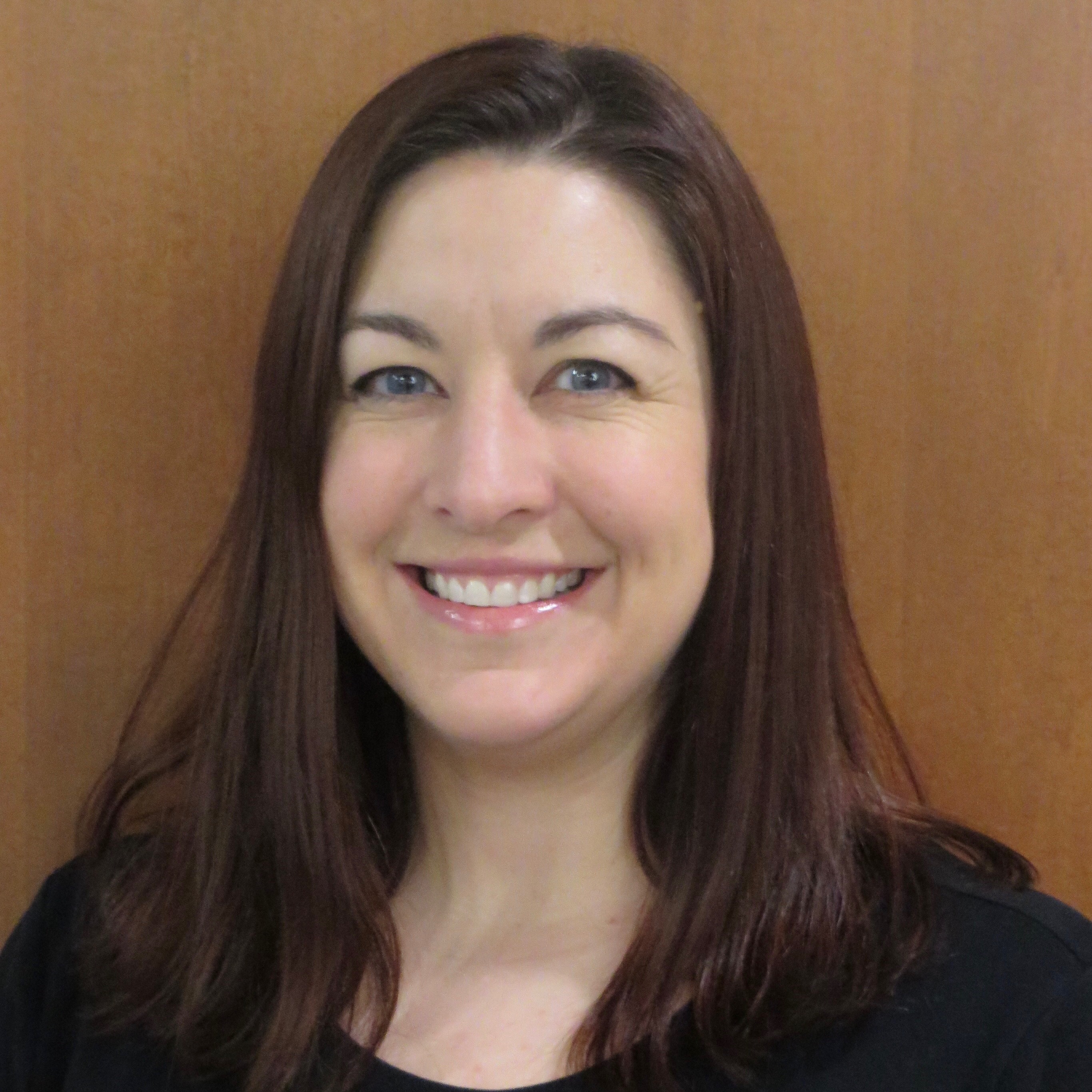 Taking it one step further, Rubin wanted to apply design thinking to academic coaching at the Dennis Learning Center. She was delighted when her supervisor, Program Manager Jackie von Spiegel, allowed her the space and creativity to run with the idea.
"I am thrilled when we can find a direct connection from theory to practice, specifically in supporting Ohio State students," von Spiegel said. "By using the design thinking steps, student can better understand what will occur in a typical coaching appointment."  
Design thinking, popularized by Tim Brown in the Harvard Business Review, uses a five-step process that centers humans in finding a solution. Applying it to academic coaching, coaches can empathize, define, ideate, prototype and test a solution collaboratively with students. As coaching is a student-led process, design thinking provides clearly defined steps that coaches can use to guide students to behavioral change during a coaching session.  
An example of the design thinking process in coaching
"A typical appointment might start out by me asking what brought the student to coaching and where they are feeling frustrated in their academic work," Rubin said. "Then, we work together to define what is really going on, and I share multiple solutions they might be able to try."  
"The student is the expert in what might work for them, so ultimately, they are the ones to choose what solution, or prototype, they want to test. Then, when they come back for the follow-up appointment, the cycle begins again."
While there are many innovative coaching models, taking a design thinking approach may draw in students from the beginning of the process.
"Design thinking allows me to work collaboratively with my students, empowering them to find their own solutions and implement them, ultimately leading to increased academic success," Rubin says.
Rubin and von Spiegel presented the application of design thinking to academic coaching to higher education professionals at the Ohio College Personnel Association and the Academic Coaching Advising Community (a national organization of academic coaches). Future plans include promoting the design thinking steps to increase understanding of academic coaching among STEM students.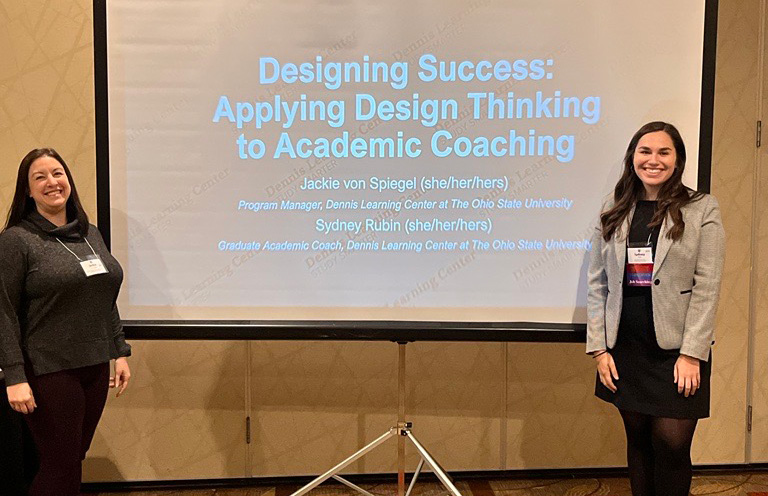 "We are eager to learn more about how the design thinking process could benefit students who have a procedural mindset," von Spiegel said. "Students may be more willing to meet with coaches when they clearly understand the process."