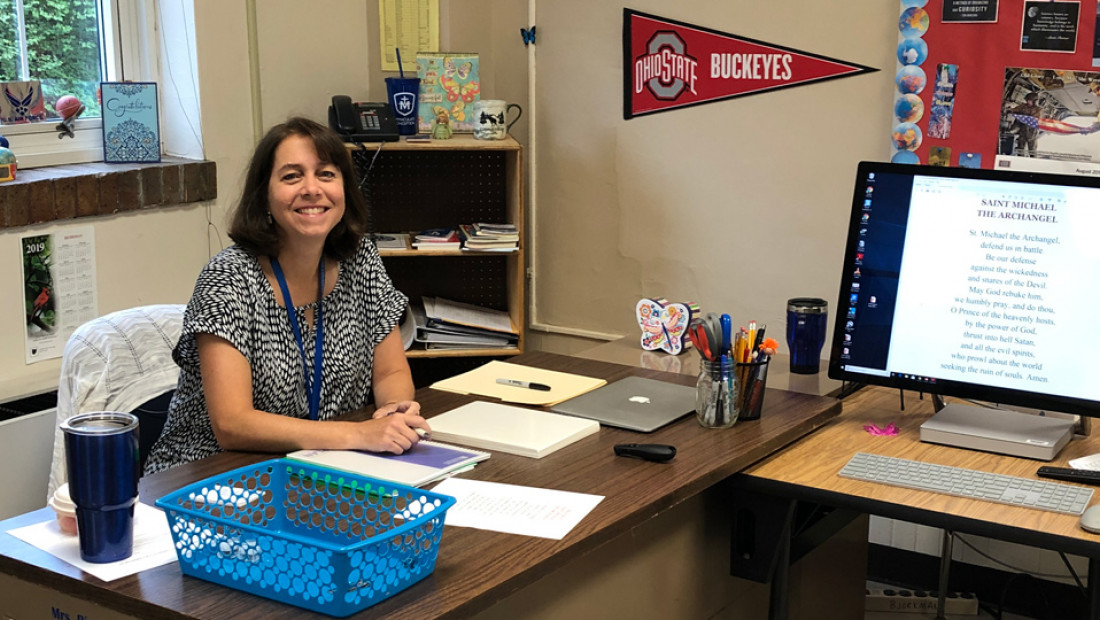 Imagine having a teacher who brings real-life experience to topics ranging from atmosphere to earthquakes. And who, until her recent retirement from the U.S. Air Force Reserves, spent 37 days every year briefing top military commanders.
Margo Bjorkman retired last June as a reserve weather officer with the U.S. Air Force. She has 28 years of experience in forecasting the weather and briefing one- to four-star generals about atmosphere and earth conditions affecting the safety of their bases and missions.
She's also a junior high school science teacher, thanks to graduating with an MEd in science education in 2015.
Her students at Immaculate Conception Catholic School in Columbus' Clintonville neighborhood are awed when she uses her Internet know-how to show them real-time images of tectonic and geologic features, such as volcanic island arcs, plate boundaries and evidence of mountain building and plate collision.
Their eyes get big when she shows the number and locations of earthquakes around the earth from the previous week.
She loves teaching, and she loved her career in the Air Force, which brought her to Ohio State in the first place.
Finding love in all the right places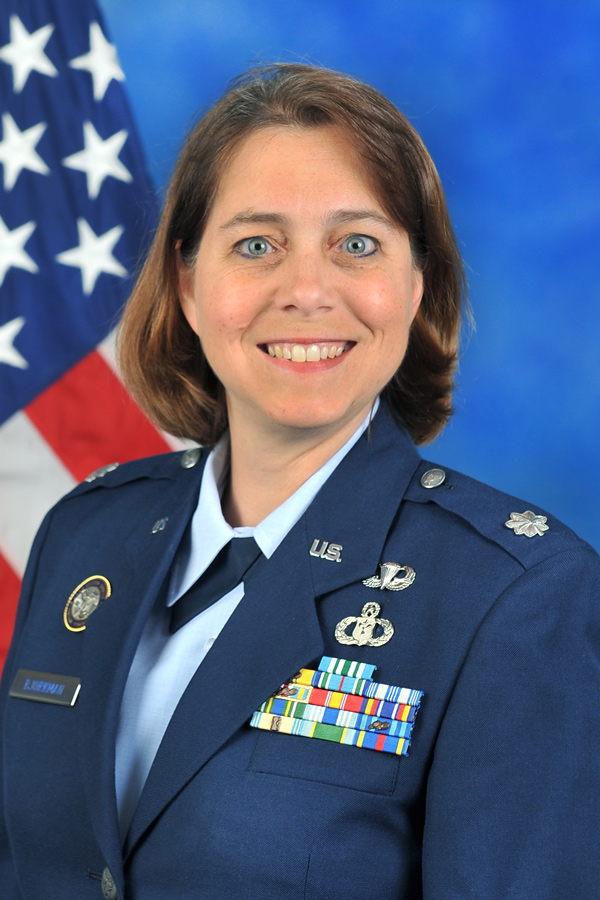 After Margo graduated from the U.S. Air Force Academy, her first assignment was to study advanced atmospheric science at Ohio State. On the Columbus campus, she met Chris Bjorkman, also a U.S. Air Force weather officer.
Plus, Chris' Ohio background turned Margo into a devoted Buckeye. As husband and wife, they took on their first, full-fledged Air Force assignment.
During the next years, they were stationed at bases across the United States and around the world. They rarely spent more than two years at any base. Margo gained experience in every weather officer role possible.
She learned how to forecast the weather and how, as a mobility officer, to prepare for war. She gained skill in using tactical weather equipment and supervising enlisted air personnel.
As she advanced, her role was to brief the base wing commander daily. She summarized weather information important to protecting the base and any critical missions they were flying.
"I wanted to be involved in military operations, where the action is," she said. "Weather officers are deployed to the field to work closely with pilots and the mission decision makers. I saw it as my way of making a difference."
A future teacher is born
At the height of her active duty, Margo, by then a captain, was stationed at Ramstein Air Base in Germany, the U.S. Air Force headquarters in Europe. As the aerospace science officer and morning weather briefer, she honed her succinct speaking style by briefing the four-star commanding general daily. She also was sent to deployed units to deliver technical assistance.
"We helped them with all aspects of running a weather station," Margo said. "For instance, I went to Bosnia in 1997 and 1998. Even though we went to teach, we flew in wearing battle gear and carrying weapons because we were in harm's way."
After almost eight years of active duty, Margo transitioned to reserve status so she and Chris had a more stable lifestyle to start a family. While stationed in Omaha at Offutt Air Force Base, home to the Air Force Weather Agency, their first daughter was born.
Margo also began to publish forecasting tips and weather training guides, for instance on how to use technology in weather forecasting and how to prepare for an inspection. She taught at bases all around the United States.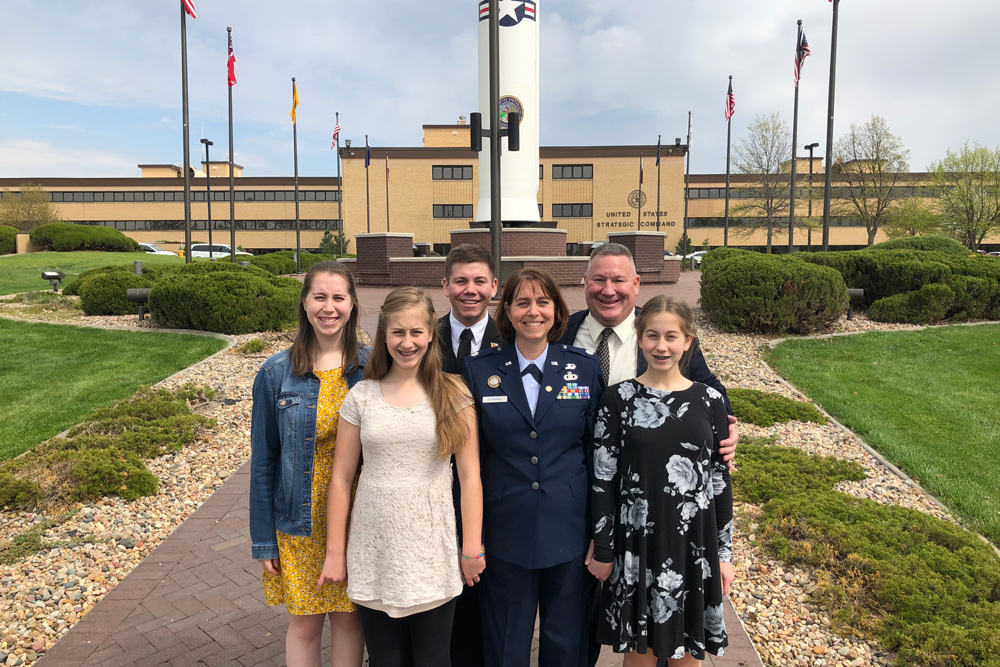 Scholarships make a difference
When Chris retired, they moved back to Columbus to be near family. "I'd been thinking of teaching for 15 years," Margo said. "When I separated from active duty, I'd heard about a program called Troops to Teachers. I went to a few information sessions and met some great teachers. Military people make good teachers because we have discipline and experience. I knew what I wanted to do."
Once her four children were older, Margo enrolled in the in Master of Education in Science Education program. Money was tight, but scholarships helped, including one from the Joe Powell Scholarship Fund and another from the Elizabeth Moffatt Williams Fund.
"As a student, I was twice as old as others in my cohort, but it was an advantage," she said. "My military teaching experience transferred seamlessly into the classroom."
Teaching and mentoring future leaders
Today, Bjorkman is passionate about teaching science. "I try to infuse real-world examples into lessons from my time as a meteorologist and weather officer in the Air Force," she said.
"I enjoy sharing my experiences from living in different locations around the world. I discuss the unique geologic features in many of these places and relate them to the science content. I have taken my students on field trips to learn firsthand about, for instance, the importance of the Olentangy Watershed."
Margo also emphasizes teaching her students about the earth and our environment. She advances the idea that we can be better stewards of the earth and take action in our everyday lives.
"We are working with SWACO, a community partner, on ways to improve our recycling efforts and reduce our reliance on plastics and non-renewable energy sources," she said. "My students will lead the research to come up with solutions to make our school more environmentally friendly."
Not only is she an advisor on the school's Student Leadership Council, where she encourages students to lead school-wide projects, she also is an integral part of the school's efforts to be designated a STEM school by the Ohio STEM Network.
"My education in the MEd STEM program at Ohio State has proved to be a valuable asset to Immaculate Conception School," she said.
"The Air Force values leadership, and I reaped the benefits. Now I enjoy supporting my students in growing and becoming confident and successful student leaders in our school."