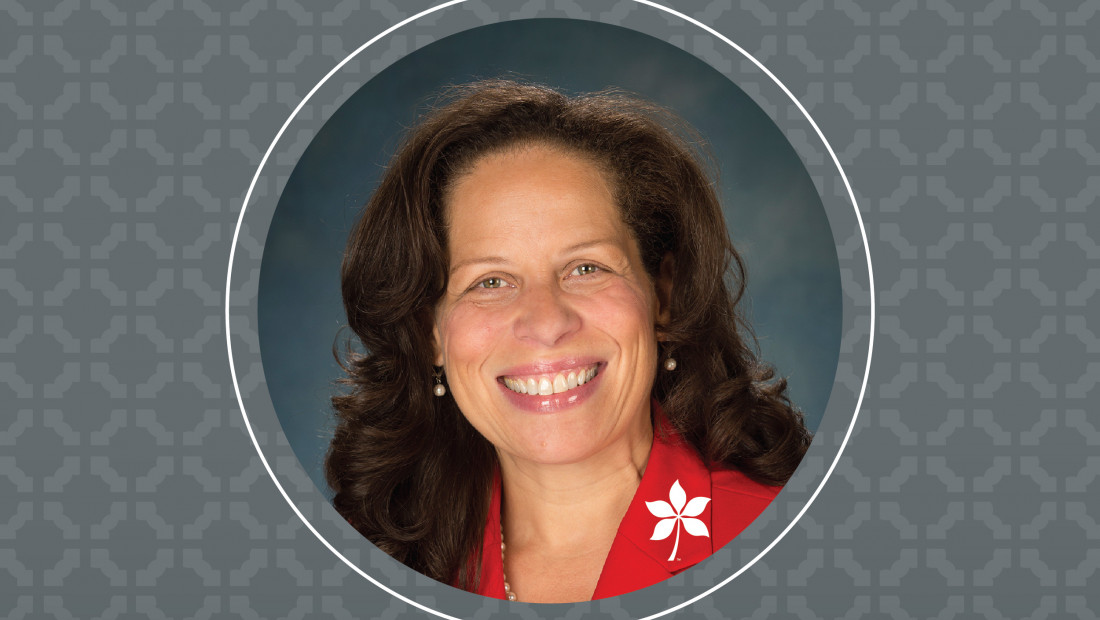 Associate Professor Karen Stansberry Beard thought she was logging on to her regular, virtual department meeting when Senior Vice Provost Kay Wolf caught her by surprise. Wolf presented Beard with the university's Alumni Award for Distinguished Teaching in front of college and university leaders.
"Karen, you are an extraordinary instructor, and you have made a difference in so many people's lives," Wolf said.
Beard was overwhelmed with emotion as Wolf presented the award in the presence of family and colleagues. Several of her proud supporters, including her daughter Elisabeth, joined the virtual meeting to congratulate her.
"We're extremely proud of you and tremendously fortunate to have you on our faculty. Thank you for being at Ohio State," Wolf said.
Wolf put the award's prestige into perspective, explaining that only 10 faculty members across all Ohio State campuses are selected, based on nominations by alumni, students and faculty, to receive the award each year. Recipients are also inducted into the university's prestigious Academy of Teaching.
"What you do really does make a difference, and we're so grateful for your passion and dedication to the development of our next generation of leaders," said Molly Ranz Calhoun, president and CEO of The Ohio State University Alumni Association.
Dean Don Pope-Davis commended Beard's continued efforts to create a student-centered atmosphere through remote teaching. "This is particularly important during COVID when teaching and engagement with our students have been a little different," he said. "To have this distinction happen to you at this time in your career is phenomenal."
Also on hand to congratulate Beard during the virtual celebration were Lori Patton Davis, professor and chair of the Department of Educational Studies; Helen Malone, professor and vice provost for Academic Policy and Faculty Resources in the university's Office of Academic Affairs; and Marc Johnston-Guerrero, associate chair of the department.
 
With a balanced perspective as a parent and educator, Beard embodies involvement with and dedication to students in all aspects of her career. She chairs the college's Educational Administration program, which is ranked No. 6 in the nation by U.S News and World Report in its 2023 Best Graduate Education Schools.
 
Beard teaches many education and leadership courses, including Positive Psychology in Educational Administration; Leadership, Inquiry and Ethics; The Social and Political Contexts of Education; and School and Community Relations. Working with graduate students, she is dedicated to conducting research, publishing and presenting nationally.
She focuses in particular on the study of positive psychology within educational settings and its integration into teaching, learning, educational policy and administrative practices.
Nominators praise Beard's ability to engage and motivate students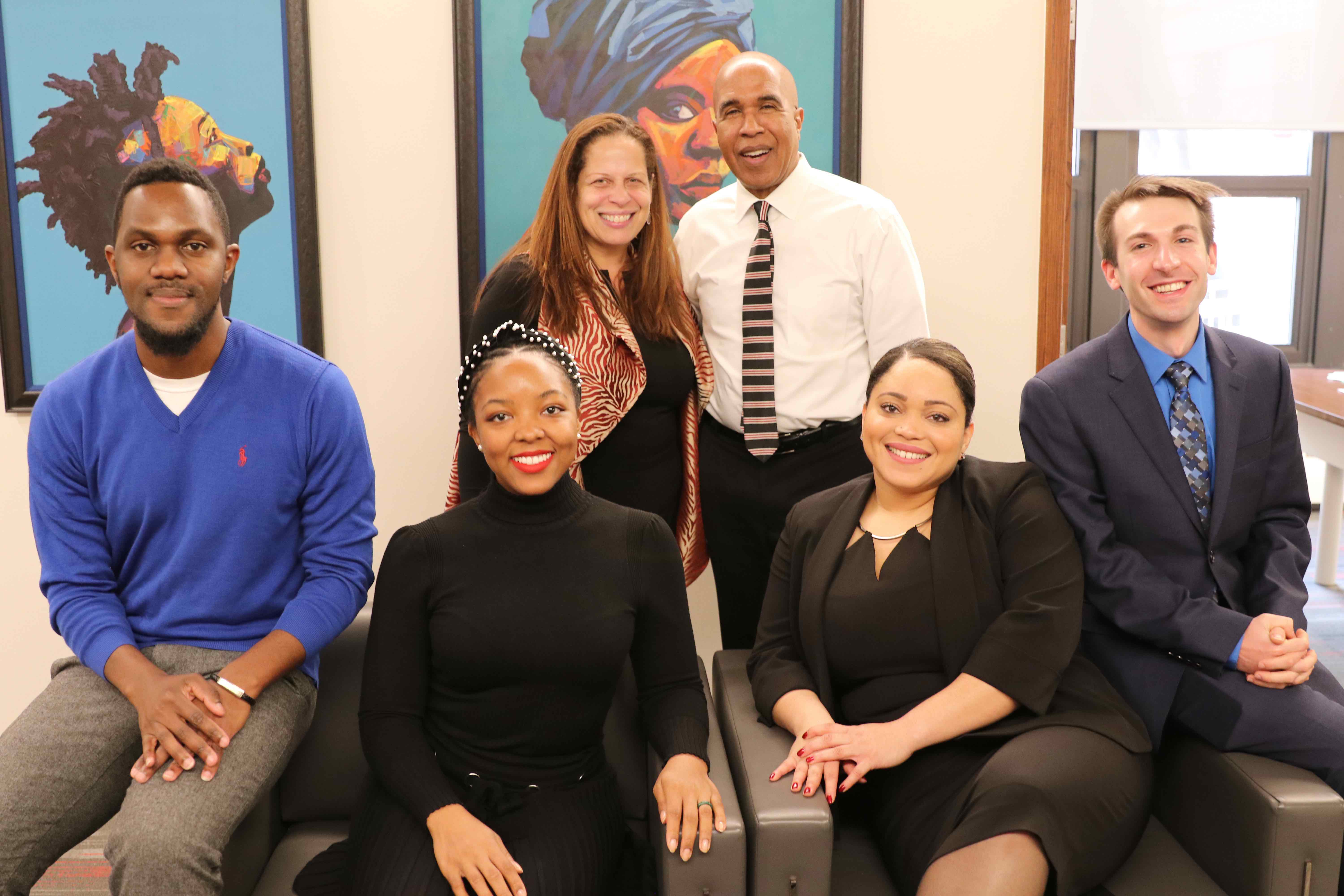 Each of Beard's nominators crafted thoughtful statements to emphasize her contagiously positive attitude inside and outside of the classroom. She received well-rounded nominations from students, alumni and colleagues whom she impacted as an educator.
"I knew I had to be ready to bring my best because she was bringing hers," wrote doctoral student Hadley Bachman. "That powerful combination of high expectations paired with genuine care and concern is what makes her far above the best professor I've had during either my Master of Education program or my PhD studies."
Another doctoral student, Nathaniel "Nate" Stewart, '20 MA, echoed Bachman's point about Beard's commitment to students and their futures.
"Despite being in the grueling academy where a faculty member's livelihood depends on productivity, Dr. Beard does not sacrifice her dedication to supporting the next generation of educators and scholars," he said. "She made me feel like I belonged at OSU."
Beard's colleague in the college, Antionette Miranda, professor of educational psychology and chair of the Department of Teaching and Learning, admired Beard's captivating teaching style and ability to motivate students to think about themselves as effective leaders. She noted that students consistently give Beard high scores on their evaluations of her instruction, which all students are invited to complete.
"Since her students are generally full-time educators who are returning for either a master's degree or principal's license, it was impressive to see the energy and commitment they had to the class and the work," Miranda said.
As Beard's peer classroom observer, Miranda had the opportunity to speak directly to Beard's students about her performance. "They expressed that she promotes professionalism, is authentic, excellent at connecting the course content to the real world, makes them feel welcome and spends time creating a community of learners."
Beard's former students have not lost appreciation for her motivational teaching. Alexis Little, '20 PhD, who is currently a research associate with Research for Action, Philadelphia, considers Beard's teaching a gift that keeps on giving.
"She makes it real. It wasn't just a course for me because she was able to shape it into my personal research interests and dissertation studies," Little said. "She positively impacted my educational experience at Ohio State and STILL is active in my professional development as a researcher and scholar."
Beard aims to improve relations among teachers, students, school administrators
Beard goes beyond her dedication to students by addressing teacher well-being as well. Recently, she, Associate Professor Theodore Chao and their students published "Time for Change: Understanding Teacher Social-Emotional Learning Supports for Anti-Racism and Student Well-Being During COVID-19 and Beyond."
The article, which appeared in the journal Education and Urban Society, documents the need for research-based support of teachers' well-being as they strive to support their students' well-being during a time of racial unrest and the transition to online coursework amid a pandemic.
"Dr. Beard has impacted so many people who are committed to working in school buildings and as educational leaders," Little said. "She has helped guide and provide opportunities to teach so that students are more aware of the craft and can hone it under her leadership."