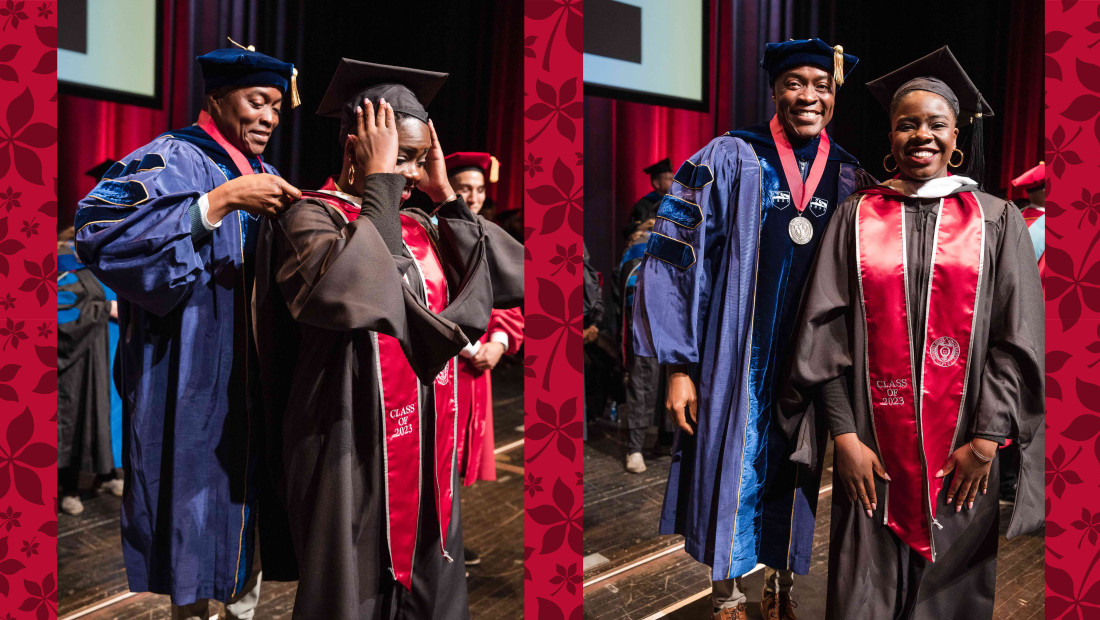 University leaders surprise professor with award
Stephen John Quaye was engaged in a routine Zoom meeting of his department's program chairs, expecting business as usual. Partway through the meeting, a number of university and college leaders entered the Zoom room, smiling from ear to ear.
This was not the group Quaye had expected to see. Clearly confused, he must have wondered why they were there. His expression changed to astonishment when he found out he was being recognized with the university's Alumni Award for Distinguished Teaching.
Helen Malone, vice provost for Academic Policy and Faculty Resources, introduced the award. In her presentation, she highlighted an overarching theme in Quaye's award nominations.
"You practice vulnerability, and you engage in really difficult conversations," Malone said. "When people walk away from your class, they feel safe, and they feel they have access to a topic maybe they felt unsure about previously."
The award is a high honor recognizing a maximum of 10 faculty members each year across the university for teaching excellence. Award recipients are nominated by students, faculty and alumni. Upon receiving this award, Quaye will be inducted into the university's Academy of Teaching.
Molly Ranz Calhoun, senior vice president of Alumni Relations and president and CEO of the Ohio State Alumni Association, congratulated Quaye on the behalf of over 600,000 alumni across the globe.
"You certainly do make a difference, and we are grateful for your passion and dedication to developing the next generation of Buckeyes," Calhoun said. In addition to a monetary award, the Alumni Association will send him a buckeye engraved with the year of his award and a Block O pin as symbols of his dedication to Ohio State students.
Students, faculty praise Quaye's dedication to teaching
Quaye is a professor and the chair of the Higher Education and Student Affairs Program in the Department of Educational Studies. Since joining Ohio State in August 2019, he has taught nine courses averaging a 4.95 of 5 in his student evaluation of instruction scores. Quaye also routinely advises master's and doctoral-level students.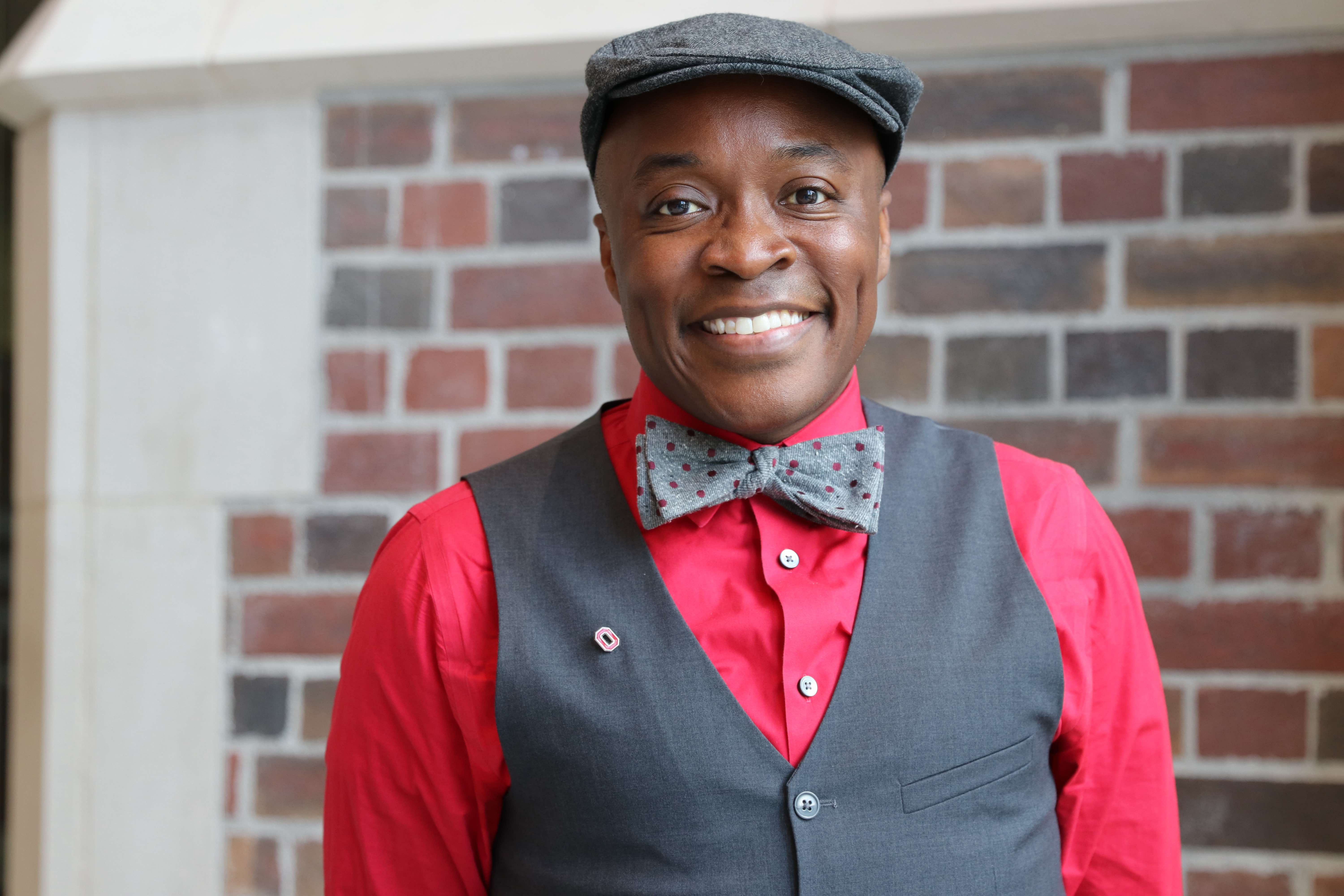 Beyond Ohio State, Quaye is a nationally recognized expert on diversity, equity and inclusion (DEI) in the university curriculum. He has facilitated workshops and educational sessions to help faculty develop DEI strategies. He became especially well known while serving as president of ACPA: College Students Educators International.
His co-authored textbook, the third edition of Student Development in College: Theory, Research, and Practice, is the most widely read in higher education administration programs nationwide.
Quaye focuses his research on engaging in and facilitating difficult dialogues about privilege, power and oppression; student activism; and navigating and healing from racial battle fatigue.
Lori Patton Davis, chair of the Department of Educational Studies, was also present on the Zoom call. In her endorsement letter for Quaye, she praised his commitment to his students.
"I can say with certainty, Dr. Quaye is one of the most requested instructors in our department. … [He] is one of the most giving faculty. … He always demonstrates excitement about new course opportunities."
About Quaye's autumn 2022 semester course that he created — ESHESA 7750: Facilitating Intergroup Dialogues in Higher Education — a student wrote in the evaluation of instruction:
He frequently made sure to empower us to be teachers as well as learners in the classroom space.
"He frequently made sure to empower us to be teachers as well as learners in the classroom space. He created opportunities for us to lead sections of the class and practice our intergroup dialogue skills. … (He) did so in a thoughtful way, which allowed each of us to leave the experience feeling more confident in our abilities."
Don Pope-Davis, dean of the college, thanked Quaye for his hard work and dedication. "You bring honor to our college, and I am grateful you are part of our community. You take the college's core values seriously, lifting them up in all that you do. So congratulations on receiving this respected recognition."
Other attendees on the Zoom call included Associate Professor Marc Johnston-Guerrero, associate chair of the department, and Senior Vice Provost for Faculty Patrick Louchouarn. Both congratulated Quaye. Louchouarn echoed Pope-Davis' praise of Quaye's commitment to teaching and specifically applauded his leadership.
Abby Huffman, one of Quaye's graduate students, wrote in her award nomination, "Dr. Quaye is very deserving of the university's highest teaching award because he goes above and beyond to make our classroom environment an inclusive space. For our course ESHESA 7750: Facilitating Intergroup Dialogue in Higher Education, Dr. Quaye encouraged all of the students to reflect on our own identities, intersectionalities, power, privilege and oppression; furthermore, the classroom is situated to be intentionally safe so each student can express their beliefs and experiences openly."
"Our classroom has also been a place … where Dr. Quaye has challenged us intellectually to help us learn and grow, which was emphasized by his comments on grading: grades are important because they dictate our academic progress, but they are not most important — the learning that comes from the readings, assignments and dialogues is most important," Huffman said.
Another graduate student, Daniel Jimenez, wrote in his nomination, "Dr. Quaye never forgets his mission and intention, which is to prepare student leaders looking to begin their careers in higher education and ready them to be distinguished student leaders who will lead the generation coming next. … The type of classroom that Dr. Quaye leads sets the standards for all classes … and surely is one that I will learn from and model (myself) after."
Truly shocked and displaying emotion, Quaye expressed gratitude for the recognition of his hard work, even though the semester was challenging.
"I can tell Sebastian, my 12-year-old, when I pick him up from school today, that his daddy got an award that he was not expecting, so that's really fun," Quaye said.
Keep an eye out for Professor Quaye on the football field next fall. The 10 faculty who received the 2023 Alumni Award for Distinguished Teaching will step out and be recognized during an autumn football game halftime.