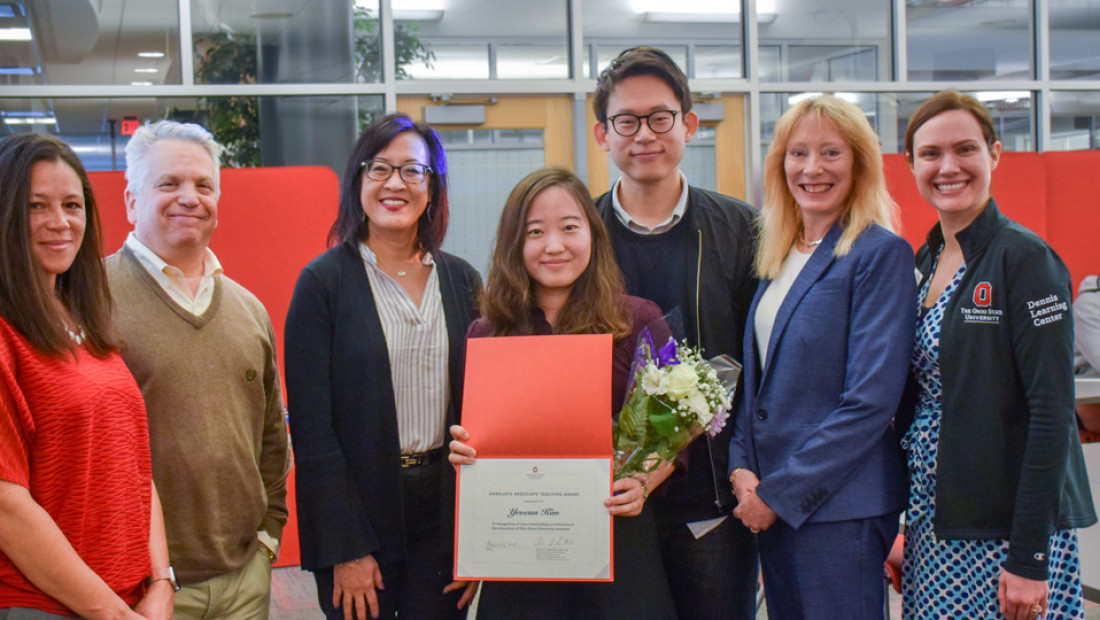 Three doctoral students in the College of Education and Human Ecology were awarded Ohio State's highest honor for their exceptional teaching this year.
Sin Guanci, Yeoeun Kim and Ju-A Hwang were each presented with the Graduate Associate Teaching Award during surprise events in front of their students. The three were among 10 total graduate teaching associates to receive the award universitywide presented by Alicia L. Bertone, dean of the Graduate School.
Sin Guanci
Doctoral Student, Philosophy and History of Education
Advisor: Jackie Blount, professor
A compassionate, empathetic and understanding educator, Guanci takes care to ensure each class she teaches is a community. This creates a classroom where there is more room for learning and free expression of thought, she said.
"I believe that students will be more engaged, more receptive and more successful in a classroom if they feel that they are cared for as people," Guanci said.
During her time as a graduate teaching associate, Guanci has taught Ethics and the Professional Context of Teaching (ESPHE 4403) and School and Society (ESPHE 3206). In both of these courses, students embrace her teaching philosophy.
"I would consider Ms. Guanci to be one of those teachers who leaves a mark on students," said Erica White, a child and youth studies major. "She cares that students succeed and that they visualize their potential…. Students simply can't be grateful enough for teachers like that."
In her studies as a doctoral student, Guanci researches the history and philosophy of United States public schools' sexual health education. She views current sex education through critical, race, feminist, social justice and ethical theories with the goal to create philosophy and guidelines to train current and future public school teachers.
Guanci also was nominated for the Educational Studies Teaching Associates Teaching Award in spring semester 2018.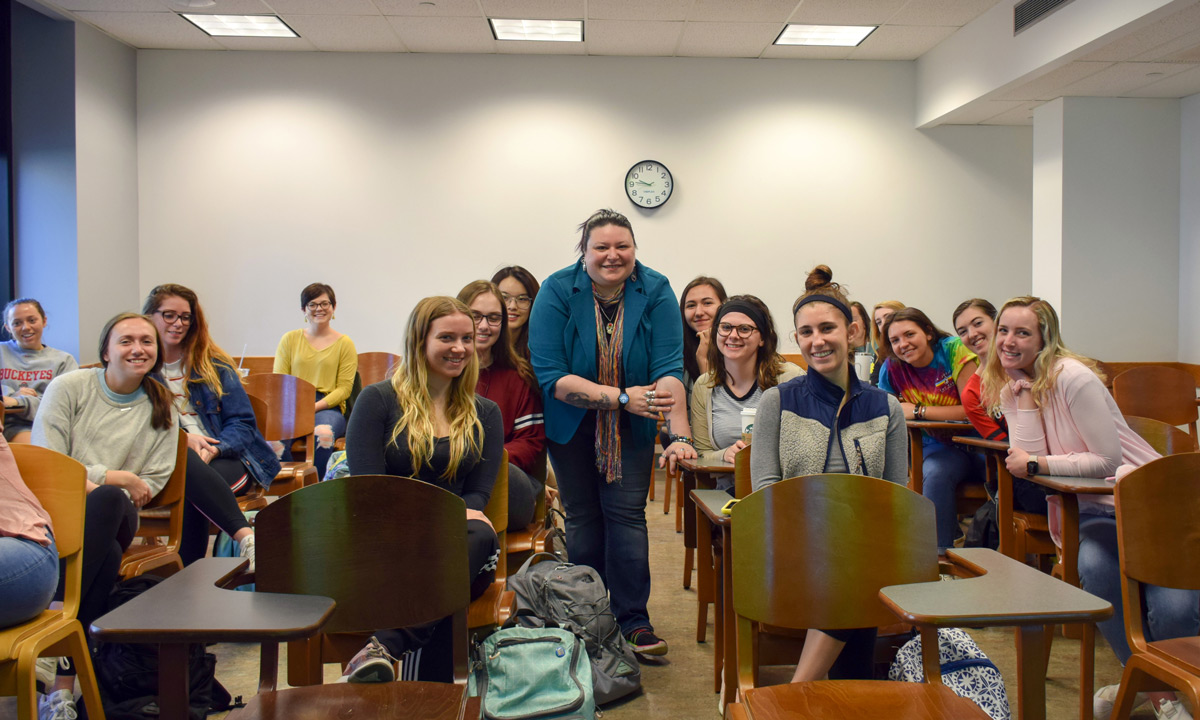 Yeoeun Kim
Doctoral Student, Educational Psychology
Advisor: Shirley Yu, associate professor
"For the students fortunate enough to take a course with (Yeoeun), the outcome of having such an instructor is greater enthusiasm for learning, appreciation for the role of others in the learning process and an ability to pursue improvement with a sense of self-compassion," said Lauren Hensley, senior associate director of the Dennis Learning Center.
In Learning and Motivation Strategies for Success in College (ESEPSY 1259), Kim's goal as the instructor is not to just teach her students what to learn, but how to learn. This transferable knowledge not only is helping her students grow inside and outside of the classroom, it's a principled approach Kim applies to her own teaching as well.
Before, during and after each class, she evaluates her teaching by posing herself six questions. They include how she creates a positive learning environment, are students focused on progress rather than outcomes and how can she improve her teaching?
The personal commitment to improve continually as an instructor is noticed by Kim's students and it inspires them to succeed in her course and throughout their education at Ohio State.
"My grades, organization, and overall mental balance have seen tremendous improvements as a direct result of (Yeoeun's) teaching," said Prajwal Hegde, a microbiology major. "Content can be delivered by anyone, but someone as skilled as (Yeoeun) was able to help me truly learn and master it, and she has changed the trajectory of my career."
Kim's doctoral research focuses on understanding and improving students' motivational and self-regulatory processes in diverse personal and social contexts.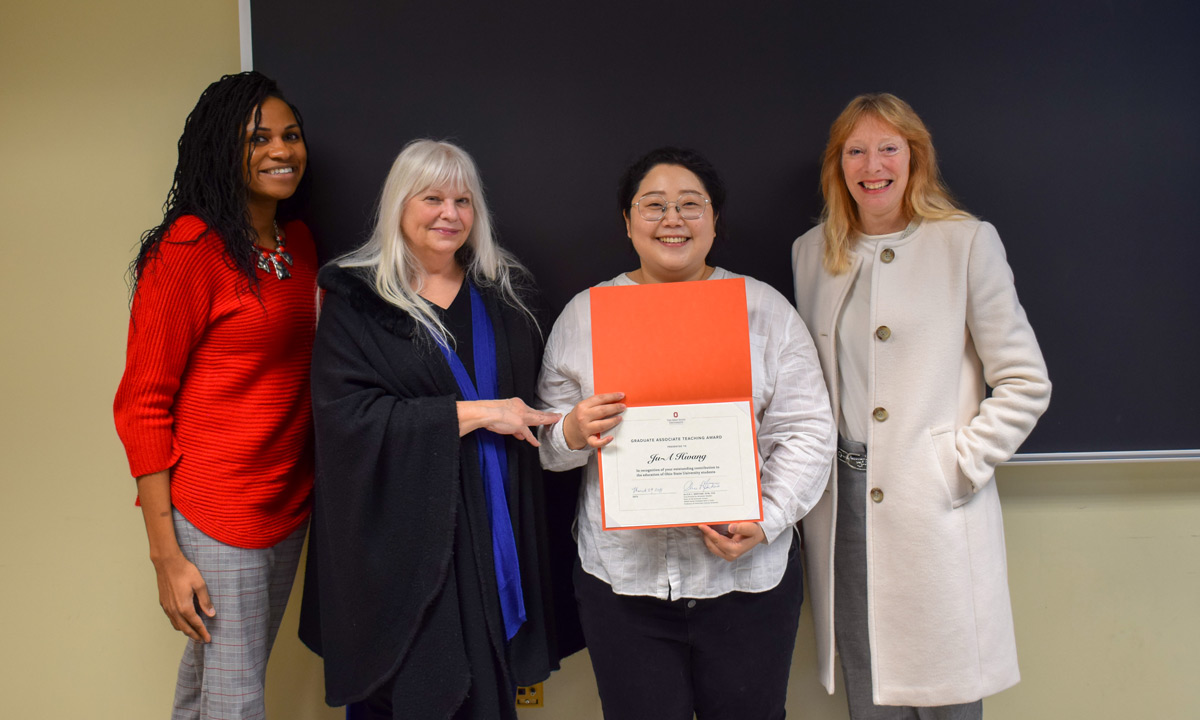 Ju-A Hwang
Doctoral Student, Foreign, Second and Multilingual Language Education
Advisor: Alan Hirvela, professor
When Hwang teaches her academic writing courses (EDUTL 1901/1902/5902) for English language learners, she begins by identifying the students' needs and tailoring what she teaches to meet their goals, she said. Written and verbal feedback, along with creating personal connections with her students, are tenet to Hwang's teaching philosophy.
It's an approach to learning that instills greater morale in the international students whom she teaches.
"Under her instructions, I enjoyed the process of writing and felt confident when I was asked to talk about my final iSearch paper," said Yuwei Yao, a business administration major. "Moreover, the writing skills I gained from her class helped me succeed in my class of rural sociology."
Hwang's teaching at Ohio State during the last four years has made Ohio State's English as a Second Language Program better, said Karen MacBeth, ESL program coordinator.
"Ju-A's talent for communicating with English language learners, her consistent excellence in pedagogy, her care and concern for her students and her reliable professionalism have made her a very valuable part of ESL programs," MacBeth said.
As a researcher, Hwang focuses on how culturally and linguistically diverse students make the decisions they do when writing. Additionally, her interests revolve around how students' cultures impact learning and composing academic writing in a second language.