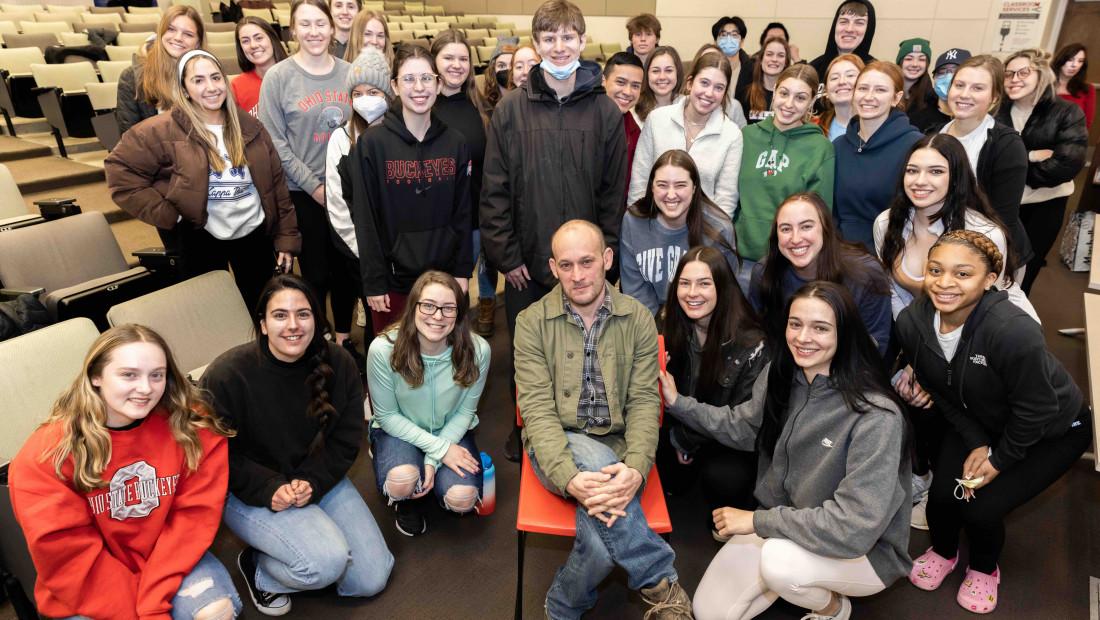 University recognizes faculty's outstanding teaching
Associate Professor Josh Bomser was just about to launch into the day's lecture to an audience of attentive undergraduates when an entourage of university dignitaries interrupted the class.
Executive Vice President and Provost Melissa Gilliam stepped onto the small stage with Bomser in the Jennings Hall auditorium. "I have the pleasure of telling you that you have been selected to receive the 2022 Alumni Award for Distinguished Teaching," she said.
The room full of students burst into applause and cheers.
An astonished Bomser found moisture gathering in his eyes as he noted the presence of college and university leaders, as well as his wife Toma Bomser and their four children.
"This is a great honor," Gilliam said, "because only 10 faculty from across the entire institution receive this honor each year, and you know we have many faculty. So, congratulations."
She emphasized that Bomser will be inducted into the university's prestigious Academy of Teaching.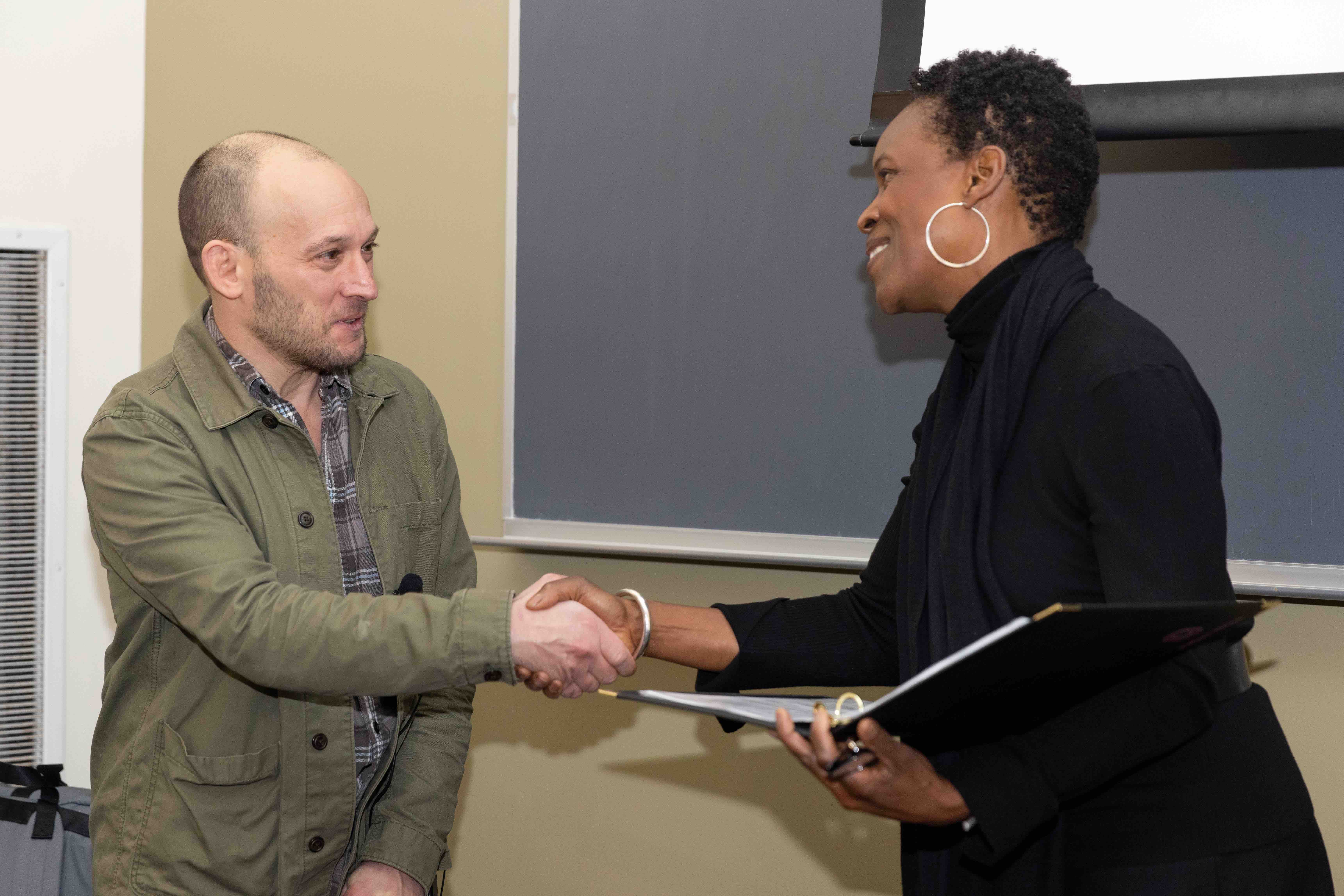 Molly Ranz Calhoun, president and CEO of The Ohio State University Alumni Association, thanked Bomser on behalf of the over 600,000 alumni across the globe. "In recognition of the incredible gift of your time and talent to students, I am presenting you with a Buckeye and a block O pin," she said. "They symbolize the spirit of who Buckeyes are and how you, as a Buckeye, pay forward every single day in creating students who will change the world in ways we have yet to imagine."
Don Pope-Davis, dean of the College of Education and Human Ecology, pointed out that universities like Ohio State are often thought to focus on research alone. But teaching is critical as well. "You exemplify the very best in teaching, and I thank you for putting your teaching first and engaging students as you do," he said, "because at the end of the day, teaching is the key to training good scholars, who are in turn able to understand and do high-quality research."
Congratulations also were offered by Professor Helen Malone, who, as vice provost for Academic Policy and Faculty Resources, reads all the nominations. Professor Brian Focht, assistant chair of the Department of Human Sciences, and Professor Richard Bruno, chair of the Human Nutrition program, also attended and expressed their hearty appreciation of Bomser as their colleague.
Bomser is a classically trained biochemist and nutrition scientist with a command of nutritional biochemistry. He is known for his study of how phytochemicals in our diet can influence disease progression, especially cancer. He teaches multiple courses each semester and is especially known for helping graduate teaching assistants hone their teaching skills.
On the day of the surprise award, he was teaching Human Nutrition 2210: The Science of Human Nutrition. The other courses he is teaching this spring semester are Undergraduate Research in Human Nutrition and Macronutrient Metabolism, which delves into how our body's biochemistry and physiology regulate carbohydrates, lipids and protein during fed, fasted and exercise states.
Students, alumni, faculty praise Bomser's dedication to learning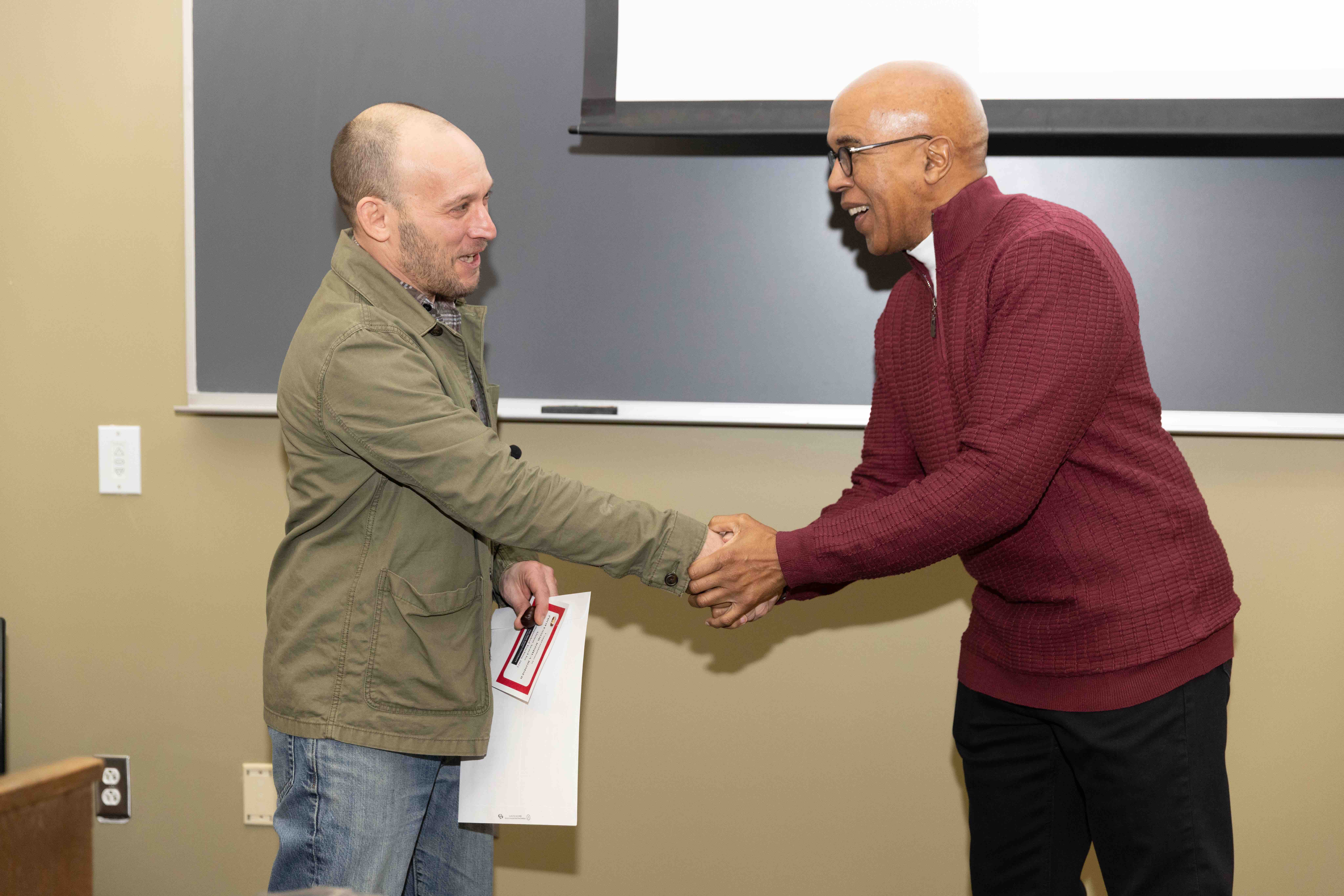 Bomser received 14 nominations from current and past students and alumni, as well as one from Bruno, his program chair. Some of the students were human nutrition majors, but many majored in areas ranging from biochemistry and biology to exercise science and human development and family science. 
Many nominations reflected the point made by this Human Nutrition program alumna: "Dr. Bomser ensured the class was interactive. He made the heavy biochemistry aspect of our class materials really easy to understand. He made it comfortable to ask questions and somehow always knew when we were confused! He recorded lectures, which allowed us to listen to them after class while studying."
An undergraduate wrote, "Dr. Bomser's goal was to make us curious about the topic rather than memorize as much information as possible…. His goal was for us to learn, understand and connect the dots."
An alumna wrote, "I always appreciated how Dr. Bomser's class challenged me to think critically and introspectively about the course material…. He is the most kind-hearted, hard-working instructor I have ever had in my college career. He not only cares about his students' understanding of the course but shows interest in his students' well-being."
An alumna of the Didactic Program in Dietetics wrote, "Joshua Bomser is the most memorable professor I had during my time at Ohio State. His courses remain some of my favorites."
Several alumni praised Bomser for inspiring them to pursue graduate degrees.
According to a Master of Dietetics and Nutrition program student, "Dr. Bomser had the greatest impact on me personally. In only one year, I made my weakness (identified by Dr. Bomser) my greatest strength…. I was told by my preceptor that I'm different from other interns because I'm confident. In addition, because of him, I accepted a new challenge  ̶  getting into a graduate program. Without him, I wouldn't have dared."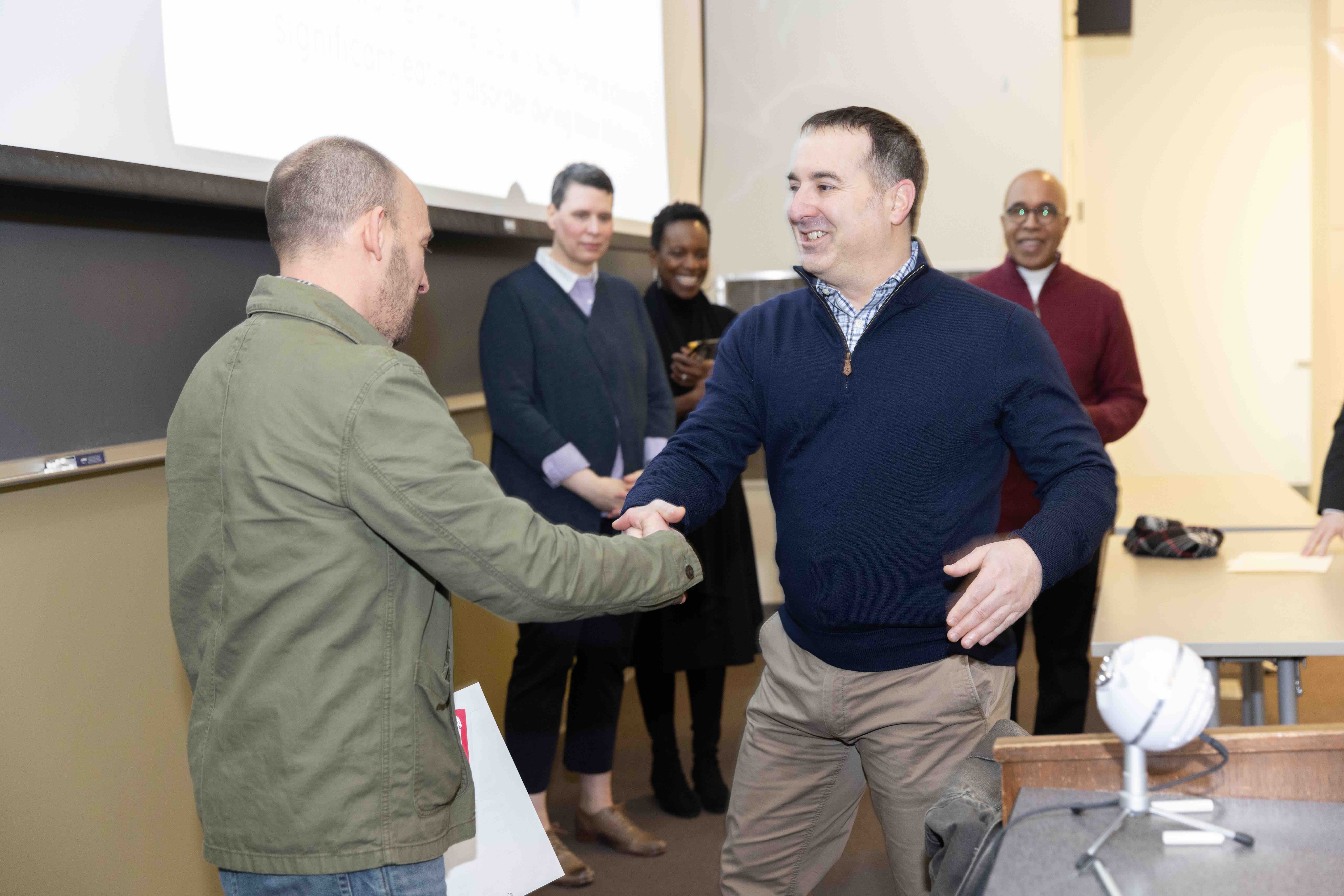 An alumna of the Master of Medical Dietetics program wrote: "He motivated me to become a hardworking student and inspired me to continue my education and receive my master's degree at The Ohio State University. Without the constant help Dr. Bomser provided me, I would not be where I am today."
Several nominators credited Bomser with teaching them how to read published research articles. One alumna wrote, "His class was the first time I ever had to read a science research paper and complete projects pertaining to the research."
As a result of reading the research, an international student in the undergraduate Didactic Program in Dietetics wrote, "Anytime I need to research a subject, I know where to go, and I am not scared BUT ABLE to read them. My papers are now more rich in scientific research because of him."
Many emphasized his willingness to assist them by email, during office hours and in review sessions, as well as the way he accommodates special needs.
An Exercise Science program alumna highlighted this by writing, "Dr. Bomser held office hours the same as any other professor, but the difference was that he was always available by email. He makes his students his top priority." She described how Bomser accommodated a family commitment, which included his arranging for her to take an exam at a later date.
Multiple nominations described Bomser's emphasis on ensuring that students understood the content, as well as his outgoing, friendly demeanor.
"Joshua Bomser is the most memorable professor I had during my time at Ohio State," wrote an alumna of the Dietetics program. "(He) stayed around after each lecture to allow continuation of discussion among peers, clarity for difficult concepts and questions. He was thorough and never rushed when a student needed assistance…. He was also the only professor I had that would always strike up a conversation with me when I saw him on campus." 
Professor Richard Bruno, chair of the Human Nutrition program, has observed Bomser's teaching for peer evaluation, which is required for all teaching faculty. Bruno's nomination emphasized that the students' scores on Bomser's evaluations of teaching are routinely well-above the comparison mean.
"Annually, Dr. Bomser's teaching favorably impacts approximately 1,500 undergraduate students," Bruno wrote, "which is among the largest number in the Department of Human Sciences and clearly signals his leadership as an educator and his ongoing commitment to the educational mission at OSU."
Gilliam summed up Bomser's nominations by saying that they all emphasized what a positive and welcoming classroom he provides. "We love praising our excellent teachers," she said.