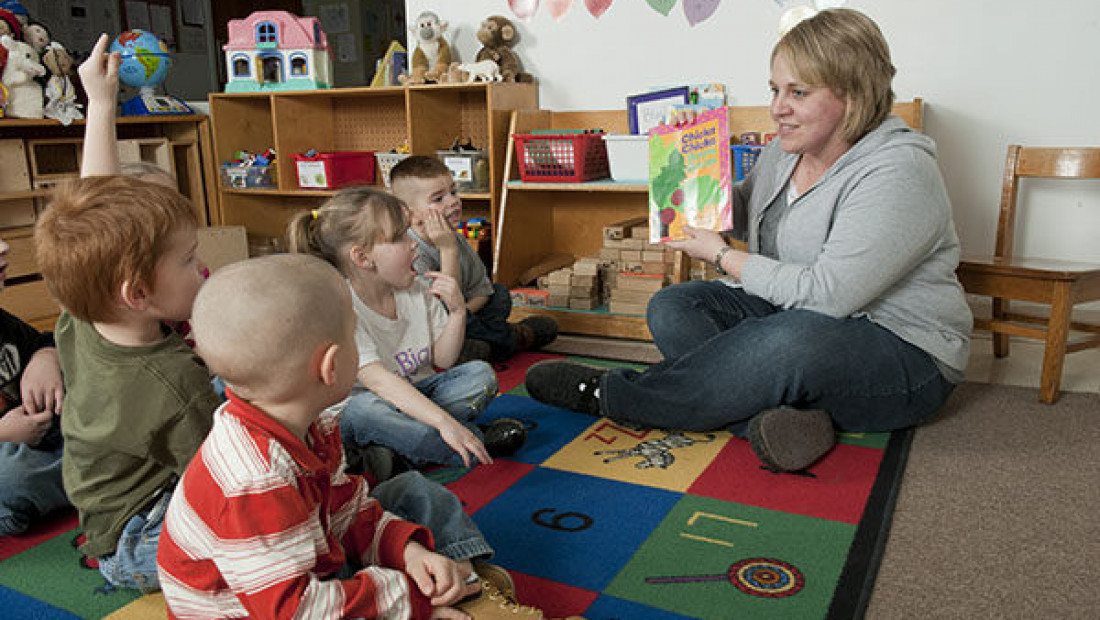 After the successful creation and testing of the powerful learning intervention, Read It Again Pre-K, faculty at Ohio State's College of Education and Human Ecology are developing a digital upgrade to help enhance the early reading skills of preschoolers further.
The Read It Again Pre-K program was created by Distinguished Professor of Teaching and Learning Laura Justice, who also is co-investigator of the digital project. It supplements what teachers are already doing in the classroom to help develop and strengthen young children's foundations in language and literacy.
The curriculum supplement has been so successful that it has exploded beyond its original implementation from a decade ago. It is now used throughout the United States and adapted internationally in countries such as Australia, Canada, Croatia, Italy and Denmark.
Now, Read It Again – Mobile, will build on the program's success as a digital version of the program. It will include new features that were not previously possible.
For example, it will direct teachers through instructional steps, help them make intelligent instructional moves and provide dynamic performance data about their students taught using the Read It Again program, said Kui Xie, Cyphert Distinguished Professor and co-investigator on the project.
"Through the app, we can track how faithfully the teachers implement the program," Xie said.
"Teachers are prompted to enter performance information for their students. Over time we can analyze students' performances and see trends and themes that can recommend specific strategies for specific students."
Teachers who use the app in conjunction with the Read It Again program will have another tool to help preschoolers gain valuable skills that ensure they become better readers.
"This web application provides another mechanism to make Read It Again more powerful," Justice said.
Justice, Xie and research scientist Jessica Logan were awarded $1.5 million in August to make these improvements a reality. The grant came from the Institute of Educational Sciences, a center in the U.S. Department of Education.
The mobile app is expected to be in use with the Read It Again Pre-K in 2017.
Success for all young readers
Justice created the Read It Again Pre-K curriculum supplement as part of a four-year, $3 million research project.
It helps accelerate early skills essential to a child's reading development. It focuses on:
Understanding print and how books are used
Narrative ability (how to explain a sequence of events)
Vocabulary knowledge
Phonological awareness (understanding sounds of letters and language)
Read It Again has been successful with all types of students, but Justice's experiences with at-risk children inspired her to focus the project in Appalachian Ohio, Virginia and West Virginia. In these areas, rural and economically disadvantaged preschoolers have been shown to perform below their peers.
The supplement focuses students on specific skills and can be used with any existing curriculum. It also supports the work preschool teachers were already doing to teach children the foundations of reading and literacy comprehension.
The program calls for two 20- to 30-minute storybook reading sessions with a group of children for 30 weeks. Fifteen low-cost, readily available storybooks are enjoyed over and over again for different lessons. Research has shown this approach achieves positive results similar to those reported from more intensive and expensive curricula.
"I was amazed," said Lori Hamilton, lead teacher at the Coshocton County Head Start in Eastern Ohio. "By the end of the year, even my three-year-olds had mastered skills they would not have gained in my other years of teaching until maybe four or five years of age."
Read It Again Pre-K has been so successful in the field it is available to anyone who wants to use it, for free, from the Crane Center for Early Childhood Research and Policy, Justice said.