Doctoral student Deena Snoke calls her program advisor her "guardian angel" because of the way the professor catapulted her ahead on her career path.
"I might not be in grad school today if it wasn't for her. She is the perfect advisor for me," Snoke said.
Like many doctoral programs at Ohio State, the PhD program in Nutrition is a rigorous training ground for students advancing their education in modern nutritional sciences. The interdisciplinary program pairs students with faculty mentors from several colleges.
Both Martha Belury and Snoke say they knew right away their partnership would flourish. And that gut feeling hasn't failed them. They each know how to motivate the other.
"I got lucky when she and I were matched up," said Belury, the Carol S. Kennedy Professor of Human Nutrition. "We're very open with each other. She's always willing to communicate. As much as she's independent … she works well with a group."
Snoke is a great model for other grad students in her lab, Belury said.
"I get to work with smart people who are fun and have new ideas," she said. "Deena's inspiring, and she's inspiring other people in the lab, even on a dark day when nothing is working. Or your freezer is unplugged."
That mishap has become a part of lab lore.
Making the most of her PhD
Last spring, Snoke was working on an experiment examining cross-sectional muscle samples to determine if they use glucose or fat for energy and how the body can switch between the two. In the first iteration of the seven-week experiment, the deep freezer holding her tissue samples was accidentally unplugged. Everything had to be scrapped.
Instead of being devastated, Snoke called on her can-do attitude to start the experiment over and do it better the second time. Early results show mice that consume a diet higher in linoleic acid (found in grapeseed oil and other plant oils) change their metabolism and burn more calories per hour.
Throughout Snoke's studies at Ohio State, she has employed her tenacity to learn and apply basic science techniques. Now she teaches them to more junior doctoral colleagues.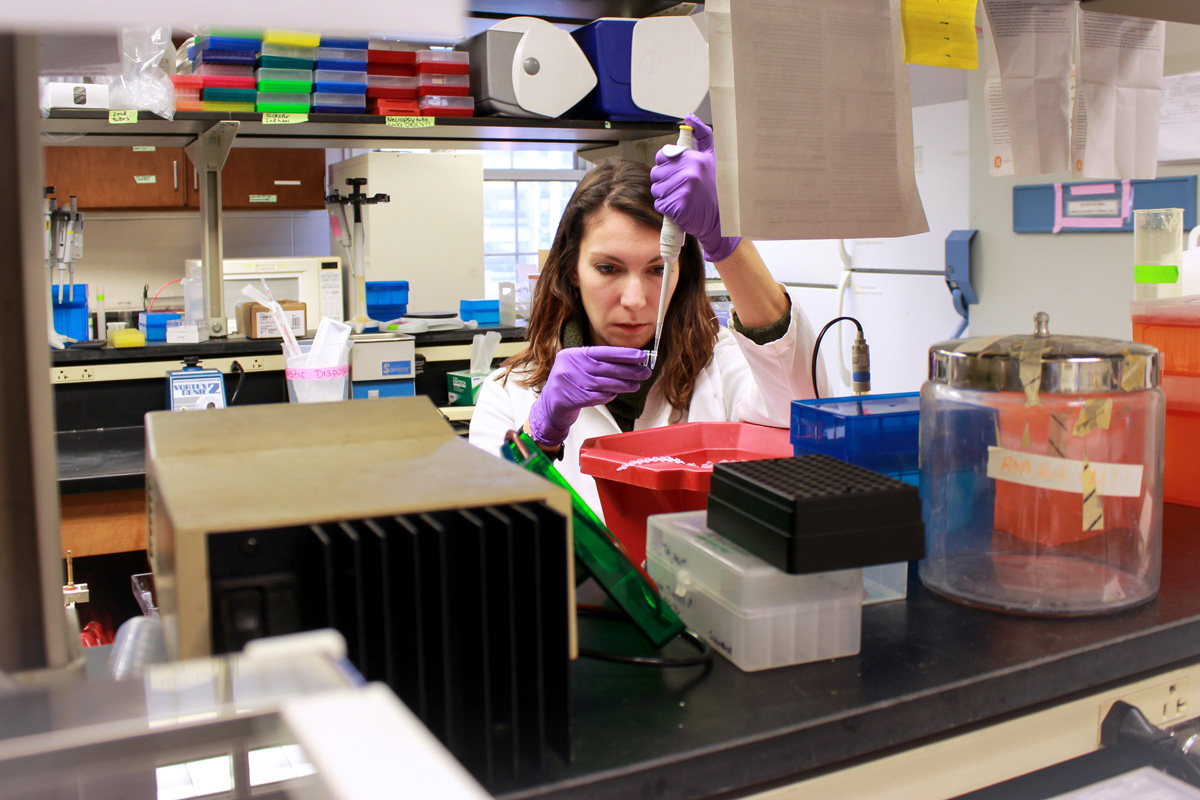 She spends as much time in the lab as possible with her current research studying linoleic acid and its benefits for metabolic health. She's also involved in the Graduate Society for Nutritional Sciences where she is the social chair and previously was president and played a pivotal role in the Russell Klein Nutritional Research Symposium. She also is her program's representative on the Council of Graduate Students.
"One of the huge benefits to being here is how many people you can know and meet from different disciplines," Snoke said. "That's a really huge deal. Just getting involved that one time has led to many other opportunities."
Just within the PhD in Nutrition program, Snoke and other students have access to faculty and resources across the university including The Ohio State University Medical Center, veterinary medicine center, the Ohio Agricultural Research Center and research facilities that have interdisciplinary focus in human and animal wellness.
In her spare time, Snoke and her partner recently took over a tutoring business, where she developed the teaching method that helps high school students improve their ACT and SAT scores.
'To make science more translatable'
It's teaching – whether it's her colleagues, tutoring high school students or college undergraduates – that drives Snoke.
"I definitely want to teach at a small liberal arts school," she said. "That's really my passion – communicating science and information to people. And helping them achieve their goals.
"I had a lot of people in my education and career that made me realize those things. It's really important to me that there are other people there for other students so they don't get lost in the crowd."
"Amazing" women have inspired and motivated Snoke to this point in her PhD. Her Advanced Placement Biology teacher was passionate about science; her undergraduate advisor helped her discover her own love for science and encouraged her to apply to graduate school. And of course there is Belury.
In each person, Snoke has seen bits and pieces of her own personality, which is what has made them influential.
She also credits her undergraduate experience as an orientation staff leader at Keene State College in New Hampshire for getting others excited about science.
"Being at a small school, I was always reminded of how many students I helped to define their goals and shape where they are going and who they are," Snoke said.
She has learned to embrace the feeling she gets each time she teaches others.
When she completes her PhD in December, Snoke says she'll take a break and then focus on making her dream to teach at a university a reality. Her education, involvement in graduate organizations and relationships she has built at Ohio State certainly have Snoke set up for the next chapter of her life and career.
Belury is certain that Snoke's combined drive, patience and organizational skills will ensure she has an impact on the students she teaches.
"She's an entrepreneurial spirit who wants to help others," Belury said. "We need people to make science more translatable, but also transparent. I think she will be a great college professor."