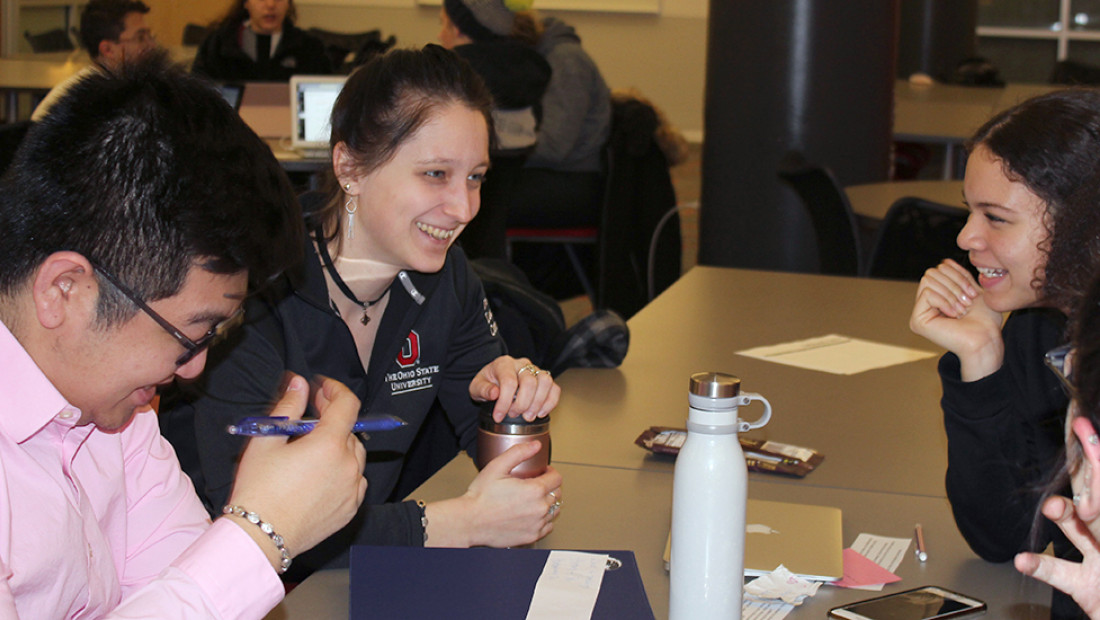 Walk into Irina Kuznetcova's class at the Dennis Learning Center and you can feel the energy in the room.
One Thursday morning, she walked around tables, checking groups as they chatted about an assignment. The class doesn't have the drowsy feeling of a typical early-morning class.
The students are excited to learn, especially from her.
Kuznetcova was recently awarded an Ohio State Presidential Fellowship, the highest academic recognition from the Graduate School. Her students at the Dennis Learning Center were shocked when they learned that their graduate teaching associate, who wears an anime shirt and choker with a planetary pendant, won such a high honor.
Kuznetcova prefers to keep her focus on her students instead of the award that will fund her research.
"I love my students," Kuznetcova said, her face lighting up.
Her passion for helping students goes beyond the classroom. Students with low visuospatial skills — the ability to visualize, manipulate and analyze three-dimensional objects in the imagination — struggle in science, technology, engineering and math education because of how essential it is to their learning. She wants to improve students' self-efficacy in this area — their belief in their ability to achieve.
Her most innovative idea? Using virtual reality (VR) applications as tools to improve students' baseline visuospatial skills.
"Think of a 3D object, like a Rubik's Cube," she said when explaining visuospatial skills. A Rubik's Cube has multiple colored sides and when mixed up, becomes a mental game of how to problem solve to create matching colored sides.
"Basically, you imagine the position of these colored faces before you actually rotate them," she said. "You can also try rotating them in your head before you do it with the real cube. All of that requires looking at the cube from different sides — often in your head — and imagining how the cube will look when you rotate certain pieces."
All of this gets students using visuospatial thinking skills. In STEM education, engineering students need this skill to be successful in learning and problem solving within their field.
Kuznetcova's knows that students with low visuospatial skills do not always receive the chance to practice their skills at home or a classroom. She also knows that dedicated teachers don't always have access to resources that help students perform better.
So, she decided to use her research to fix that.
Visualizing a plan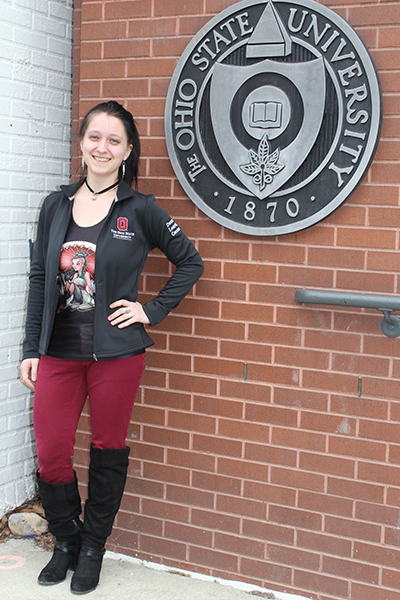 Kuznetcova's journey into education is not surprising.
Since she was three, she watched her mother teach in a small city called Vologda in the north-west of Russia. She liked the idea of being a teacher, "because it's like constantly being on the stage which I liked as a singer."
Her natural passion led her to a BA in linguistics and intercultural communication from St. Petersburg State University in 2015. She felt empowered to work with struggling students.
"I like to teach because you can change someone's fate," she said.
She jumped at the chance to do more after hearing good things about Ohio State's College of Education and Human Ecology. She received her master's in educational psychology last summer, and now is earning her doctorate under advisors Michael Glassman and Tzu-Jung Lin, a professor and associate professor, respectively, of educational psychology.
During her first year as a student at Ohio State, Kuznetcova worked with Glassman to start her research, initially about gaming and education. By her third year, she had attended the gaming conference GDEX where she heard an Ohio State physics professor speak on VR for physics education. She reaches out to the professor to get on board with that project. From there, she reached out to Glassman to see change her focus from education and gaming to VR and visuospatial thinking skills.
Glassman told her he would support her. "But that it would have to be high quality research based in bedrock educational literature. She nodded her head, signaling the beginning of my wildest of educational journeys," he said.
He was not sure where her research would lead, but he knew from the beginning that her dedication would make a tremendous impact on students, especially women and minorities going into STEM careers who otherwise might struggle to develop visuospatial skills.
After a few more meetings with Glassman, whom Kuznetcova said changed the way she understands education, she got to work.
Diving into VR
Using visual technology in teaching is not new, but Kuznetcova's study — using virtual reality technology as a tool to expand learning over an extended time — is the first of its kind.
Goggles on, students see virtually concepts they're learning in class: using a controller to interact with 3D objects, flipping them into the correct position. Practicing these skills helps improve the baseline for students with low visuospatial skills, boosting their confidence when they achieve.
Assistant Professor Chris Orban and Post Doctoral Researcher Chris Porter asked Kuznetcova to partner to study using virtual reality technology as a practical teaching tool.
"The first thing Irina realized was that there were no good instruments to measure whether students actually would increase their (visuospatial ability) through an intervention," Glassman said.
The concept wasn't easy for people to understand. So, Kuznetcova made animated GIFs to help explain visuospatial skills and how they work. A survey using the GIFs was constructed for new engineering students, to see how they placed on the scale.
"I can say without reservation that the survey is the most amazing self-efficacy instrument I have ever worked with," said Glassman.
To make sure her research took the next step, Kuznetcova focused improving the self-efficacy of the student in the intervention she created.
Now in pilot testing
A team of professors specializing in physics, engineering, educational psychology and programming and game development helped her construct her intervention which was implemented into a course. She continues to tweak the intervention to strengthen her research and find how VR plays a role in learning.
"We know that technology is not the answer (by itself). We need to understand how students learn from this technology," Kuznetcova said.
She hopes her research will become a guidebook to help teachers implement a simple method to help students who struggle in this area — often people from disadvantaged backgrounds.
Humbled and honored by the Presidential Fellowship, Kuznetcova knows the money she received will help her achieve biggest goal: to help students.
"I want to create an open-ended world that invites students to explore different topics together," she said. "Basically, the idea is to get students interested in some problems so that they use the class materials as a way to solve these problems as opposed to just doing it for the sake of the grade."