Coaching Education Minor (COACHED-MN)
Image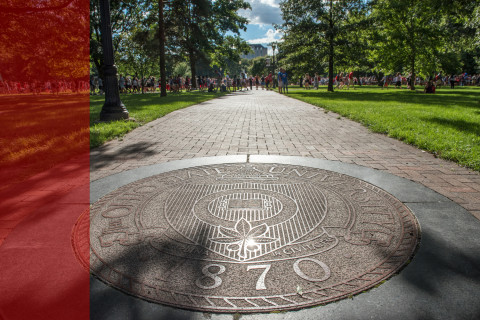 There is a significant need for qualified coaches for children and youth sports programs. The Institute for the Study of Youth Sports estimates that 40 million youth participate in sports annually. Over 4 million adults serve as volunteer coaches. It is not unusual for schools, community agencies, and religious groups to seek competent persons to coach their children. All of these organizations need assistance with the administration of their sport programs.
Thus, there is the need to develop competent coaches and administrators of these sports programs. Many students across campus express interest in coaching and coaching classes, and many students do coach while in college; however, they have little exposure to coaching education. Too often these "coaches" continue coaching patterns that are uninformed by advances in knowledge about quality coaching practices. They are also uninformed about the developmental and educational needs of those being coached.
The coaching minor is comprised of core courses and electives. Students who choose the minor focus on the coaching and administration of youth and adolescent sports and are exposed to the knowledge and content needed to coach or organize an effective sports program. The minor emphasizes theories and basics of coaching and administration of youth and adolescent sport programs. The minor requires 18 credit hours.
After an advisor in EHE Office of Academic Affairs has approved the Minor Program Form, please return it to your college of enrollment so it can be added to your program. No variations in the program are allowed.
Students preparing for a career in coaching are strongly encouraged to obtain CPR and First Aid Certification.
---
Core Courses (15 credits)
KNPE 2201 (3) Concepts of Wellness and Fitness
KNPE 2262 (3) Coaching the Young Athlete
KNPE 5643 (3) Coaching Effectiveness
KNPE 4191 (3) Physical Activity and Coaching Internship
KNPE 5521 (3) Qualitative Skill Analysis Industry
Elective Courses (select one, 3 credits)
HTHRHSC 5550 (3) Survey of Sports Medicine
KNSISM 4245 (3) Leadership & Programming in Sports
KNSISM 4509 (3) Sport & Leisure Service Delivery & Promotion
KNPE 2542 (3) Lifespan Motor Development
KNSISM 4607 (3) Legal Aspects of Sport
KNPE 5657 (3) Sport & Disability
Coaching Education minor program guidelines
Required for graduation: No
Credit hours required: A minimum of 18 credit hours. 1000- level courses shall not be counted in the minor. At least 6 credit hrs must be upper-level hours as defined by the College of Education and Human Ecology.
Transfer and EM credit hours allowed: A student is permitted to count up to 6 total hours of transfer credit and/or credit by examination toward the minor.
Overlap with the GE: A student is permitted to overlap up to 6 credit hours between the GE and the minor.
Overlap with the major and additional minor(s)
The minor must be in a different subject than the major.
The minor must contain a minimum of 12 hours distinct from the major and/or additional minor(s).
Grades required:
Minimum C- for a course to be listed on the minor.
Minimum 2.00 cumulative point-hour ratio required for the minor.
Course work graded Pass/Non-Pass cannot count on the minor.
No more than 3 credit hours of coursework graded Satisfactory/Unsatisfactory may count toward the minor.
X193 credits: No more than 3 credit hours.
Minor approval: Early declaration of the minor and early consultation with an advisor in the EHE Office of Academic Affairs to discuss course choices is highly encouraged.
Filing the minor program form: The minor program form must be filed at least by the time the graduation application is submitted to a college/school counselor. Early declaration is highly encouraged.
Changing the minor: Once the minor program is filed in the college office, any changes must be approved by the academic program coordinator in the College of Education and Human Ecology.