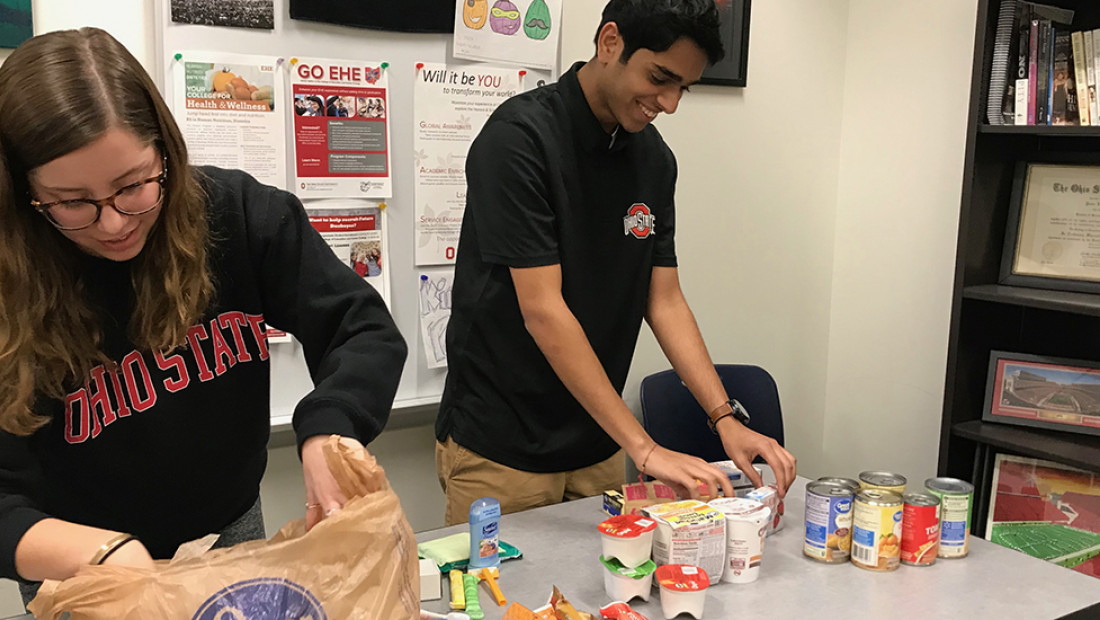 Dozens take advantage of donated food, hygiene items
Hunger pangs should not be a rite of passage for university students.
Yet more than a third of college students nationwide say they don't get enough to eat, according to a 2018 national survey across multiple universities. A 2014 Ohio State survey found that 15 percent of students have a "very low level of food security."
The problem is particularly bad among juniors, seniors and graduate students, who typically don't buy meal plans associated with dorm living.
The College of Education and Human Ecology is responding to the need, partnering with the Advocates for Communities and Education Scholars to open a food pantry in the PAES Building, 305 Annie and John Glenn Blvd.
"Through discussions with my own students, I have found that food insecurity is often a hidden issue on our campus," said Pete Rex, '11 MA, an academic advisor for the college's Undergraduate Student Services. He is also coordinator of the scholars' group.
"Many students run into trouble when they no longer have meal plans after moving off campus, or simply run out of meal swipes before the semester is over," he said.
Any Ohio State student can come to the Office of Undergraduate Student Services, A100 PAES, and request a food bag, a toiletry bag or both. The bags include nonperishable items such as ramen noodles, granola bars, canned fruit and veggies, spaghetti and mac and cheese — food that's "open-and-eat, just-add-water" and requires minimal preparation.
Toiletries include washcloths, bar soap, deodorant, shampoo, toothbrushes, toothpaste and feminine products.
The scholars' group donated many of the items, then used group funds to buy more. The college began dispensing bags shortly after classes began this semester.
Dozens of students have already received food.
"While it is sobering to realize that so many students are experiencing financial insecurities, especially this early in the semester, it is reassuring to know that this resource is being utilized," Rex said.
The office is monitoring who uses the pantry so that other resources can be shared with the most-needy students.
Advocates for Communities and Education Scholars is a two-year scholars' program that educates students about community advocacy and provides opportunities for service. The group has helped to promote the food pantry through social media and peer-to-peer encounters.
"If we can at least help students get to their next paycheck or next financial aid disbursement, that's our goal," Rex said.
Your help is needed
Because of high demand, the Office of Undergraduate Student Services and Advocates for Communities and Education Scholars is seeking these much needed items: Washcloths, toothpaste, toothbrushes, bar soap, hand lotion, tampons, shaving cream and disposable razors. Food items: Canned fruits and vegetables, ramen noodles, granola bars, fruit snacks, Pop Tarts and instant oatmeal.