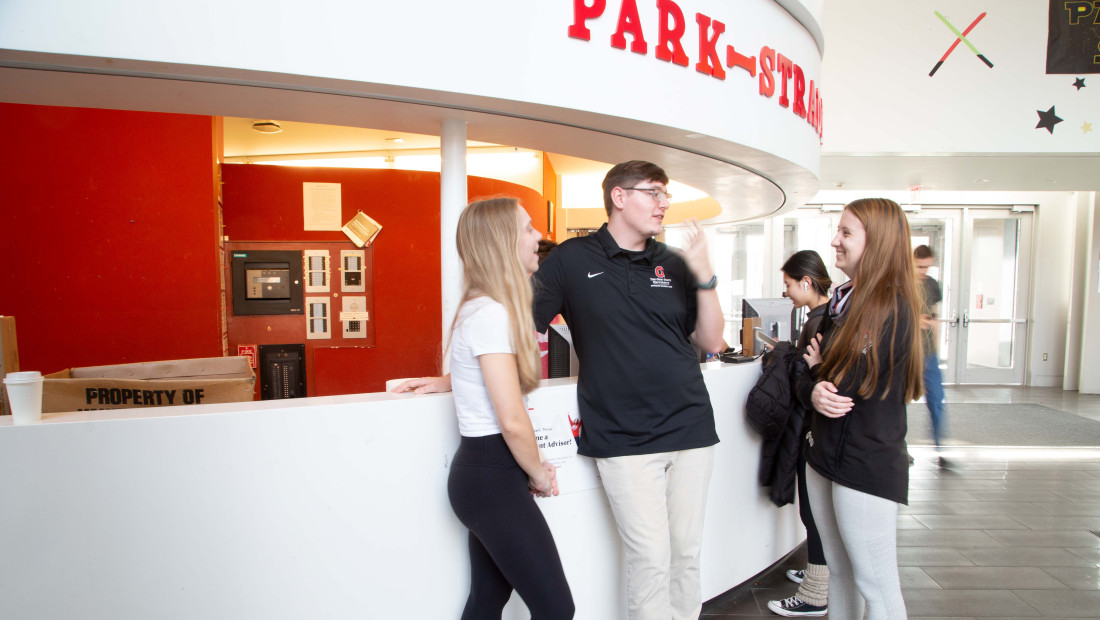 Hunter Jones was living and working in Minneapolis in May 2020 when the city imploded, and the world with it. 
"Even before everything happened in the summer of 2020, it was still the most racially segregated place I've ever been," she said. "Being there at that time was a lot, but it also helped me think about what I wanted to study and why." 
As COVID raged and racial protests rocked the country, Jones began searching for master's  programs the way any good journalist or qualitative researcher would — she interviewed 23 people in fields that interested her. Several pointed her to Ohio State University's Higher Education and Student Affairs program. Jones scoured faculty journal articles and the college's website.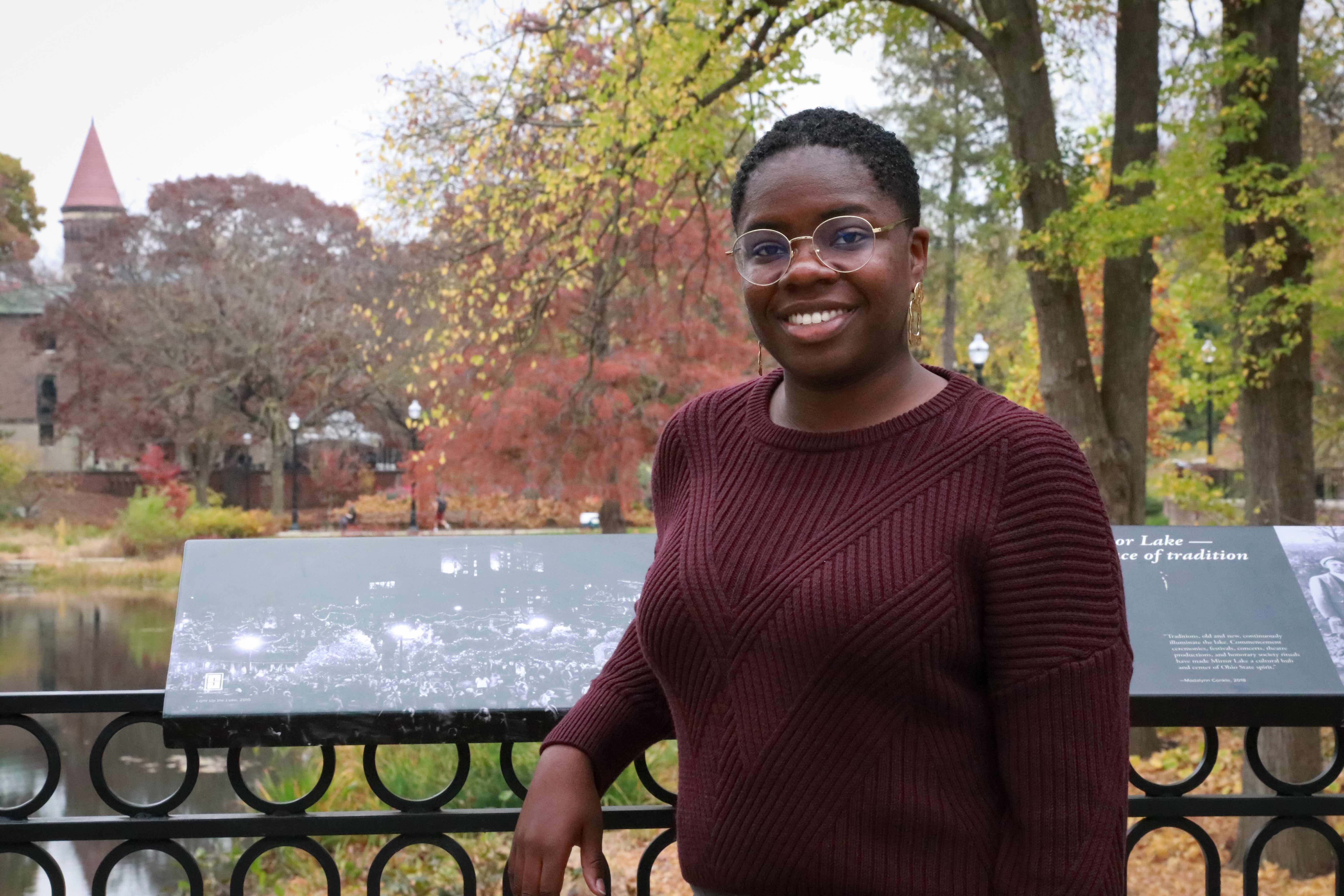 With its emphasis on diversity, equity and inclusion, the College of Education and Human Ecology was a snug fit with Hunter Jones' core beliefs. She applied and was accepted. But it wasn't until her first classes that she realized the true weight of her choice. One course textbook, Student Development in College, was co-authored by Stephen John Quaye, the program chair, and Lori Patton Davis, chair of the college's Department of Educational Studies. 
"And then I kind of realized: Every person who's in any higher education program across the country is reading this book," she said. "So, then I started putting pieces together. I was like, 'Oh, this is a really big deal.'"
A big deal, indeed. The new master's student went straightaway to Quaye and Assistant Professor Kristen Mills and told them she wanted to be involved in their research. Now in her assistantship, Hunter Jones helps Quaye, Mills, doctoral student Neal McKinney and master's student Na'eem Allen-Stills study racial battle fatigue among college students of color. 
A growing reputation
In six years, Ohio State's Higher Education and Student Affairs program has risen 12 spots in the U.S. News and World Report graduate rankings, to No. 6. Focusing on a diversity of college students and their unique needs to find success, the program's faculty have racked up an impressive trophy case of accomplishments. 
Quaye this year was named editor of The Journal of Higher Education, bringing back to Ohio State an influential publication established here in 1930. At the same time, Professor Penny Pasque is editor of The Review of Higher Education.  
"It's very rare that two of the three top journals in the field, I would say, are housed at one place," said Professor Matt Mayhew, who himself edits Council of Independent Colleges Digest. 
Articles by the program's faculty frequent an array of publications. A 2020 journal review found that among authors published in five major general higher education journals, Mayhew was the most prolific. He has brought more than $8.5 million in multi-institutional grants since coming to Ohio State, mostly for his studies about the intersection of religious faith and college life.
Program faculty and alumni are advancing change in higher education through leadership and innovation. Internationally recognized for her qualitative research expertise, Pasque heads up one of the rare, college-level labs devoted to honing qualitative research methods.
Patton Davis, renowned for her scholarship on Black women and girls, gave the Brown Lecture for the American Educational Research Association in 2021 and was inducted into the National Academy of Education, the first Ohio State faculty member to do either. She crushed barriers by becoming the first Black woman president of the Association for the Study of Higher Education in 2018. 
In fact, all three presidents of the organization since then, including current president Joy Gaston Gayles, are graduates of Ohio State's Higher Education and Student Affairs program, and two are faculty of color. The program's high rankings reflect that diverse leadership, Patton Davis said.
"That reputation hinges upon our alumni who go out there," she said. "So, the fact that the last three presidents of the Association for the Study of Higher Education were OSU alums — that says something." 
"We are graduating not only people into the field," Mayhew said, "we're graduating leaders in the field. And that's important."
History steeped in student development
College students and the field that studies them are vastly different today than when Ohio State's Higher Education and Student Affairs program began, 75 years ago next year. That's as it should be, Mayhew said.
"American higher education has always been able to change with the times and figure out ways to address the needs of the public since its inception," he said.
Over the decades, Ohio State propelled much of that change. Faculty Emeritus Robert "Bob" Rodgers perfected the Student Personnel Assistantship program at Ohio State, among the first to fully integrate theory and practice through master's and doctoral student placements in supervised field experiences within the university, including in Student Life and Academic Affairs. Rodgers' impact on the field was "huge, huge, huge," said Susan Robb Jones, the professor who took over the program in 1996 and retired in 2021.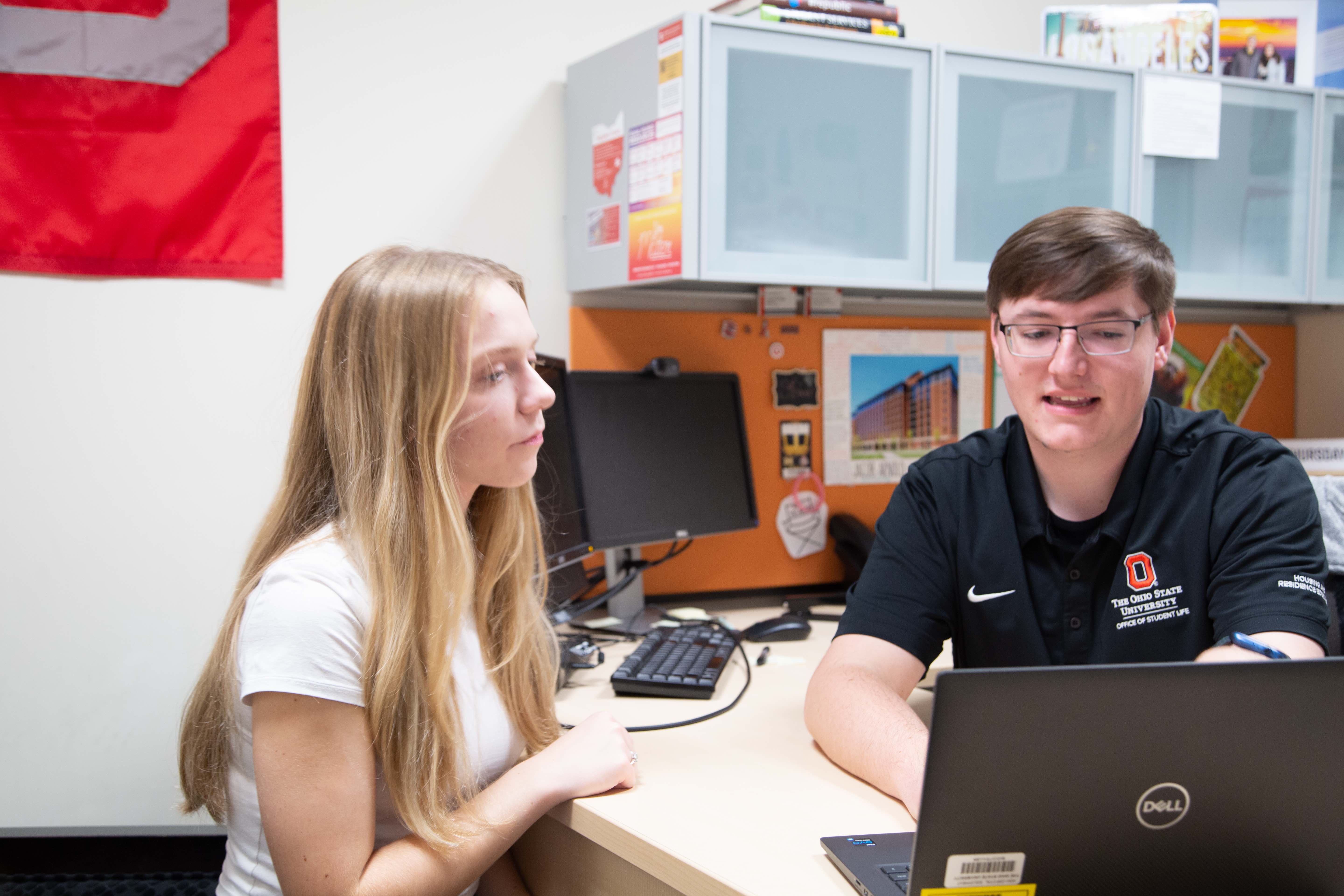 "I don't go anywhere professionally where alums of particular generations don't still talk about Bob and the influence he had on them as individuals and on their education," Jones said. "Graduates of the Ohio State program who took classes from Bob understood student development theories better than anyone else in the country at that time."
Rodgers, who died in August at age 84, was a jokester who brought contemporary life situations into the classroom to provide examples. Ardent about his research on student development, he also was known to break into ballroom dance during class, Jones said.
"His students knew that they were in the presence of greatness when he taught about (student development theory), and he was an incredibly engaging instructor," she said.
Through its partnership with Student Life and other campus units, the SPA program remains among the few top-ranked higher education and student affairs programs that fully fund tuition for its students through assistantships. Jones "worked really hard at curating that and making sure that was a staple of our program," Mayhew said.
But she also took Rodgers' scholarship to the next level. 
"When we talked about identity," Patton Davis said, "we talked about racial identity, or gender identity or psychosocial identity," all those siloed aspects of college students' lives. But Jones' scholarship helped weave together multiple dimensions of students' identity. 
"The model really brought together these ideas around students having all of these identities and in certain situations and contexts in the campus environment, one identity might be more salient and foregrounded than another identity," Patton Davis said.  Jones' writings moved the field to look at a more holistic but also nuanced picture of the American college student.
"That was really important for me because I was coming up in that lineage of folks writing about student development," Patton Davis said. "And so, Susan (Robb Jones) was here. Her name was synonymous with Ohio State for a really long time."
An academic genealogy, deep and wide
A number of innovators have come through Ohio State's Higher Education and Student Affairs program as students and as faculty. The resulting academic "family tree" arches across the field, creating Buckeye lineages that foster still more understanding. 
Rodgers helped recruit Philip Tripp in the early 1970s, an icon in the field who brought together emerging scholars. In that era, Roosevelt Johnson was among the few scholars of color studying Black students and Robert Silverman was a longtime editor of The Journal of Higher Education.
Later, Rodgers would advise doctoral student Marcia Baxter Magolda, '76 MA, '83 PhD, who became a leading scholar on self-authorship — developing an internal voice to guide life choices. He also mentored Jones, who in turn worked with Stephen John Quaye at University of Maryland and then helped recruit him from Miami University to Ohio State in 2019. Associate Department Chair Marc Johnston Guerrero advised Tiffany Steele, '20, now assistant professor at University of Rochester; Steele was one of the 23 interviewed by Hunter Jones as she looked for her graduate program.
"Our roots really run deep," Guerrero said. "That relates to both why we have a strong reputation, but also that network for students who graduate and (go) out in the field. There are just so many Buckeyes and people connected to our program."
As the lineage has grown, the focus on a more diverse mosaic of students has, too. Gaston Gayles, '02 PhD, researches women and people of color in STEM fields and racial justice in college athletics. D-L Stewart, '98 MA, '01 PhD, researches how marginalized students experience college life at predominantly white institutions, focusing on the ways race, gender and sexuality intersect. 
At Ohio State, Guerrero studies the increasing number of college students who identify as multiracial, mixed race or biracial, a population within the United States that increased by 276% between the 2010 to 2020 censuses, he said. Quaye studies racial battle fatigue and student activism. Prospective students see the program's and college's commitment to social justice, Quaye said. 
"I think that's a big reason why many of them come here," he said. "Part of the reason I know that is from reading their applications. Almost 90% of them list that as something that they're committed to and are choosing Ohio State because of our value around that topic as well."
While the master's program has for years been among the most diverse at the university in terms of its students, the doctoral programs graduated eight Black doctorates in 2021, the most ever in one academic year.
Higher ed and student affairs programs espouse that college environments should allow students to become the best versions of themselves. Ohio State's program has to live up to that commitment, Quaye said. 
"We're not just what we say on paper," he said. "We try to do it in practice."
The program hosts forums for students to share ideas and perspectives; student representatives attend monthly faculty meetings; informal gatherings are planned to allow faculty to mingle with students.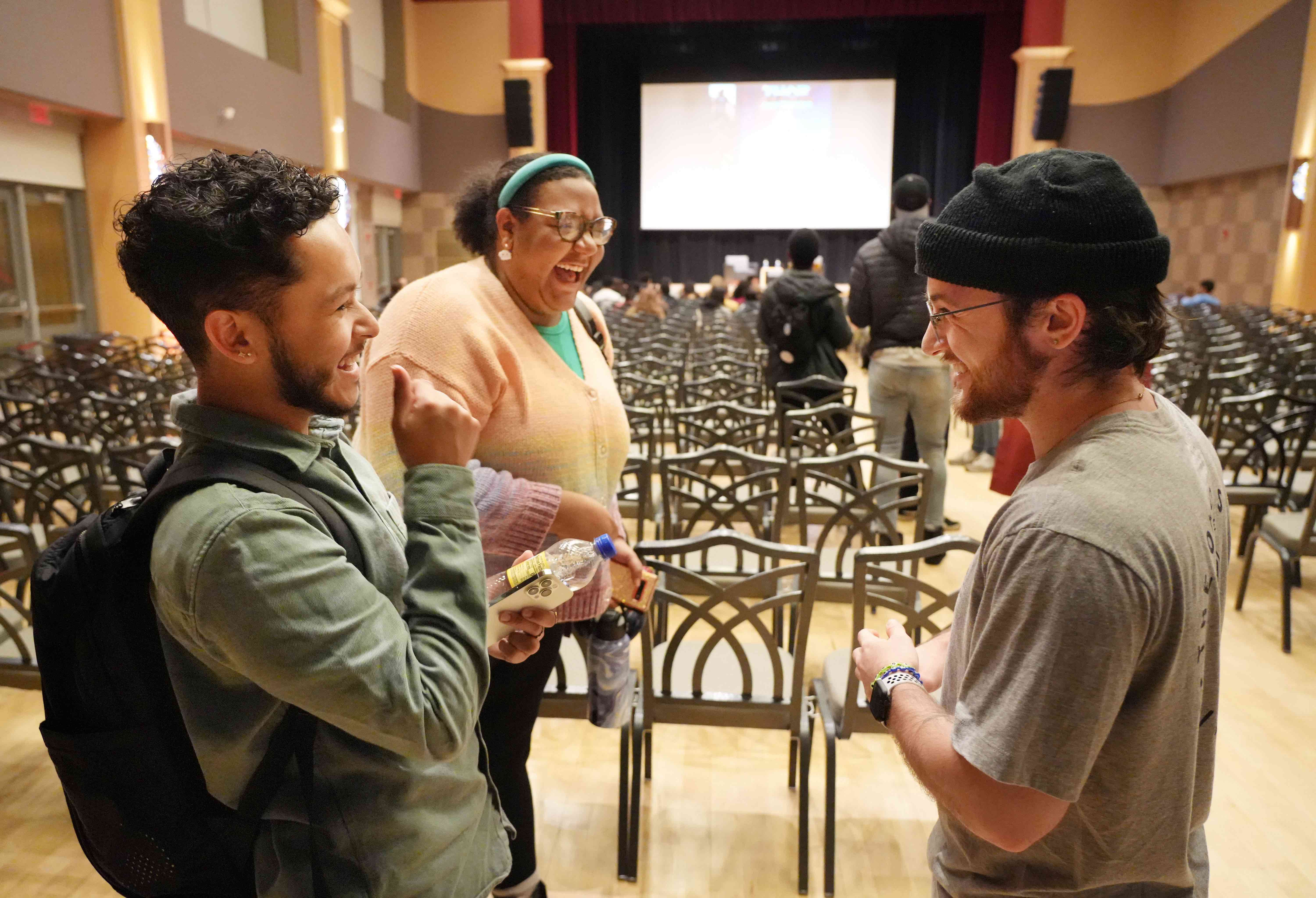 "They have a voice. They have a say," Quaye said. "And we take it seriously."
Hunter Jones has found her voice collecting qualitative research for Quaye's and Mills' studies. That work interviewing college students, she said, reminds her of times she meandered through family functions with a tape recorder, asking her relatives to tell stories. 
"I was five years old, so I've been doing that my whole life," the master's student said. "I just get to do it on a deeper level now. I have always believed that people's stories are important. But actually being able to see the way people's stories can be used to make a change? It's been really inspiring."