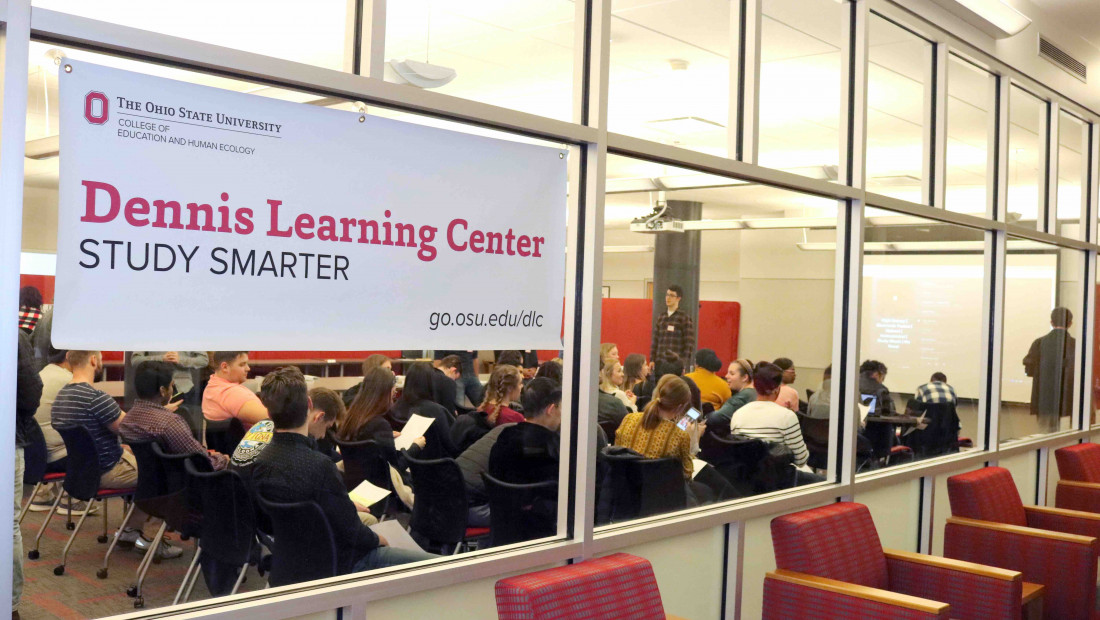 The Dennis Learning Center's main objective is to support Ohio State students on their academic journey. To share the breadth of knowledge from staff across the university, the center partners with the Office of Technology and Digital Innovation, Office of Student Life, Office of Student Academic Success, Office of Undergraduate Education, Office of International Affairs and University Libraries. Staff experts from each office serve as instructors for courses provided by the center to promote student success. You can read more below about specific opportunities that have been provided to students through these partnerships. 
---
The Dennis Learning Center supports the academic success of Ohio State students by helping them study smarter. To achieve this purpose, the center administers a suite of college success courses taught by a team of experts. Some of these experts are employed within the center, but the center also is privileged to employ experts from partnering units across the university.
The commitment and professional expertise of these university staff who serve as instructors ensure that center courses do exactly as intended: they promote student success. Some of these vital partnerships with staff across the university are described next.  
Office of Technology and Digital Innovation
One key partnership is with the university's Office of Technology and Digital Innovation. Each semester, staff members from the office bring their expertise in online learning experiences to the teaching of ESEPSY 1159: Online Learning Strategies and Skills. Associate Director John Muir has observed the skill his team members bring to the course, as well as the benefits of this partnership for his unit.
"Our instructional designers work as consultants and support for instructors who teach in the university's dozens of online degree programs and certificates," he said. "We get to collaborate intensively with amazing faculty all over the university—dozens every semester—and (teaching for the Dennis Learning Center) is an invaluable learning experience. It gives our online instructors the experience of an online instructor, direct contact with students and a rich understanding of how classes are taught and how students experience different kinds of courses."
"We take those lessons, especially the student questions and perspectives, back into our work to help instructors make their online courses more effective for their students," Muir said. "We approach our work with a real mindfulness about supporting student success and well-being across everything we do."
Instructional Design Technologist Ken Matthias agreed. "Teaching ESEPSY 1159 has completely changed my outlook on why and how we educate students," he said. He found that as a result, "the way I interacted with faculty and students changed dramatically." His teaching has helped him better advise faculty about ways to engage students through immersive experiences with the content, as well as by providing meaningful, growth-oriented feedback.
He most values hearing from the students. "We give students opportunities to reflect on what they are learning throughout the course," he said. "I am amazed at the depth of understanding some students provide when answering or reflecting on the questions posed to them."
"What truly is gratifying is when a student mentions something they have learned during the week that they have already put into practice and that has helped them get through a tough spot in another class," Matthias said. "Those responses are what make teaching ESEPSY 1159 a true joy."
Throughout the COVID-19 pandemic, Matthias found his teaching has helped him extend compassion to students and, on a personal level, to support his family by providing an educator's perspective of teaching during this time. "I truly love giving of myself to my students as well as taking the feedback I receive from them to make me a better teacher, worker and parent," he said. "Teaching is one of those things that makes working at the university so worthwhile."
Office of Student Life
D'Arcy Oaks serves as an instructor with the Dennis Learning Center and is the developer of ESEPSY 1359: Critical Thinking and Collaboration in Online Learning, which is also focused on students' engagement in online contexts. "What I appreciate most about teaching is students' learning and mastering skills they had previously thought they had already mastered, such as using Boolean logic to search library databases."
As senior associate director for program review and strategic planning with Ohio State's Office of Student Life, Oaks said his role allows him to bring into the classroom real-world examples of the application of skills, such as evaluating resource credibility. "Interacting with students in the classroom helps me contextualize and better understand their needs," he said, "which informs my role in Student Life."
Office of Student Academic Success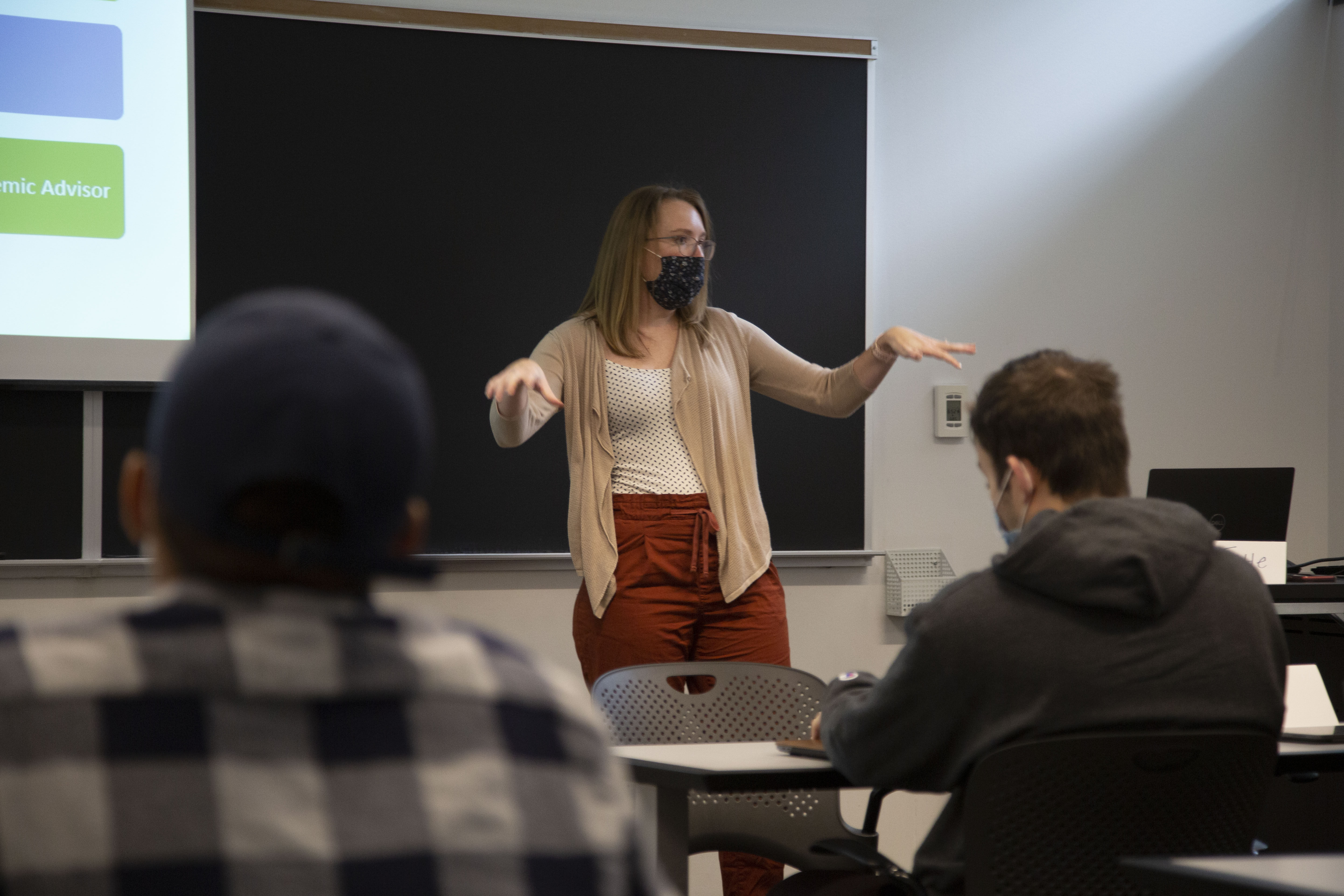 The teaching of ESEPSY 2059: Becoming a Self-Regulated Learner reflects a partnership between the Dennis Learning Center and the SpringForward program in Ohio State's Office of Student Academic Success. "SpringForward works to support historically underserved students who struggled academically and are looking to get back on track and, eventually, graduate," said Amanda Donahue, program manager. "In my role with the program, I work with students from many different backgrounds and experiences to achieve their goals of being an Ohio State graduate."
In addition to the SpringForward staff's roles in program development and individual student support, they teach ESEPSY 2059 to enhance the growth of students who have had a tough academic start. "In the class, they learn that growth is continuous, as well as how to overcome obstacles and become better students," Donahue said. "Because of the small class size and the in-depth reflections, I am able to make real connections with students, which makes celebrating their successes even better."
Office of Undergraduate Education, College of Education and Human Ecology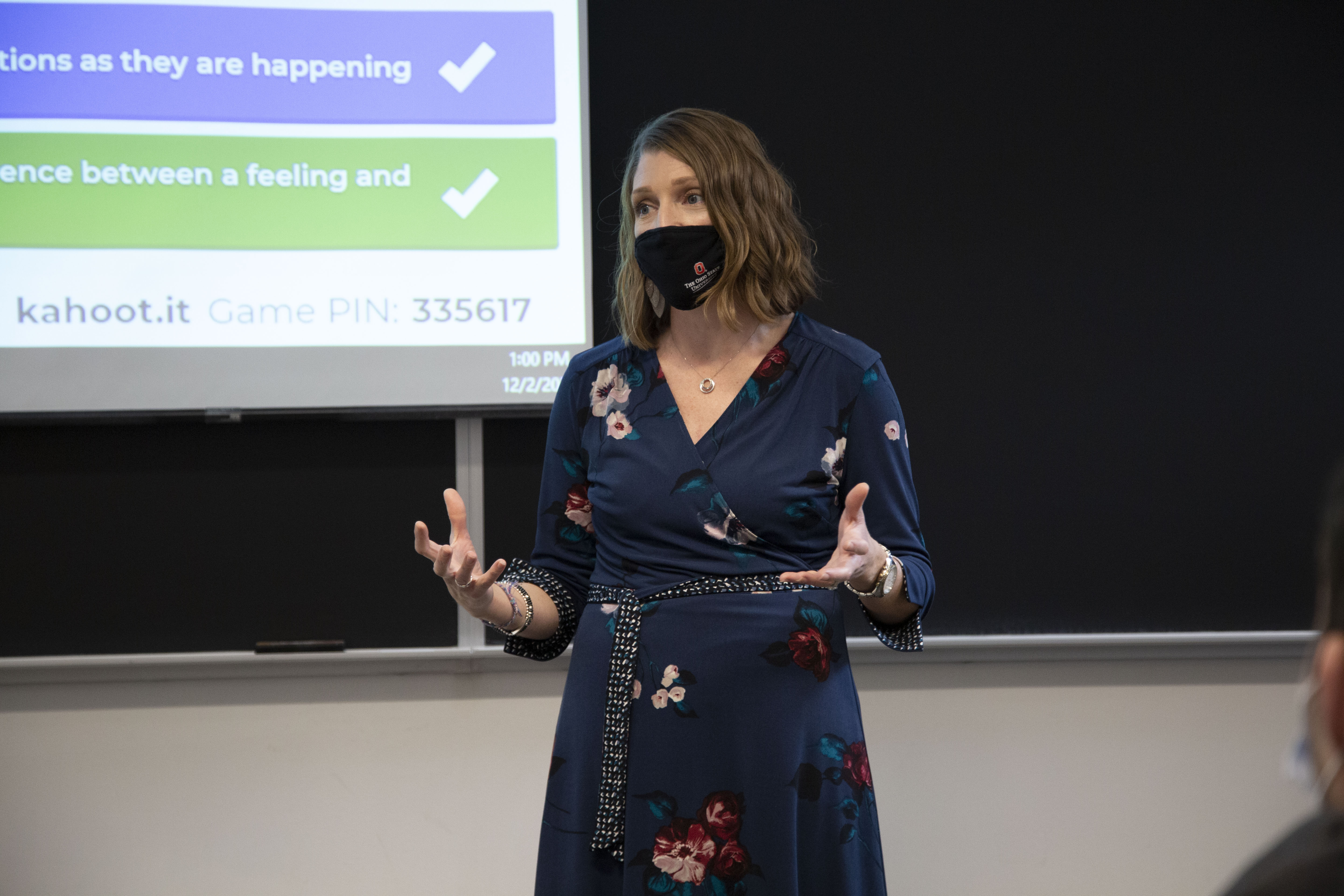 College teaching and program administration are mutually reinforcing for Rachel Tuttle, the college's  director of recruitment, retention and student engagement. "I work to support students' entry into Ohio State, navigation of our various majors within the college and connections with various academic and co-curricular resources, services and opportunities," Tuttle said.
Teaching ESEPSY 2059 helps her stay connected with students and understand trends and developments for today's college students. "This role reminds me to keep the students and their experiences as the focus of my teaching," she said. "I teach and hold this position because I care deeply about creating an environment for our students where they can grow, learn about themselves, be curious and find a sense of belonging."
"Furthermore, teaching allows me to stay connected to the current trends, issues and concerns of our students," Tuttle said. "I love the students, the content, the class discussions and the ways in which my students support each other."
Office of International Affairs
ESEPSY 2060: Academic Success Strategies for International Students, developed through a partnership between the Dennis Learning Center and this office, is taught by the center's lecturer Cathleen McComas. Caroline Omolesky, program officer for sponsored programs and academic liaison in International Affairs, believes that ESEPSY 2060 is a valuable course offering for international students, especially for those who have encountered academic difficulties.
"When we think about 'culture shock' we have a tendency to focus on students' adjustment to life outside the classroom," Omolesky said, "but academic culture shock is very real. This class helps students develop an understanding of academic expectations at Ohio State and the best study strategies for maximizing their academic potential in the U.S. cultural context."
"In addition to covering topics most relevant to improving students' academic success, the small class size and supportive atmosphere created by the instructor allow students a chance to practice participation and presentation skills in an encouraging environment," Omolesky said. "I also think the collaborations the instructor (McComas) has developed with Universities Libraries and the Office of International Affairs, among others, are highly beneficial for helping students grasp the wide array of resources available at Ohio State."
McComas said she values learning about other cultures and helping students understand the U.S. academic system. "I think the class helps students learn how to communicate with professors and, as a result, they are more likely to attend office hours and ask for help," she said.  "Because the class emphasizes discussion, students also find their English-speaking skills and confidence improve in a short period of time. This is very rewarding to see."
University Libraries
Student-centered lecturers with connections to campus and community resources contribute to the ESEPSY 1259: Learning and Motivation Strategies for College Success teaching team, as well. As undergraduate research support coordinator with University Libraries, Kristin Henkaline said her work includes supporting students' information literacy. "I bring this into my teaching in many ways," she said.
"When students are sharing what they have learned from their selected book for the course project, I encourage them to seek additional sources and think critically about the information. What I don't want them to do is assume that everything they read in the book is a fact because it's in an assigned reading. I love it when they push back on what they are reading."
Teaching also informs Henkaline's work with University Libraries. "I bring my background in teaching to the work I do when I'm training and supervising students," she said. "The teaching strategies I use in the classroom transfer well to how I teach students job skills. I also find that the importance of immediate and specific feedback cuts across both contexts, and I'm always thinking about how important feedback is in teaching and how I can use that in my work with students."