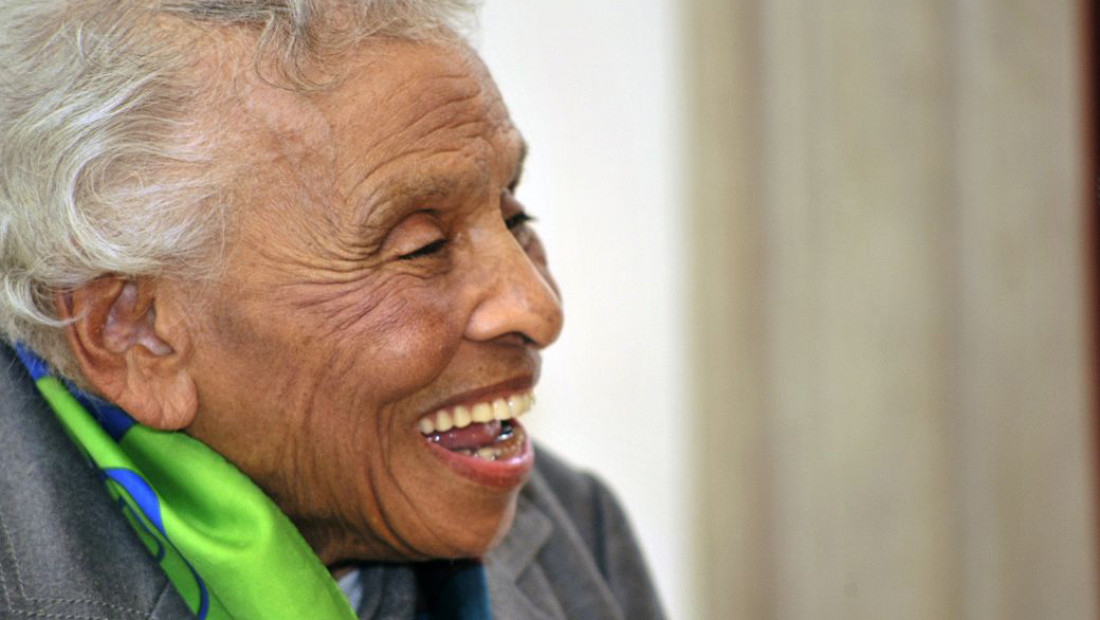 Olivia J. Hooker honored with eponymous Distinguished Diversity Lecture Series
In 2018, on the anniversary of the Tulsa Race Massacre, the world came to know the extraordinary testimony of Olivia J. Hooker, the last surviving witness of the incident and the first black woman to actively serve in the U.S. Coast Guard. She was a Buckeye, we learned, a 1937 College of Education graduate. And she was a spritely 103 before many of us knew her.
Then, in November, she passed.
We had so many questions left to ask. Her years in Columbus and at Ohio State were a mystery. Until now.
On February 13, 2019, the day after what would be her 104th birthday, Hooker was honored by the College of Education and Human Ecology. The inaugural Olivia J. Hooker Distinguished Diversity Lecture Series launched the same day, with bestselling author and journalist Ta-Nehisi Coates as its first speaker.
"Dr. Hooker's historical legacy in education and her legacy within the College of Education and Human Ecology exemplify the best of what we have to offer to the world and our community," Dean Don-Pope-Davis said.
An indelible mark
Hooker eloquently told America the horrors she witnessed as a six-year-old in Tulsa, Oklahoma, when white mobs ransacked the city's Greenwood District, leaving as many as 300 African Americans dead. It has been considered the deadliest incident of racial violence in the nation's history.
The small girl and her siblings cowered under the family's dining room table as the men first burned her handmade doll clothes, then broke her mother's phonograph and soaked her grandmother's bed with oil. She never forgot the sound of an ax splintering her sister Irene's piano.
"Whack! Whack! Whack!" she recalled on National Public Radio. "They thought that (piano) was something we shouldn't have."
Her school was dynamited, her father's business looted and burned. Greenwood was shattered, and so was Hooker.
Her family fled Tulsa and eventually resettled in Columbus. Hooker woke her family in the night, screaming when nightmares haunted her. She questioned her belonging in America, she later said.
But her Columbus years became a time of healing, a time for Hooker to steel her spirit against racism and hate.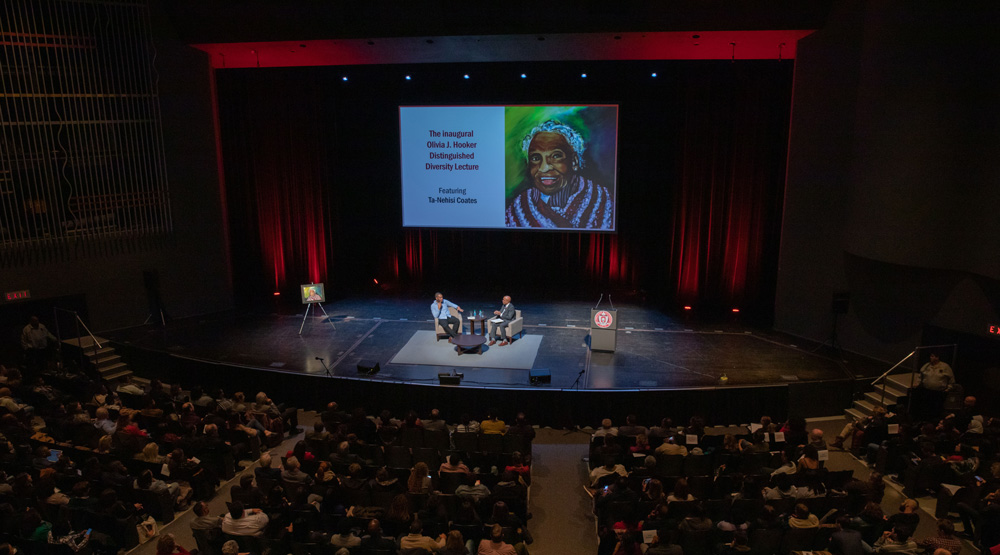 Her Buckeye years
Most of her media interviews centered on Hooker's time in Tulsa and then in the Coast Guard, after she left Columbus in 1945. But Olivia Hooker left behind clues about her Ohio years. Lots of them.
Archived newspaper clippings — in the Columbus Dispatch and Ohio State's Lantern — reference the life of an ordinary young woman who, though she had seen too much, was on the way to becoming an extraordinary figure in the fight against racism.
Columbus' African American community embraced her. The family joined St. Paul's African Methodist Episcopal Church, the city's oldest congregation of African descent. The church was born in the 1800s in protest to slavery and racial discrimination. It was a fitting place for an activist to grow up.
Church leaders and her parents — both teachers — stressed overcoming life's obstacles, finding a new path, never giving up. They taught her that education was critical to understanding and promoting social change.
"If you dwell on your misery, you're not helping yourself or anybody else," Hooker told the American Psychological Association's Monitor. "So, if you think, 'What can I do to keep this from happening again?' that helps you to go forward, rather than spending your life pitying yourself."
So, Hooker made piano music that drowned the echoes of shattering wood in her head — playing Handel and Sibelius at St. Paul's music recitals. She played girls' intramural baseball. She made honor roll at her mostly white Central High School and competed in citywide oratorical contests. Her minister praised her and her classmates from the pulpit when she graduated.
Like her parents, she wanted to pass on the lessons as a teacher, so she enrolled in the then-College of Education at The Ohio State University. She routinely made honor roll. As secretary of the National Association of Negro Musicians, she helped "foster Negro talent" and "labor for economic and educational betterment" of people who looked like her. And she kept making music, playing piano for the association's concerts and performing MacDowell's Danse Andalouse in a recital at Pomerene Hall.
Key to Hooker's growth as an advocate was joining Ohio State's chapter of Delta Sigma Theta. She and her sorority campaigned insistently that the U.S. Navy admit black women into its ranks. She found a sisterhood in the group, and spoke on WOSU about the value of sororities.
And she loved the Ohio State Marching Band, not just for its music but for its inclusiveness.
"The band was one of the pioneer activities which was open on a democratic basis to all who could qualify, back in the days when we brown Americans were barred from honorary societies," she wrote to Alumni magazine in 1950. "I'll always be grateful for that example of democracy."
Civil rights lawyer Gail Wright-Sirmans, who will speak at a reception honoring Hooker February 13, befriended her 20 years ago. The two were travel companions and had long chats about Hooker's experiences. A few years ago, Wright-Sirmans asked if Hooker wanted to see Race, the film about Ohio State runner Jesse Owens.
"She said to me, 'Oh that would be wonderful to see if they captured his personality, and how they portray him on the big screen, because he sat right next to me in math class. We used to have a lot of good times just chatting.'"
Wright-Sirmans was flabbergasted. But that's just the way Hooker rolled, she said.
"Every minute of every conversation revealed something else about her life," she said. "It's a life that opened up like a rose, that constantly opened and you'd learn something new."
A teacher, first and always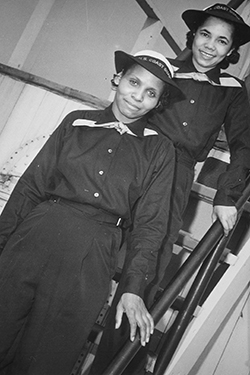 After graduating in 1937, Hooker was immediately hired to teach third grade in Garfield School on Columbus' Mt. Vernon Avenue. She taught there for seven years.
By then, it was wartime, and something was still eating at Olivia Hooker. It didn't sit well with her that, though African Americans had helped build America with their labor, she and other black women were refused entry into the Navy. So she tried to enlist. Twice she was denied.
"I wrote to the Secretary of the Navy," who said she could join the WAVES. But when the Navy dragged its feet, she joined the Coast Guard instead in February 1945. The Coast Guard, she said, became part of the Navy during wartime anyway. She found a path around racism and made history again, this time opening a door for others to enter.
She went on to earn a master's from Columbia University and a PhD in psychology from University of Rochester. She kept advocating, working with the NAACP in New York to stop a practice of placing black boys into special education when they didn't need to be.
As a distinguished professor of psychology at Fordham University, she focused her career on children with developmental disabilities. She was director of psychological services at the Kennedy Child Study Center in New York City.
As an organizer of the Tulsa Race Riots Commission, in 1997 she fought to win reparations for victims of the "catastrophe" that hewed her aspirations all those years ago.
In addition to having the Distinguished Diversity Lecture Series named for her, Hooker has been honored by the Coast Guard, the American Psychological Association and President Barack Obama, who called her "a tireless voice for justice and equality."
Getting over the trauma and hate took years, she said. But how beautifully Olivia J. Hooker responded to it.