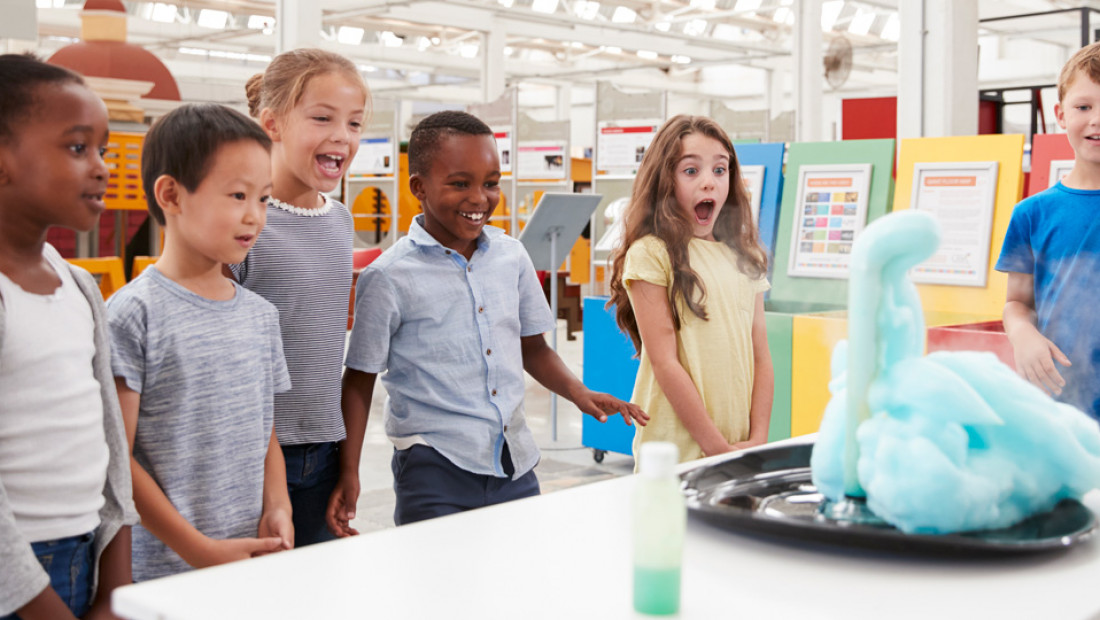 Women and minorities remain woefully underrepresented in STEM fields. Why the solution starts in colleges of education, not in colleges of engineering, math and sciences.
Each autumn semester, without warning, Assistant Professor Mandy McCormick Smith brings out the "icky" bin and plops it down before her early childhood science education class. The writhing heap of worms invariably sends some of her master's students skittering.
And that's where the lesson begins.
Embedded in the mostly female cohort's gendered response to the invertebrates lies the key to a daunting challenge facing academia and industry: How to attract more women and minorities to fields of science, technology, engineering and math?
Task No. 1 for Smith? Working to revise centuries' worth of biases that tell females and students of color they aren't STEM material. One crucial method is to start modeling behavior to students when they are very young.
"If you scream when the worms come out, what do you think your children in your classroom are going to do when the worms come out?" Smith asks her students. "Who identifies with you, and who sees themselves in you? What societal norms are you reinforcing in your classroom if you're on top of the table, screaming, and then assign boys to pass out the worms?"
Prospective teachers who might have hated botany, physics and coding when they were K-12 students are now crucial in changing the culture surrounding STEM learning environments.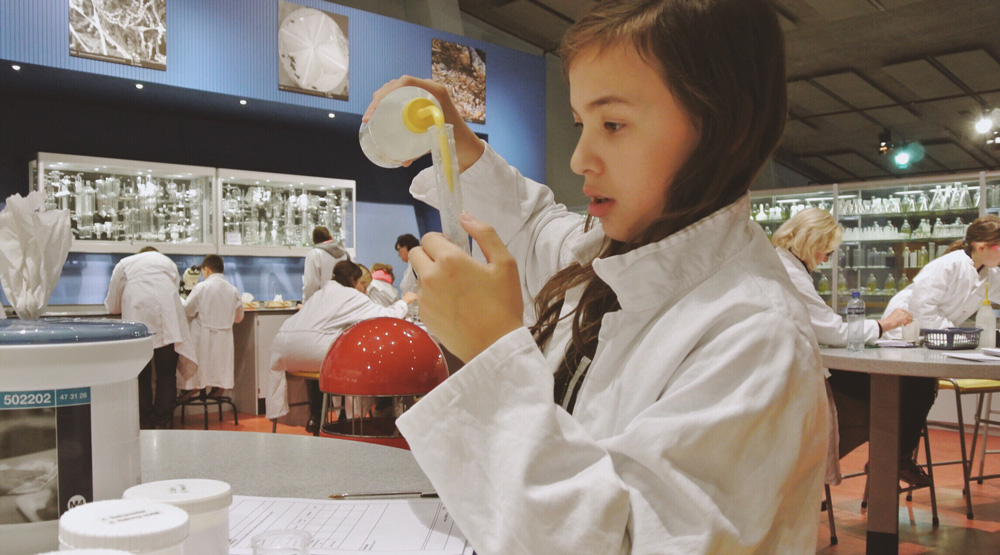 Losing our edge
The stakes are high.
Only 17% of students earning STEM bachelor's degrees are underrepresented minorities, though the demographic group accounts for nearly 40% of the college-aged population in the United States.
And while the number of women earning biology degrees have increased, fewer than one in five bachelor's degrees are awarded to women in engineering and computer science.
As diverse populations grow, the upshot will be too few skilled American workers and, just as serious, out-of-touch scientists ill-equipped to handle the changing needs of the population. Inequity in STEM stymies innovation by limiting the pool of ideas.
If the situation doesn't quickly improve, a Congressional report for the STEM Opportunities Act of 2019 concluded, "the United States will face an acute shortfall in the overall number of students who earn degrees in STEM fields just as United States companies are increasingly seeking students with those skills."
The country stands to lose its competitive and technological edge.
How teaching methods help
Exclusion from STEM begins at a young age. One in three girls ages 10 to 18 believes that boys are encouraged more than girls in science and math, according to a 2017 study by researcher Lisa Hinkelman, '01 MA, '04 PhD. When the former college faculty member studied more than 10,000 girls nationwide, she found that from fifth to 12th grade, girls' confidence in their math and science abilities drops 18 percent; LatinX girls were least likely to believe they are good at math and science.
"Our STEM field at this point is really incomplete because we've only allowed certain people to join," Smith said. "If we can reach a broader audience at a younger age, in the future, we will have a more diverse field of top, successful students. We've got to catch them early and really foster that identity."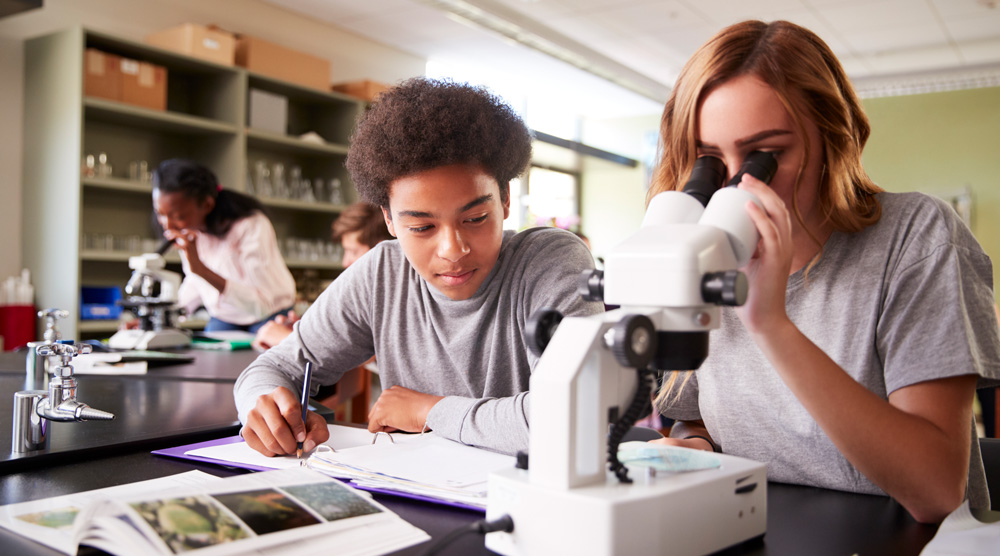 Teacher training proves critical. Early childhood education prepares students to teach math and science to children from preschool to third grade — laying the groundwork for STEM learning later.
In addition to deflecting worm phobia, Smith works to break down her students' preconceived notions of STEM: That technology courses and physical sciences are reserved for the "smartest" kids or that STEM learning is a memorization game.
True learning is active and interactive, she said. It happens when teachers listen to children, validate their individual cultural perspectives, allow them to express their relationship with science or numbers in their own language and terms.
"Children are naturally curious; they're interested in the world," Smith said. "We can either connect science and math to their world and make it grow and thrive like a plant; or we can institute the inquiry out of them."
Building on academic opportunity
Breaking down barriers to studying STEM in college is also essential. That means improving access in middle and high school to Advance Placement classes and other STEM opportunities for underrepresented students.
Academic preparation is the most significant predictor of who applies for STEM majors and who excels in them. Students who study calculus in high school, for example, are more likely declare majors in physical science and engineering than those who didn't, according to ACT research in 2017.
"We need to do more than just pay lip service to educational diversity and inclusiveness," said Lin Ding, associate professor of science education. "Collectively, we need to bring about concrete change that offers equitable opportunities to our marginalized students" — such as classroom activities, field experiences, advanced placement courses and community engagement that are standard for more affluent students.
Then, women and particularly students of color will be on more equal footing when they apply for and enter college.
Combating STEM's exclusive culture in college
And yet, the problem is far from ending there. A report for the National Academies of Science, Engineering and Medicine shows that the culture of STEM fields is off-putting once students reach higher education. Even top female students, for example, are significantly less likely to stay in STEM fields, it says, suggesting that the culture of STEM might factor in their decisions to change majors.
Experts in higher education have for years examined how to create more inclusive collegiate environments for women and underrepresented minority students. But most STEM professors and professionals are unfamiliar with the complex ways that racism, classism, sexism and other discrimination overlap to push people away, in this case from STEM careers. Social science and education experts call that phenomenon intersectionality.
"I've done a lot of work on intersectionality not in relation to science," said Anne-Marie Núñez, professor of higher education and student affairs. "The question is, how can we take some of our theoretical developments and inform science so that it's more responsive to a lot of diverse populations — like those with disabilities, of various sexual orientations, in addition to gender and race."
Human beings are complex individuals, with multiple identities that color the way other people see them and how they see themselves. Oftentimes those two perspectives don't match.
Understanding how multiple social identities can affect students in a field like geoscience — one of the least diverse — can help to make it more inclusive. But organizational change and a shift in mindsets of scientists are necessary, Nunez and two graduate students recently wrote in the Journal of Geoscience Education. Six-week field courses that require low-income students to miss work can exclude underrepresented students, for example.
While doing ethnographic research of geoscience students doing fieldwork in the Rockies, Núñez saw some effects of "STEM culture" first-hand. She observed that the women on the trip tended to move slower than the male students.
"We were over 5,000 feet above sea level, and often walking straight up hills with no path anywhere, and sometimes the hills have a lot of falling rock," she said. "This 'bootcamp culture' can disadvantage women and literally influence women to feel left behind."
If one of the women is black or LatinX, or low-income and with a physical disability, the feeling of isolation can be compounded. And yet, having a female instructor, an instructor of color or a critical mass of underrepresented students helps to deflect the sense of isolation, Núñez said.
"We saw that, when there were enough women, they were setting their own pace, that the women were looking out for each other, that they were taking care of each other in ways that, if they were dispersed among the whole group, they might not have been experiencing as much," she said.
Proving that when people feel less marginalized, they can find a space to work comfortably and effectively, even in a STEM field.