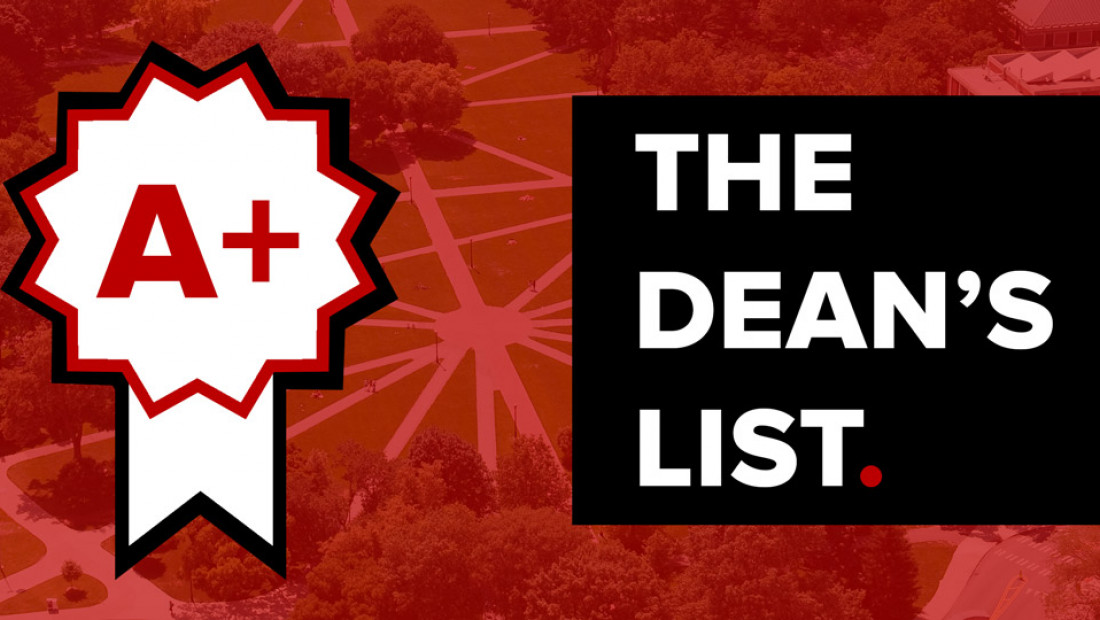 The college salutes the nearly 2,000 education and human ecology undergraduates who excelled in their studies during spring semester.
 
Making the dean's list recognizes that a student has achieved a grade point average of 3.5 or higher while completing at least 12 credit hours during the semester.
 
These undergraduates are enrolled at all of Ohio State's campuses, from Columbus to Marion.
 
A high GPA means more than studying in the classroom. These students are gaining valuable, real-world experience.
 
Our business and health and wellness majors engage in internships with companies and organizations.
 
Our future educators gain expertise in classrooms ranging from preschool through grade 12, in addition to their student teaching.
 
Many students also engage in more high-impact activities. These range from conducting honors research to working on outreach and engagement projects that serve their university peers or the broader community.
 
Join us in congratulating these high-achieving students.
Find dean's list honorees by major:
Child and Youth Studies | Consumer and Family Financial Services | Exercise Science | Fashion and Retail Studies | Health Promotion, Nutrition and Exercise Science | Hospitality Management | Human Development and Family Sciences | Human Nutrition | Integrated Social Studies | Integrated Language Arts/English Education | Middle Childhood Education | Primary Education | Science and Mathematics Education | Special Education | Sport Industry | Sport Coaching, Recreational and Physical Education | Teaching English to Speakers of Other Languages | Technical Education & Training | World Language Education
Child and Youth Studies
Jada Baker
Lydia Benz
Xenia Bleveans-Holm
Taylor Breehl
Eleanor Chandler
Grace Chatfield
Sean Cox
Carly Edwards
Reagan Fetzer
Callie Fout
Annie Freeman
Clare Galuzny
Samantha Haley
Haley Kaylor
Sydney Lannan
Christianne Lawson
Shanelle Lee
Claire Liu
Moyin Majekodunmi
Tristyn McCabe
Keisha McCraney
Seraphina Meng
Morissa Modafferi
Sadia Omar
Emily Phillips
Trinity Potts
Moraimee Rodriguez
Jennie Sharkey
Sia Tanner
Natazia Thomas
Tanya Williamson
Shelby Wolfe
Alyssa Wood
Ellie Yorba
Estelle Zhao
Consumer and Family Financial Services
Rashaan Boyd
Brian Cao
Kaleb Dave
Cole Filer
Will Geletka
Vidu Godage
David Griffin
Jake Herbstreit
Brett Herron
Andrew Hosbach
Thomas Howard
Claudia Insalaco
Jai Jackson
Nathan Klima
Eddie Lowry
Luke Maynard
Cristian Monahan
Chase Pope
Gabriel Pullen
Edy Sanchez
Justin Schobeloch
Ashley Smith
Grant Van Winkle
Drew Whittekind
Ce Young
Exercise Science
Salma Abubakar
Mallory Adler
Joseph Adler
Conner Albers
Tom Alexander
Michaela Ambos
Winston Anderson
Drew Bachman
Abigail Baidoo
AJ Barber
Angel Barrett
Jadon Bartman
Jack Baxt
Nylah Baylor
Andrew Bernhard
Makenna Blacklidge
Macie Blacklidge
Taylor Bliss
Brenna Bocik
Ella Bonner
Eric Bowell
Anthony Boyarko
Sophia Brown
Abby Buchanan
Kylie Carpenter
Xufeng Chen
Kuan Lun Chen
Melanie Chisling
Emily Clarkson
Anna Clawson
Elianah Cohen
Elijah Cook
Noah Cooper
Vivian Corey
Anthony Criniti
Liam Curtin
Brandon Day
Alex Day
Tanner DeGroft
Kylie Denenberg
Arjun Dhankani
Alec Dible
Chris Doyle
Tim Eckert
Sam Engler
Nick Evanko
Joey Fastrich
Rachel Fields
Krysten Fine
Brady Fishpaw
Grace Foreman
Zach Francek
Emma Fratianne
Steven Frosch
Gavin Frybarger
Emily Gallagher
Logan Germaine
Sophia Giancola
Ian Gonzalez
Sara Green-O'Brien
Tyler Grimm
Hannah Guise
Alexis Hankins
Carly Hanson
Faris Haroun
Andrew Harvey
Jenna Hauben
Kenny HeHo Feng
Laney Heien
Lanie Herl
Jillian Hollett
Hanna Hopple
Nicholas Irving
Evan Jankowski
Tennessee Jennings
Maggie Johnson
Sharayu Kadam
Spencer Kane
Alex Kapusta
Jen Kaufman
Zahra Kazemaini
Jordan Keith
Olivia Kelly
Jade Kempton-Trainer
Lexi Kessler
Jean-Pierre Khouzam
John Kim
Chloe Kin
Kellie Koch
Katie Korin
Katlyn Kramer
Garrison Kreitenberg
Matthew Kuban
Mara Lehmann
Ethan Leung
Jacqueline Levenson
Liu Liu
Thomas MacInnes
Zack Mako
Gabriel Marlow
Carly Marlowe
Mikayla Martin
Marisa Mattoni
Andrew Maverick
Mario McDonald
Kali Mclin
Emmalee Mellick
Emma Michetti
Olivia Miller
Stephen Millheim
Kaleigh Mills
Katie Milone
Ben Minneman
Sophie Misiuk
Kaitlyn Mobley
Derek Morgan
Emily Murphy
Musa Musa
Sammy Myers
Kylie Neumore
Spencer Nguyen
Edwin Nsaam
Jake Olmstead
Nick Olney
Justin Ortega
Kaitlyn Parrish
Katherine Pastor
Khushbu Patel
Ritik Patel
Joie Platt
Kaylee Pollock
Sayler Preston
Grace Pruchnicki
Ronish Rasaily
Riana Rathburn
Sophie Rees
Celia Ritchie
Kaitlyn Roe
Eric Rossiter
Maggie Rump
Olivia Ryan
Lawrence Saltis
Lia Scarduffa
Emma Shaw
Michael Shechtman
Madi Shenkel
Jon Shih
Nicole Shomaker
Kathryn Siebeneck
Grant Singleton
William Smith
Ethan Smith
Mitchell Sommers
Rachel Sorge
Sopaira Soung
Holli Stalter
Justen Stoner
Ryan Subler
Karleigh Sutter
Cody Tabler
Michael Tai
Matt Tan
Cassidy Tanner
Hunter Tegenkamp
Tia Thomas
Abigail Thomas
Daniella Torres
Sophia Toth
Christina Tran
Rachel Van de Cotte
Ryan Vespi
Jordyn Wagner
Madison Walker
Kacy Walsh
Brittany Washington
Jonah Wasserman
Kyle Wellens
Steven Wenner
Sarah White
Catherine Wild
Lucas Winnestaffer
Taylor Wisser
Andy Wong
Megan Wozniak
Lingfeng Wu
Jodie Young
Izzy Zablo
Katrina Zimmerman
Jacob Zisko
Fashion and Retail Studies
Samantha Acevedo
Valerie Baker
Harmony Beerman
Katie Berberick
Avani Bhalla
Avery Blair
Izzy Blancaflor
Alexandra Burke
Jimmer Catalan
Ashley Cavadas
Mia Chan
Miicah Coleman
Aimee Cordle
Rachael Crewe
Riley Cruea
Anna Czarnecki
Melissa Dorsten
Addie Druckenbroad
Tamia Duke
Alexis Eckler
Mackena Elsass
Ellie Ettrich
Jadyn Gardner
Gillian Gerber
Emily Glazer
Madison Gramm
Chelsea Gross
Gabriella Guy
Vivian Hall
Katie Hill
Ireland Hiscock
Sam Holtzapple
Caroline Homan
Alex Hytree
Kayleigh Johnson
Josie Kaczkowski
Kylie Kane
Madison Knight
Ally Koscinski
Michael Langendorf
Sailor LeVan
Lynn Lin
Taylor Love
Taylor Macchia
Sarah Marston
Sammi Matteucci
Evelyn Mendez Alcauter
Kristen Mitchell
Brooke Mohr
Savanna Moran
Jenny Morris
Morgan Murley
Caitlyn Newport
Liset Jovana Ornelas Aranda
Helly Patel
Emily Pedoto
Tatum Perkins
Madison Plummer
Brock Rankine
Aliza Rayfield
Katie Recker
Katerina Regules
Trinity Riley
Libby Schottenstein
Mia Schwind
Haylen Scott
Madeline Seifert
Emme Semarjian
Emma Shafer
Kelsey Singnysane
Elizabeth Slywka
Devin Snyder
Emily Stachler
Gabby Sysol
Aubrey Thobe
Jiana Trizzino
Abigail Twaddell
Riley Vradenburg
Robert Wagner
Leticia Wang
Jojo Warga
Hannah Way
Isabella Weaver
Mya Weaver
Lotta Wolff
Gabi Wood
Loryn Wright
Kloe Zink
Health Promotion, Nutrition and Exercise Science
Alexa Arnold
Brent Balser
Taylor Boeckmann
Donavon Carr
Caroline Craft
Megan DeChellis
Abigail Dickhof
Kacey Dulle
Madison Everly
Jordyn Feldman
Alex Fleming
Sophia Fong
Gracy Frea
Paige Goss
Lindsey Heinmiller
Caitlee Hill
Reese Hiller Freund
Joseph Johnson
Anna Kelley
Lauren Kercher
Kylie Kirkpatrick
Nate Kohut
Lauren Layman
Andrea McCallum
Bridget Milligan
Antonio Muniz
Sophia Nagy
Natalie Noble
Alexis Rawlins
Kiera Shanahan
Taylor Shumaker
Hunter Simons
Sam Soufi
Paige Stevenson
Zoe Waller
Eli Young
Wenjun Zhou
Cate Ziegler
Hospitality Management
Nini Adams-Johns
Miia Anderson
Katelyn Barhorst
Deshyra Bell
Kara Brabb
Javon Brown
Summer Burrer
Alita Caron
Madison Chiarini
Brice Cohen
Jose' Cook
Lydia Davis
Madison DiCicco
Samantha Emmons
Jenna Eramo
Megan Garver
Sarah Genn
Maddy Ginsberg
Blake Hassay
Emily Hatfield
Emma Hellman
Brayden Hughes
Jackson Kiel
Sabrina Kurc
Sonya Lapkes
Annabelle Lerrick
Abigayle Lydy
Lyndon Lyu
Joshua Martinez
Jazz Meacham
Pete Milenkovich
Jailani Moorer
Jason Nahra
Cara Nestor
Rachel Ostavitz
Montgomery Parker
Lauren Petersen
Khiayla Powell
Alaina Prince
Peyton Puma
Abbi Rice
Julia Riebel
Billie Ross
Scott Schmuck
Brandy Shupert
Emma Sosa Aleman
Sarah Sterling
Abby Stevenson
Sophia Stiltner
Donovan Tabon
Meredith Thomas
Sophia Troutman
Jv Velasquez
Bri Ware
Meghan Weaver
Nate Wehrlen
Dalilah Young
Lauren Zell
Ningning Zhao
Linji Zhou
Human Development and Family Sciences
Akua Agyen
Hadiya Akhtar
Lauren Alexander
Megan Allardyce
Alexandra Apollonio
Lyndsay Barnard
Bridget Bates
Reghan Beerman
Will Bertsch
Celine Bianco
Bianca Blakey
Anna Bokovoy
Sydni Buhrow
Irene Byrne-Zhang
Tara Capers
Ashley Carmichael
Zhibai Chen
Emily Cline
Devan Collins
Maya Croce
Diana Cunningham
Sophie Danziger
Erin Davis
Kira Deerman
Timothy Douds
Savannah Douglas
Amanda Douzos
Lena Dwidari
Ashley Evans
Abby Ewing
Kaitlyn Farley
Megan Foster
Sydney Friedman
John Fuller
Jaycie Gardner
Jackie Garin
Madelyn Gaus
Maysoon Gedi
Brianna Gendics
Layla Goebeler
Selena Gonzalez-Jordan
Hateana Gross
Sam Hackenbracht
Kristen Haggerty
Lauren Hallock
Brooke Hannam
Zala Hasanain
Taylor Heckman
Tim Herber
Grant Hower
Bella Hughes
Wadeeah Jabbar
Nick Janos
Josh Jansen
Madelyn Jauss
Victoria Kaplan
Elana Kaplan
Rachel Kaplan
Noa Katz
Sara Kearney
Sarah Klein
Tara Kreml
Rachel Kurtz
Chris Landis
Samara Liebmann
Max Lomonico
Brian Lordan
Andrea Lyndaker
Samantha Mack
Dalonte' Manley
Alaina Marmaduke
Ashlee Mascolino
Lauren McCarron
Aidan McEuen
Hailey McGowan
Chloe McKinney
Reagan Milliken
Mallory Mitchell
Paige Moonshower
Mikayla Murdock
Angela Musai
Alexis Nerone
Madison Newsom
Claire O'Neill
Erica Opachick
Anna Pangalangan
Emily Parker
Addie Peelle
Delaney Phillips
Esther Quaye
Bella Rababy-Mendez
Elizabeth Rabold
Stephanie Radonjich
Stacy Ramirez
Kayley Ratka
Jerod Rinehart
Isabella Rizzo
Alona Roebuck
Mackenzie Russ
Isabelle Sansait
Hannah Schuler
Kelly Scott
Amya Scott
Olivia Sexton
Andrea Shipley
Zoe Shook
Eliza Stella
Dawson Stewart
Jamie Stockton
Audrey Strohmeyer
Dia Stubbs
Charlotte Surber
Maleah Talley
Melody Taylor
Tess Thompson
Jada Thompson
Haley Thrush
Betia Vilenchuk
Enokk Vimahi
Amara Virden
Briana White
Justin Wood
Kristin Wright
Louisa Xu
Madison Yoder
Human Nutrition
Ayatt Abdelmajid
Hallie Altman
Skyler Anton
Abby Augustyniak
Brenna Baker
Becca Barbaro
Tatum Bardash
Maddy Bastin
Iman Benlemlih
Putri Fadhilah Binte Sahad
Nicole Bond
Marielly Carlin
Max Colizzo
Keelin Connolly
Gabby Correia
Yaz Dabiran
Tim Dang
Kelsey Dockman
Xavier El-Shazly
Rachel Etnyre
Alexandria Fenn
Alyssa Focht
Rhea Garg
Emma Goorland
Kate Gorney
Will Green
Alexis Grubbs
Kylee Hamilton
Allison Heemer
John Hinkle
Kathleen Ho
Gabby Hutchinson
Alex Jackson
Marisa Jacobs
Thea Jedick
Elizabeth Johnson
Riley Jones
Dina Kanaan
Ava Karle
Oshin Khan
Rachel Kitzmiller
Kaylyn Koons
Sarah Korducki
Annie Krusinski
Kylie Kuck
Liam Layton
Sydney Levy
Ariana Mallernee
Rebecca McAdow
Eimear McCann
Allyson McHenry
Kyra Mchugh
Ayush Mehra
Kaitlyn Meissner
Hanmeng Niu
Joseph Palazzo
Abigail Paster
Christy Pitzer
Mary Proctor
Genia Purdy
Grace Rahill
Lauren Raley
Ava Ransom
Liam Reilly
Gwendolyn Rekant
Emily Richmond
Caitie Rizzo
Maria Rodriguez Calzada
Josie Rohlfs
Samantha Schilling
Anna Sears
Miranda Sekel
Rahaf Shalash
Kinley Shepherd
Abigail Shortall
Nancy Siegel
Serena Slim
Maggie Smith
Emily Smith
Auburn Smith
Zakyah Snead
Jane Snider
Amanda Socha
Megan Stotz
Lindsay Stull
Shea Sullivan
Alissa Sullivan
Corinne Sutliff
Kayley Thomas
Esther Van Guilder
Jasmin Wang
Abby Warther
Logan Webster
Tsaifan Weng
Mary Katherine Wilhelm
Kyle Work
Faith Yoder
Katie Zamary
Cindy Zhang
Integrated Social Studies
Mia Curran
Soha Gewaly
Ryan Hewitt
Christopher Jaenke
Owen Johnson
Patrick MacQueeney
Michael McGinty
Blake McKay
Josiah McKeown
Kailyn Merkel
Luke Rush
MacGuire Scholl
Madeline Valentine
Alexis Wade
Zachary Whitney
Maya Wolfford
Integrated Language Arts/English Education
Karina Ashton
Emma Atwell
Kacie Back
Mackenzie Badger
Chloe Ballesteros
Reagan Barlow
Alaina Barton
Bobby Belair
Ashley Bell
Brayden Bentley
Kate Birath
Joel Bishop
Chris Blauman
Grace Bloomfield
Amelia Boes
Matthew Brady
Jada Bucy
Caleb Campbell
Alecia Carpenter
Hannah Carver
Ethan Clark
Joseph Clegg
Sydney Cogar
Jen Coleman
Makenna Colwell
Alyssa Crider
Ceelea Cua
Charlotte Cupp
Jamelah Daboubi
Anna Dannemiller
Grace Davis
Julia DeLuca
Amara Deyo-Flagg
Anthony Dodds
Zacharia Drouni
Alexis Dwyer
Ryan Flecker
Elena Fruechtnicht
Emma Fry
Ben Gargasz
Caitie Gibbs
Camryn Glover
Cheyenne Gluckle
Kara Gossman
Kirstyn Gray-Ulmer
Alli Hanna
Colin Hitch
Lillian Hlavaty
Alicia Hoffrogge
Jordan Hunt
Sara Hursey
Sean Jewell
Anna Johnson
Lily Kachurchak
Samantha Keldsen
Madison Kelly
Anna Kennedy
Karah King
Brandon Kittle
Anna Klemanski
Tommy Knezevic
Kalina Kozlowski
Nick Leibacher
Kayla Lotz
Kristen Lovins
Maddison Lowery
Mackenzie Madden
Connor Madden
Elise Mason
Benjamin Matejka
Bailee McKenzie
Kelly McKernan
Kathryn McMullin
Abby McNickle
Rebecca Morgan
Delaney Murphy
Gabriel Newland
John Niehaus
Ben O'Keefe
Kayla Oakley
Yasmin Palmer
Jerrod Plate
Lydia Radden
Sophie Ratermann
Bayli Rees
Elizabeth Richmond
Emilee Robb
Jenna Rosko
Bailey Schull
Ashley Shanab
Alyssa Sharp
Victoria Skoog
Katie Smiddy
Anastasia Smith
Lillian Stewart
Cecilia Sutton
Ella Terry
Cassidy Turner
Maya Ursem
Allison Utrup
Juliet Valverde
Olivia Vanoverbeke
Keller Walls
Ryan Welch
Michaela Widmer
Camden Williams
Hali Wilson
Ian Wood
Nicole Wu
Middle Childhood Education
Lexi Achor
Maddie Adolph
Hannah Affolter
Carrie Aitken
Jordan Alter-Sorin
Sidney Apel
Jeffrey Aspenleiter
Sydney Bacon
Grace Baker
Brevin Balliett
Ryland Bame
Andrew Barker
Alyana Bauer
Kade Belmer
Mo Bender
Morgan Bentley
Jay Berry
Kieran Blinn
Mia Boutwell
Ashley Bowers
Emma Brown
Brock Buckerfield
Kelsey Burdorff
Zach Businger
Emma Calvert
Madysyn Camden
Hunter Caraballo
Caroline Castrucci
Raylee Clay
Joe Connors
Jace Copeland
Tarina Cosgriff
Natalie Cox
Jacob Crist
Chloe D'Amico
Jonathan Dauber
Molly Davisson
Bailey Decker
Natalie Decuir
Savanna Deibert
Hayley DeLong
Jenna DeSalvo
Briley Dickson
Leah Dimmick
Mia DiSabato
Noah Dzierwa
Abi Emmett
Kelsey Erford
Sydney Eyerly
Ryan Faingold
Mason Faux
Noelle Ferguson
Kristin Fisher
Nathan Fliger
Ashton Floyd
Mayalin Ford
Isabella Funk
Olivia Gassman
Dominic Gentile
Juliana George
Mallory Giffin
Ronald Gill
Lillia Gipson
John Gomez
Bryden Goodwin
Mya Gordon
Caitlin Green
Jennifer Green
Colleen Greve
Griffin Guetle
Chandler Gunther
Julia Guo
Brooke Hedges
Emily Henn
Thaddeus Hensel
Ashley Hickman
Sophia Hipolite
Emma Hochstetler
Sydney Hoover
Claudia Hopkins
Lena Hopple
Peyton Ice
Benjamin Isch
Nathan Johnson
Gabriella Johnson
Anne Jones
Zaria Justice
Hannah Kaczmarski
Joel Keiser
Audrey Kickbusch
Owen Kitzmiller
Katie Klingel
Casey Koller
Elyssa Koutrodimos
Lana Lallathin
Jacklyn Leffel
Abby Lenz
Ben Levine
Reid Liechty
Autumn Lininger
Britney Lykins
Ruohan Ma
Annissa Mason
Lauren McCarron
Adrianah Melvin
Payne Miller
Erin Miller
Alexandra Miller
Eliza Mooradian
Justus Morran
Latavia Murrell
Josiah Naegele
Alexander Naples
Mikael Neeley
Kaylee Nicholas
Dakota Nicholson
Makena Northcutt
Andrew Otteson
Josie Pedoto
Sydney Petersen
Will Peterson
Kirby Podolan
Miles Poff
Brad Potes
Drew Powell
Eli Pulles
Madison Ramsey
Brandon Ratliff
Trent Reichelderfer
Zoe Reilly
Kayla Ritz
Bridgette Robek
Samantha Rodts
Zachary Rogers
Shaina Rowe
Joann Saleh
Blythe Saxinger
Nolan Schafer
Isaiah Scheer
Lindsey Schneider
Noah Schnipke
Lindsey Schumacker
Maren Selby
Hannah Siegel
Cole Smith
Abigayle Smith
Jackson Smith
Kaitlyn Summers
Cody Taylor
Avery Tenerowicz
Cheryl Thiel
Lauren Thomas
Brooke Tibbits
Sumedha Vadlamani
Ashley Vaughn
Ryan Weaver
Rayna Weinstein
Ian Wiedenbein
Blake Wilburn
Audrey Wilkens
Skyler Williams
Brian Wiseman
Nevin Woods
Ainsley Work
Andrew Zetts
Xinyu Zhang
Primary Education
Matilda Achirem
Lydia Ackerman
Melissa Adler
Rebecca Albahae
Camryn Albanese
Kaitlyn Allen
Madison Althoff
Zan Altman
Crystal Altstaetter
Abbey Ambroza
Raegan Amstutz
Ashley Andrews
Maliha Arman
Maha Asad
Olivia Asare
Marie Ashline
Brittany Au
Claire Audia
Morgan Badger
Hailee Baer
Stafa Bajes
Amanda Baker
Danielle Ballinger
Taryn Barnett
Samantha Bates
Avery Bautsch
Jennah Beavers
Kate Bergeron
Molly Binkiewicz
Emma Bishop
Edie Bishop
Pacie Bissel
Zoey Black
Lauren Blaugrund
Shay Bodyke-Hedrick
Kiera Bohn
Ty Bolen
Jasmine Boyce
Archie Brennick
Chandler Brewer
Alexis Brofford
Kevanna Brown
Kaylee Brown
Alicia Brunswick
Nicole Brunswick
Emma Bucher
Marina Bulazo
Hannah Bunder
Ronada Burgess
Cassandra Burridge
Riley Cahill
Jenna Cahn
Mickenna Canning
Ash Cantrell
Maria Capasso
Lily Carmer
Skye Carpenter
Callie Carter
Ethan Castle
Kayden Caudill
Brooke Chapman
Morgan Chase
Macy Chen
Ziheng Chen
Kaylei Chokenea
Megan Churchia
Elizabeth Clear
Megan Clements
Emma Clum
Hayley Cobb
Laura Coil
Payton Colman
Taylor Conaway
Caitlyn Conley
Maddie Connell
Alyssa Conter
Breonna Cook
Alix Coons
Kristen Cooper
Jessica Cordle
Madelyn Corona
Taylor Cottrill
Amelia Crabtree
Sydni Craig
Caroline Crandall
Skylar Cribb
Alexandra Criss
Ashley Crites
Madison Croce
Yasmine Crow
Maria Cuozzo
Caitlynn Curtin
Helen Dahlquist
Morgan Danison
Maddie Davis
Haven Davy
Brianna De Brito
Eliana Dean
Diana Delapaz
Sophia DeMarco
McKenna Deskins
Marisa DeWitt
Samantha Diforio
Sydney Dodson
Elijah Dresbach
Cassidy Dulgar
Alexa Dulle
Sophie Dupont
Brooke Dutro
Morgan Dye
Joczelyn Earl
Imani Edwards
Erica Eidt
Garrett Elam
Nicole Eltzholtz
Megan Emmons
Lili Engel
Natalie Ewing
Jenna Fagan
Grace Fairchild
Cassie Fellure
Maya Figurski
Tate Fishman
Ashley Fleck
Olivia Fogle
Desiree Fogt
Anna Foster
Ashley Fradette
Karley Franco
Christina Frandsen
Champagne Franklin
Alysa Frcka
Mya Frost
Alivia Fulton
Lily Gabriel
Katherine Ganobsik
Melani Gardner
Katelyn Garigal
Kelley Garrett
Julia Gasiorowski
Dominic Gasper
Emma Gaston
Rachel Gatz
Grace Gawronski
Asho Gedi
Ava George
Bailey Georgiefski
Aiesha Geter
Gracy Gialamas
Marissa Giamportone
Megan Giannoutsos
Shelby Giere
Lindsey Gies
Melanie Giffin
Megan Gifford
Owen Gillis
Tulley Gillum
Michelle Gingrich
Chloe Goldsberry
Alley Gonzalez
Olivia Gorski
Julia Grabinski
Jodi Green
Aidan Greenberg
Vanessa Greer
Ally Grooms
Lillian Grooms
Jamie Grover
Leah Gundrum
Trinity Gurley
Madison Guthrie
Mya Hadden
Tamya Halison
Leah Hall
Mckenna Hamilton
Sarah Hammill
Haylie Hamons
Abigail Handa
Jenna Hardeman
Megan Harper
Dezerai Harris
Lyndie Hazelton
Abby Heffelfinger
Jersey Heffley
Kaylee Heidtman
Rhylan Held
Olivia Hellinger
McKenna Helms
Lindsey Heminger
Lily Henderson
Olivia Herman
Alexis Herrmann
Audrey Heym
Sydney Hill
Lilli Hills
Hannah Hiser
Julianna Hiser
Jenna Hlavach
Carmen Hoersten
Molly Hoffman
Mackenzie Hoffman
Bridget Holahan
Molly Holzinger
Kristen Houser
Jada Howard
Pete Hrelec
Angelyna Huang
Kaylee Huggins
Katie Hughes
Rebekah Hupp
Avree Hurtt
Lauren Hutton
Macy Imwalle
Asha Isse
Stephanie James
Marisa Jarrett
Kennedy Jesenovec
Asa Jessup
Mikaia Jimenez
Maggie Johnson
Lilianna Jones
Naomi Jones
Jamir Jones
Nicole Jump
Paige Justus
Kyle Kaiser
Caroline Kamerer
Lauren Kantzes
Katelyn Kasprisin
Carly Kay
Jarret Keck
Leah Kenne
Adam Khalifa
Kenzie Kidwell
Karson Kimmel
Victoria King
Victoria Kinsey
Karlie Kirkendall
Mackenzie Kirkpatrick
Haylee Kise
Kacy Kizlik
Gracie Klatt
Kenzie Klenk
Lauren Klosterman
Bre Knipp
Melanie Koenig
Lillian Kosar
Alyssa Kossoudji
Allison Kozman
Kailyn Krahe
Rachel Kremer
Averi Krouse
Summer Kuehl
Maria Kuhr
Kaitlyn Kupczyk
Tori Lammers
Ian Larson
DaQuasha Lawrence
Carissa Leesburg
Autumn LeFevre
Mackenzie Lehmann
Yaretzi Leos-Dominguez
Abby Leslein
Kaelan Lester-Trapp
Brett Letestu
Caroline Liber
Zoe Lightcap
Jaime Limbert
Maddie Lin
Chelsea Lively
Justin Livingston
Sarah Lloyd
Emma Logan
Olivia Longhenry
Chloe Longo
Grace Lucas
Jillian Lucke
Lydia Ludwig
Allison Lust
Kylie Majernik
Melanie Mamula
Sophie Man
Molly Mangan
Stephanie Mangus
Alina Marko
Erinn Marques
Lucy Marshall
Brooklyn Marshall
Marion Marshall
Maxine Martin
Mackenzie Martin
Alexa Mata
Emma Matousek
Emma Mattson
Julia Mayer
Maggie McCall
Reese McClelland
Josie McCue
Samantha McKay
Skylee McKee
Mary McLaughlin
Mia McSweeney
Gabrielle Meadows
Riley Mealer
Tori Melvin
Jess Menke
Isa Mercurio
Liz Meyers
Lori Miller
Natalie Miller
Haylee Miller
Hannah Miller
Paige Miller
McKenzie Milligan
Elayna Miracle
Caitlin Miville
Amanda Mixter
Lydia Moell
Asma Mohamoud
Krista Molinaro
McKenzie Montes
Alexandra Moon
Alli Moore
Sydney Mount
Rory Murphy
Marian Muse
Anisa Muse
Munira Muse
Kirsten Myers
Emilee Myers
Cameron Neer
Tirah Nelson
Phoebe Newhouse
Hannah Newsome
Hayden Nichols
Kate Nieberding
Isaac Niedermier
Lilly Nixon
Parker Novak
Taylor Obenour
Deborah Orgen
Chloe Orr
Ashleigh Owens
Daniela Pagan
Mariah Painter
Marissa Palko
Nadia Papalas
Gina Parker
Emily Parker
Emma Patterson
Alexis Payne
Kyla Payne
Luke Peck
Kia Peer
Kearah Penny
Emily Perry
Isabelle Petell
Griffen Peters
Claire Peters
Rachel Peterson
Abby Phillips
Hailee Phillips
Rachel Phillips
Elise Pickett
Izabella Pinardi
Isabel Pione
Olivia Place
Thomas Pounds
Briana Povell
Addie Powell
Ali Powell
Baeleigh Powers
Kelly Preston
Hailee Price
Isabella Price
Madelyn Prise
Braeden Rachel
Isabel Ramos Yanez
Mya Rapol
Olivia Raynor
Caitlyn Reding
Sienna Reedus
Lauren Reicosky
Robby Reinhart
Emily Rich
Chloe Rieman
Jamie Rinard
Abby Ritch
Lili Roby
Julia Roderick
Laisha Rodriguez
Ashley Rogers
Maggie Rohrer
Katherine Rombach
Kaylee Rose
Samantha Roth
Courtney Rowland
Mikayla Russ
Regan Russell
Brooke Rutkowski
Lindsey Sadowski
Kassie Salts
Austin Sanders
Sophia Santaguida
Savannah Sasfy
Cierra Sawyer
Annie Schnegg
Mackenzie Schneider
Lydia Schramm
Sarah Schrantz
Kaitlyn Schreffler
Amanda Schultz
Emily Schwenn
Kristie Scott
Jewel Seery
Amelie Sens
Huda Sharif
Savanna Sheppard
Megan Sherrill
Ella Shoffstall
Margot Short
Megan Shupe
Sydney Siegenthaler
Sophie Silleck
Lexi Simpson
Lauren Skaggs
Addison Slone
Rebecca Slone
Paige Slusser
Nasrin Smith
Abigail Smith
Jayden Smith
Lillian Smith
Brooklyn Smith
Myranda Smith
Alexa Smitherman
Emily Smollen
Klara Smrecansky
Isabella Snider
Kate Snider
Phoebe Snodgrass
Katie Spangler
Kourtney Spangler
Caulen Spangler
Taylor Speakman
Logan Spellacy
Maddison Stafford
Mia Stallard
Emily Stanisovska
Noelle Stevens
Maddyson Stewart-Barto
Morgan Stith
Emma Strahler
Bailey Stranges
Elyse Stufflebean
Isabella Stummer
Julia Sutherland
Alexis Swaney
Emma Swartz
Mya Switzer
Rachel Teets
Hanna Tenkman
Courtney Thomas
Chelsey Thompson
Alyssa Thompson
Ashley Tipton
Carly Trader
Kylie Trissell
Emily Troyer
Gabby Truax
Megan Tsay
Allison Underwood
Renee Unland
Brianna Uray
Madelyn Urse
Sophie Ury
Anna Vance
Jazmin Vasquez
Gina Vatelle
Ashley Vaughn
Ashten Vavra
Caroline Volbert
Grace Wampler
Kinsey Warner
Emily Watt
Bryanna Watts
Melissa Webster
Ruth Wenzinger
Sydney Werner
Jade Wesson
Lexi Wetherill
MaryKate Whalen
Kaitlyn Whitaker
Madyson Whiteman
Elizabeth Wichterman
Dylan Wierwille
Emily Wiley
Alli Jo Wilker
Abby Williams
Maddie Williams
Samantha Williams
Blake Williams
China Williams
Kelly Williams
Sarah Wilson
Mara Winbigler
Abby Wirick
Sydney Woconish
Amelia Woodard
Aniya Woodard
Grace Woodcock
Anna Woods
Kristin Woolwine
Anna Worley
Alexander Wright
Yongyi Yang
Elizabeth Yardley
Caitlyn Young
Khanchana Yun
Sophia Zamarelli
Amy Zender
Nan Zhou
Hailey Zickefoose
Science and Mathematics Education
Reema Ayesh
Megan Banks
Anna Barstow
Katrina Baumgardner
Theodore Beeba
Olivia Bernardo
Cole Brannan
Kailah Breece
Gabby Bress
Maria Bucci
Cameron Butler
Nick Byerly
Mitchell Carnahan
Emilie Conway
Sophie Culver
Thomas Deever
David Dumanskyy
Gianna Fields
Nathan Fliger
Kayla Foulke
Parker Fry
Megan Garnet
Christopher Gehrke
Sophia Georgious
Zach Glorioso
Brooke Godby
Olivia Gorski
Kendra Goschinski
Twy Gray
Elizabeth Gurski
Libby Hauser
Katy Hawkinson
Matt Hersher
Abigail Hersman
Hunter Houser
Emily Huber
Steve Iten
Hailey Kleinhans
Kole Krotzer
Gina Leonard
Isabelle Levy
Ellie Lewis
Kennedy Macerollo
Marisa Macrides
Brennan Malaney
Liz McDermott
Abby Mehr
Noah Meyer
Simon Michael
Marissa Miller
Joel Moren
Becca Pack
Jonny Park
Katie Patty
Blaine Pawlowicz
Cassie Pencil
Elise Petkoff
Jessie Rizk
Emma Rowe
Rita Slaouihakim
Jake Spurgeon-Hess
Katelyn Sturgeon
Aaron Sundberg
Eric Sunderhaus
Maura Takach
Sofia Tinnerello
Jocelyn Trout
Matthew Turner
Evan Utterback
Sabrina Veliev
Noor Yunis
Jacob Zarycki
Special Education
Abi Baldasare
Lise Banek
Megan Bobkovich
Ally Book
Josh Browning
Julia Burns
Macayla Core
Jianna Davis
Brianna DiFabio
Sam Greenfield
Aryn Iannuzzi
Gregory Kingsbury
Iman Lakhdhir
Stella Lapinski
Liuyi Le
Hannah Maust
Kiefer McClain
Connor McClure
Shannen McConnell
Caitlin McGarry
Delaney Moller
Hailey Nagaj
Raegan Nelson
Kacie Patterson
Daisy Robinette
Kierstin Sadler
Teresa Schirtzinger
Juliann Scott
Macie Sporleder
Ali Stern
Angel Taylor
Aidan Toole
Jillian Turner
Paige Walker
Emily Whitaker
Sport Industry
Brett Adrian
Savannah Allen
Katie Allen
Dylan Amburg
Jonah Anderson
Nina Andrianos
Matt Antczak
Ryan Arcuri
Chris Arevalo
Karina Argento
Evan Arnold
Sierra Auck
Tyler Baarendse
Leo Bai
Alex Bakshi
Ruiyi Bao
Tyler Bauer
Chase Bavis
Skylier Beachy
Kane Beltz
Josh Berkowitz
Alexander Bernard
Joshua Berry
Jared Birkhimer
Jacob Bolander
Sam Bonofiglio
Tyler Breitsch
Riley Brengman
Riley Brennen
Dylan Buganski
Jenna Buglioni
McKenzie Bump
Katie Caniglia
David Cantor
Aaron Capocci
Noah Carman
Angela Carozza
Jorge Castillo Rueda
Panagiota Charalampous
Faith Choi
Ben Christman
Colton Chuko
Samuel Cipriani
Logan Clapham
Morgan Clark
Anne Clubb
Eli Colen
Vinny Costanzo
Jason Cotenoff
Jeremiah Croom
Thomas Crosten
Austin Crume
Ryan Davis
Quasie Demore
Tai Dennie
Jonathan Downs
Brayden Durbin
Ryan Eatherton
Sean Elkins
Jordan Epstein
Jared Ettenger
Dylan Farina
Moustapha Faye
Joseph Feerer
Corey Felder
Brandon Feldman
Tucker Ferris
Justin Flora
Sophia Flowers
Shahannah Franklin
Lauren Free
Jack Fried
Max Fromson
Mirann Gacioch
Evan Gallagher
Thomas Galluccio
Mallory Garbe
Jacob Garland
John Garrity
Marcus Garvin
Alaina Giampietro
Dylan Gilbert
Jonah Gilbert
Dean Glucksman
Drew Goodwin
Shelby Granger
Kaitlyn Grimes
Jalen Haley
Aaron Hanrahan
Marvin Harrison
Derek Hawk
Shelly Henderson
Megan Henning
Nick Hernan
Nicole Hernandez Sandoval
Alexandria Heschel
Hayden Hile
David Hinshaw
Kevin Hinsman
Carson Hinzman
Owen Hoehn
Danielle Hohlbein
Kathryn Holmes
Avery Hooser
Tyler Hopkinson
Allison Howard
Eric Huang
Isabelle Huebener
Daniel Hurley
Davis Isaman
Luke Jacklin
Donovan Jackson
Byoungjun Jo
Wynston Johnson
Carley Jones
Jaylen Jones
Loryn Jordon
Christian Kauffman
Kade Kern
Cameron Kilpatrick
Eric Kimura
Spencer Klein
Elijah Klein
Sophie Kleinman
Alia Kover
Lionel Lang
Chris Laska
David Laurence
Brennen Lavery
Grant Lee
Mason Leopold
Steven Liao
Jack Librizzi
Anson Lin
Harry Liu
Zuochen Liu
Kyle Loe
Emily Londot
Noah Loris
Broc Love
Jack Lovelock
Guo Lu
Lang Luo
Mike Ly
Sophia MacKinnon
Emily Magalotti
Alexander Marinelli
Alex Markley
Reid Martin
Jenna Martz
Sydney Masi
Colin Mayfield
Devon McDonald
Nick McElroy
Emily McGettigan
Anna McGinnis
Jamie McGuire
Jasmine McMoore
Daniel Meyerhoff
Zen Michalski
Morgan Miller
Aidan Miller
Alexander Mills
Jesse Mirco
Meghan Mitchell
Garey Moaney
Jeffrey Moody
Nick Moore
Anthony Moyer
Max Myers
Nick Nastasi
Jared Naughton
Tomas Navikonis
Tyler Neal
Nick Newland
Bryce Newton
Jacqueline Nichols
Alyssa Niemeyer
Kayla Norris
Sam O'Gara
Eric Oberholtzer
Abrianna Ohliger
Austin Ondarza
Holden Osbeck
Jalen Pace
Nick Page
Niko Papakirk
Kyle Peters
Tallyn Peterson
Ariella Pitty
Brooklyn Poland
Lindsey Potter
Nick Prakas
Peyton Purpura
Michael Rader
Jordan Raines
Nico Rarick
Robert Redmon
Joshua Reno
Zyrell Revels
Dakota Ridenour
Caden Riley
Jordyn Robinson
James Rose
Noah Rosen
Hunter Rosson
Alex Roth
Riley Rottkamp
Alexa Rupe
Hayden Sabovik
Jack Sawyer
Jordyn Schill
Olivia Schlauch
Jack Seibert
Ryan Seidner
Zachary Sheaffer
Lilli Sherman
Lexi Simon
Gavin Smith
Payton Smith
Rachel Smith
Emma Sosa Aleman
Jacob Stathas
Justin Steinberg
Faith Steinbrecher
Ryan Stewart
Danny Stewart
Jaxon Stickle
Reis Stocksdale
Luke Strine
Lydia Stute
Lingkai Sun
Hayden Sutton
Lexi Szalai
Taylor Thierry
Isaiah Thomas
Tess Thompson
Brayden Timko
Josh Ethan Timmerman
Hector Trevino
Brian Trujillo
Ashley Turner
Taylor Urbina
Jayla Vanhorn
Kailie Vongsaga
Liam Walters
Liam Wasserman
Nolan Watkins
Shane Watkins
Lucy Weeks
Zach Wein
Jack Weller
Jacqueline Whelan
Olin White
Melina Wilkison
Sydney Wilson
Toby Wilson
Jeffrey Wood
Lance Wyatt
Changkai Xu
Dongfang Yang
Samuel Ybarra
Drew Young
Taylor Young
Caleb Zender
Yuanfang Zheng
Qinyu Zhu
Tianli Zhu
Angela Zhuo
Sport Coaching, Recreation and Physical Education
Leeah Adams
Ish Ahmad
Jacob Beil
Mason Bell
Adrian Bowsher
Jackson Chase
Patrick Diehl
Jason Fiorello
Kyle Gregory
Aaron Hampshire
Tyson Hicks
Jasmine Jones
Ani Kahaian
Matthias Kaylor
John Koenig
James Magoun
Brody McLaughlin
Brennan Meisler
Koty Michael
Mike Miller
Connor Nagel
Nathanael Rausch
Monique Reed
William Regan
Ellee Shepherd
Evan Shook
Cameron Voinovich
Landon Ward
CJ Williams
Sheng Zhang
Teaching English to Speakers of Other Languages
Arina Akopdzhanova
Veronica Baker
Emily Baldwin
Avaya Bell
Mengying Bian
Yessenia Calvario
Emma Fisher
Carly Fitzwater
Sophia He
Hazel He
Samantha Herschler
Youjia Hou
Yuzhi Hu
Mikaela Knappstein
Avery Lichtenberg
Amy Liu
Florence Lo
Michelle Massey
Kelsey Moore
Alexus Oliver
Emma Pimental
Byann Rasul
Mengran Shu
Maggie Smith
Kaycee Thompson
Ayla Wachowski
Cailin Wade
Georgia Woodruff
Kisaki Yamamoto
Zeying Yu
Technical Education and Training
Blair Andrews
Brad DeMent
Eliza French
Sarah Schriemer
Morgan Urmson
Nathan Van Niel
Zijing Wang
Siqi Xue
Boyu Zhu
World Language Education
Ainslee Anderson-Clark
Sarah Grohovsky
Anna Jahn
Lilly Keesee
Isabella Kennedy
Ben Romie
Cullen Roth
Sophie Scuterud
Paula Stevens
Naomi Strickland
Sophie Toth
Ramatou Traore
Georgia White
Iren White