Bilingual (PK – 12) Endorsement
Department of Teaching and Learning
Bilingual Endorsement
Image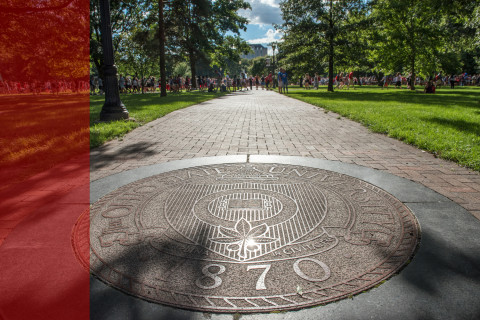 Endorsements and Graduate Studies
This endorsement may be completed as Undergraduate or Graduate Non-Degree status; enrollment in a master's program is not a requirement. No more than seven (7) hours of graduate credit accumulated while in the graduate non-degree classification may be counted toward a graduate degree.
---
Program Requirements
Coursework can be completed at the undergraduate or graduate-level and during or after initial licensure coursework.
GPA requirement: 2.70 or above in all coursework; at least a B- in each course
100% of applied coursework must be completed at the University
Coursework must be completed within 5 years of applying to the Ohio Department of Education (ODE).
Course Substitutions: Requests must be coordinated by T&L Academic Services. Students are required to provide T&L Academic Services with a course syllabus and a statement of request in the form of a Word document for appropriate faculty to review. Final decisions will be emailed to the student within 2- 4 weeks of their request.
Required Courses
EDUTL 5301 Foundations of Bilingual Education (3)
EDUTL 5365 Linguistics for Literacy Education (3)
EDUTL 5370 Language and Literacy Development and Instruction for Bilingual Learners (3) 

Recommended Prerequisites: EDUTL 5301 & 5365

EDUTL 5645 Core Practices in Language Education (3)

Prerequisites: EDUTL 5301 & 5365

EDUTL 5303 Methods and Material in Bilingual/ Multicultural Education

Capstone Course. (3) Prerequisites: EDUTL 5301, 5365, 5370, & 5302)
Field experience (please see the attached Endorsement Field Requirement Addendum)
Culminating experience to be taken in final term of endorsement while taking courses
Option 1: Signed form from direct supervisor
Option 2: EDUTL 5189.33: Bilingual Endorsement Field Experience (1 credit)
To register for this course, please complete the registration survey by:

April 1 for autumn course enrollment
September 1 for spring course enrollment
Regional students should consult with their academic advising office concerning the registration process.
Endorsement Licensure Requirements:
Minimum score of Advanced-Low on the ACTFL OPI and WPT examinations in the language in which student is licensed
Initial Resident Educator teaching license
Bachelor degree
*As of July 1, 2019, The Ohio Department of Education requires all students seeking license or endorsement to complete the new version on the Opioid Module. To verify completion, students must document their certificate by sending it to tl-academicservices@osu.edu, prior to applying for license or endorsement. Teaching & Learning Academic Services. 227 Arps Hall. P:614.292.2332 E:tl-academicservices@osu.edu W: go.osu.edu/endorsementchecklist