Health and Exercise Science (KINESIO-MS, HEN)
Department of Human Sciences
Specialization Curriculum
Image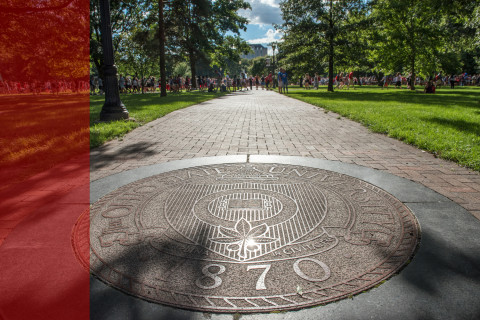 Specialization leading to Master of Science in Kinesiology
---
Core Requirements (10 hours)
Foundational Requirement (choose one, 3 hours)
KNPE 5544    Introduction to Adapted Physical Activity (3)
KNSISM 6807    Sport Law (3)
KNHES 7726     Changing Physical Activity Behavior (3) (recommended)
KNSISM 7852    Sport Philosophy and Ethics (3)
Research Requirement (7 hours)
See advisor for alternative courses
ESQREM 6641    Introduction to Educational Statistics (4)
ESQREM 6661    Intro to Educational Measurement (3)
Specialization Requirements (19-20 hours)
Required Courses (8 hours)
KNHES 5661.01   Beginning Labs in Exercise Physiology (1)
KNHES 5685    Adult Exercise Programming‐ Implementation (3)
KNHES 7896    Colloquium: Health and Exercise Science (4)
Concentration Specific Courses (11 or 12 hours minimum)
Select one of the following concentrations.
Exercise Science Concentration (11 hours)
KNHES 5661.02 Intermediate Labs in Exercise Physiology (1)
KNHES 5661.03 Advanced Labs in Exercise Physiology (1)
KNHES 5686 Advanced Exercise Training and Evaluation for Prevention and Rehabilitation (3)
KNHES 7714     Advanced Physiology of Exercise (4)
Choose two from KNHES 5491, 5492, 5493, 2 hours
KNHES 5491    Body Composition Analysis (1)
KNHES 5492    Muscular Strength and Anaerobic Power Testing (1)
KNHES 5493    Fitness Program Development and Evaluation: Older Adult Exercise Prescription (1)
Physical Activity Behavior Concentration (12 hours)
KNHES 5703     Health Behavior Theory (3)
KNHES 5704    Health Program Evaluation (3)
KNHES 7713     Foundations of Physical Activity Behavior (3)
KNHES 7720     Measurement in Physical Activity Behavior (3)
Electives outside of Kinesiology (6 hours)
A minimum of six hours outside of each Concentration is required. Suggested are areas of study outside of the Exercise Science Concentration are in physiology. In the Physical Activity Behavior Concentration, students should take courses in the behavioral sciences, such as psychology or public health. See your advisor for specific course recommendations.
Thesis or Non-Thesis Requirement (choose one, 3 hours)
Consult with faculty advisor
Thesis Option
KINESIO 7999 Research: Thesis (minimum 3)
Non‐thesis Options (choose one)
Students must register for a minimum of three hours during the semester they take the examination or the project.
KINESIO 7999    Research: Thesis (minimum 3)
KNHES 8193    Advanced Individual Studies: Health and Exercise Science (minimum 3)
Master's Examination
Culminating Project