Human Development & Family Science (HUMDFS-PH)
Specialization Curriculum
Image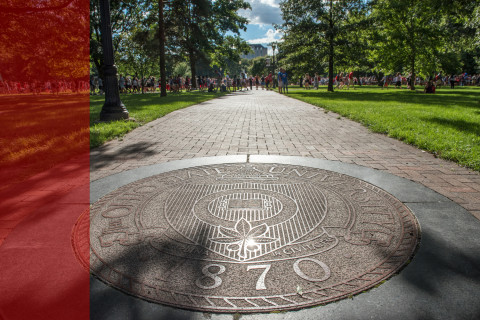 Doctor of Philosophy in Human Development & Family Science
---
Core Requirements (39 hours)
Seminar Requirements (choose three, 6 hours)
HDFS 6780    Research Seminar (1)
HDFS 6890    Proseminar (1)
HDFS 6892    Professional Development Seminar (1‐3)
Foundation Requirements (18 hours)
HDFS 6782    Research Methods (3)
HDFS 8820     Theoretical Perspectives on the Family (3)
HDFS 8824    General Systems Theory (3)
HDFS 7999**     Thesis Research (Independent Study) (1‐12)
Choose one, 3 hours:
HDFS 7350     Adolescence and Emerging Adulthood (3)
HDFS 7765    Advanced Child Development (3)
**HDFS 7999 prepares students for their qualifying exam. In the event that a Ph.D. student, although successfully completing the qualifying exam, decides that s/he does not want to continue in the program, s/he can use the materials from the qualifying exam to count toward the MS degree. See faculty advisor for more information.
Statistics/Methods Requirement (choose five, 15 hours)
AEE 8875, 8850, 8860, 8870, 8880, 8895
COMM 6661, 6760, 6730, 7789, 7790, 8801 COMP STD 6750.02
ESQREM 5892, 5193, 5194, 7897, 6621, 6625, or 6641, 7627, 7684, 7648, 8648, 7661, 7651, 8189, 8193
ESQUAL 7260, 7230, 8280, 8210, 8211, 8211, 7643, 8290
ESEADM 8354 ESCE 6734
KNPE 8865
ESSPED 8861, 8874, 8874
EDUTL 7010, 8421
CONSCI 8280 NURSING 8780, 8781, 8172, 8780, 8780
POLITSC 7780, 7551, 7552, 7783, 8890, 8781, 8700, 7785, 8783, 8380,  8784, 7555, 7683, 8190
PSYCH 6193.06, 7820, 6810, 6811, 6810, 6811, 6810, 6811, 7821,7824, 7823, 8896, 7825, 7896, 6849, 6861, 8878, 7874, 7874, 8876
SOCWORK 6401, 8401, 8402
SOCIOL 6649, 6649, 6655, 7652, 7653, 5194.09, 6650, 6608, 8607, 6708, 6710, 7748, 7752, 7754, 8592, 7850, 7859
STAT 5301, 6201, 6201, 5301, 5301, 5302, 5303, 6060, 6301, 6302, 6540, 6550, 6410, 6450, 6950, 6510, 6560, 6610, 6620, 6640, 6650 , 6730, 6740, 6740, 6194, 7410, 7430, 7450, 7460, 7560, 7560, 7620, 7610, 7630, 7730, 7789, 8010, 7303, 7302, 7301, 8570, 8575, 8625, 8460, 8810, 8820, 8860, 8840, 8850, 8830, 8810, 8820, 8860, 8840, 8850, 8830, 8194
WGSST 7760
Supporting Courses (35 hours)
Select courses from the following list, for a minimum of 35 hours. Consult with faculty advisor for alternative courses. At least 21 of the supporting course hours must come from
HDFS 5340    Intimate Relationships (3)
HDFS 5430     Adult Development and Aging (3)
HDFS 5200^     Foundations of Couple and Family Therapy (3)
HDFS 5350     Families with Adolescents (3)
HDFS 5440     Human Sexuality in Context (3)
HDFS 7189^     Field Experience (1‐3)
HDFS 7350     Adolescence and Emerging Adulthood (3) (if not used in core)
HDFS 7765     Advanced Child Development (Social) (3) (if not used in core)
HDFS 7770^     Professional and Ethical Issues in Couple and Family Therapy (3)
HDFS 7780^     Research Methods in Couple and Family Therapy (3)
HDFS 7999    Thesis Research (1 to 12) (beyond minimum required for core)
HDFS 8189.01     Practicum in Research (1‐3)
HDFS 8189.02     Practicum in Teaching (1‐3)
HDFS 8189^     Practicum in Couple and Family Therapy (1‐3)
HDFS 8193     Independent Studies for Doctoral Students (1‐3)
HDFS 8403    Individuation (3)
HDFS 8404    Adolescence: Risk in Context (3)
HDFS 8825    Theories of Human Development (3)
HDFS 8850     Measurement in Human Development and Family Science (3)
HDFS 8860^     Seminar in Couple and Family Therapy (3)
HDFS 8861     Family in Mid‐to‐Late Years (3)
HDFS 8862     Seminar in Human Development and Family Science (3, repeatable)
HDFS 8870^    Family Systems Assessment (3)
HDFS 8874^    Family Therapy Theory I (3)
HDFS 8875^     Family Therapy Theory II (3)
HDFS 8876^     Marital Therapy Theory (3)
HDFS 8878^     Supervision of Couple and Family Therapy (3)
HDFS 8999     Dissertation Research (1‐12) (beyond minimum required for dissertation)
Dissertation Requirement (6 hours)
Consult with faculty advisor
HDFS 8999    Dissertation Research (minimum 6)
^ Indicates courses that are part of an accredited curriculum for Couple and Family Therapy. Students wishing to fulfill these requirements must also take either ESCE 6931 or Psych 6853 and 6854
Minimum hours post BS/BA: 80