Physical Education (KINESIO-MS, PEN)
Department of Human Sciences
Image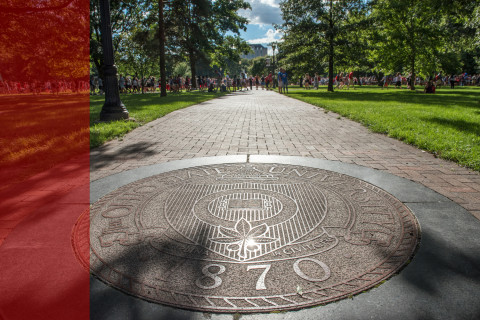 Specialization leading to Master of Science in Kinesiology
---
Core Requirements (9 hours minimum)
Foundational Requirement (choose one, 3 hours)
KNPE 5544    Introduction to Adapted Physical Activity (3) (recommended)
KNSISM 6807    Sport Law (3)
KNHES 7726     Changing Physical Activity Behavior (3)
KNSISM 7852    Sport Philosophy and Ethics (3)
Research Requirement (6 hours minimum)
Consult with faculty advisor for alternatives
ESQREM 6641    Introduction to Educational Statistics (4)
ESQREM 6661    Intro to Educational Measurement (3)
Specialization Requirements (21-24 hours)
Specialization Requirements (9 hours)
ESSPED 5742     Applied Behavior Analysis for Teachers (3)
KNPE 5795     Socio‐cultural Issues in Physical Education (3)
KNPE 7754     Advanced Motor Development & Learning (3)\
Concentration Specific Courses (12 or 15 hours minimum)
Select one of the following concentrations.
Adapted Physical Education Concentration (12 hours)
KNPE 5657    Sport & Disability (3)
KNPE 5676    Programming for Severe Physical Impairments (3)
KINESIO 8189    Practicum: Kinesiology (3)
KNPE 8872    Advanced Study in Adapted Physical Education (3)
Teacher Education Concentration (15 hours)
KNPE 5521    Qualitative Skill Analysis (3)
KINESIO 8189    Practicum: Kinesiology (3)
KNPE 8998    Research: Physical Education, Sport and Physical Activity (3)
Electives (6 hrs)
A minimum of six hours outside of the Teacher Education Concentration is required. Suggested are areas of study are: special education, curriculum development, recreational sports. See your advisor for specific course recommendations.
Thesis or Non-Thesis Requirement (choose one, 3 hours)
Consult with faculty advisor
Thesis Option
KINESIO 7999    Research: Thesis (minimum 3)
Non‐thesis Options (choose one)
Students must register for a minimum of three hours during the semester they take the examination or the project.
KINESIO 7999    Research: Thesis (minimum 3)
KNPE 8193    Advanced Individual Studies: Physical Education, Sport and Physical Activity (minimum 3)
Master's Examination
Culminating Project
Minimum hours: 33‐36 thesis option