Sensory Impairments (SI)
Department of Teaching and Learning
Image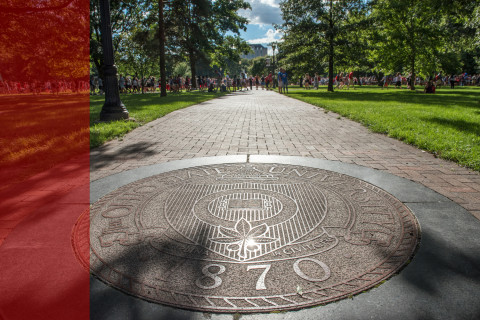 Specialization leading to Master of Arts in Teaching and Learning
---
Program Requirements (9 hours)
Core Courses (9 hours)
EDUTL 6808 Multicultural & Global Perspectives on T&L (3)
EDUTL 6050 Multiple Perspectives on T&L (3)
EDUTL 6053 Balanced Assessment of T&L (3) (OR assessment course approved by faculty advisor)
Area of Study Required and Elective Courses
Required (9)
EDUTL 5501 Inclusion: Philosophical, Social, & Practice Issues: General Student Body (3)
EDUTL 5510* (SU) Basics of Orientation & Mobility (2)
EDUTL 5557 Language and Children with Disabilities (3)
Elective (6-8)
EDUTL 5191* (SU) Supervised Student Teaching/Internship (Only for VI or O&M Licensure) (3)
EDUTL 5506* (AU) Reading and Writing Braille (3)
EDUTL 5507* (AU) Visual Processes (3)
EDUTL 5508* (SU) Modes of Communication & Instructional Materials for Students with Visual Disabilities (1)
EDUTL 5525* (SP) Curriculum & Instruction for Students with Visual Impairments and Multiple Disabilities (3)
EDUTL 6101 Dramatic Inquiry Across the Curriculum (3)
EDUTL 6102 Drama and Literacy (3)
EDUTL 6510* Orientation and Mobility Intermediate Seminar (3)
EDUTL 6511 Orientation and Mobility Advanced Seminar (3)
EDUTL 6512 Orientation and Mobility Special Topics Seminar (3)
EDUTL 6520 Orientation and Mobility Techniques and Methods I (2)
EDUTL 6521 Orientation and Mobility Techniques and Methods II (2)
EDUTL 6530 (SP) * Professional Development in the Field of Visual Impairment (3)
EDUTL 6556 Reading for Students who are Deaf & Hard of Hearing (3)
EDUTL 7075 Disabilities in Education (3)
EDUTL 7189* (SP) Advanced Field Placement (Only for VI or O&M Licensure) (1)
EDUTL 7364 Multicultural Literature for Children & Young Adults (3)
EDUTL 7427 Advanced Study of the Development of Reading & Writing (3)
EDUTL 7501 Inclusive Education Research (3)
EDUTL 7550 Advanced Studies in Deafness (3)
ESEADM 8317 Legal Aspects of Special Education Administration (3)
*These courses are requirements for the grades PK-12 Visual Impairments teaching license. Other requirements may also be required.
Research Requirement (minimum of 3 hours)
Select ONE of the T&L Research courses below or one that is approved by your faculty advisor (minimum of 3 credit hours)
EDUTL 6052 Classroom-Based Inquiry (3)
EDUTL 7010 Diverse Approaches to Research on T&L (3)
Final Examination (1-3)
Students must select either a Thesis or Non-Thesis option and must be registered for at least 3 credit hours the term of graduation.
Thesis
EDUTL 7999 Thesis Research (3)
Non-Thesis
EDUTL 7193 Independent Study (1-3)