Image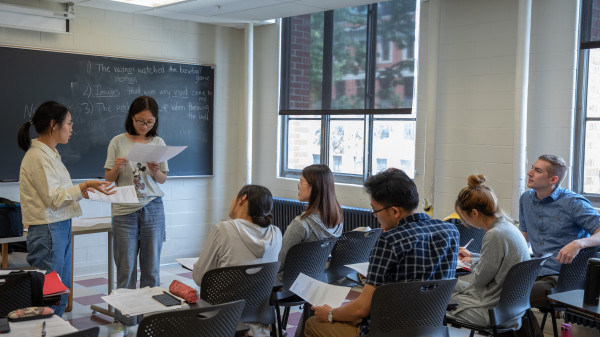 Core Practices in World Language Education - Online Graduate Certificate
Section Items
The Online Graduate Certificate Program in Core Practices in World Language Education engages practicing World Language teachers from across the United States in a rigorous, reflective professional cohort that supports them in improving their World Language teaching practice.  
Core practices have been defined as those practices that are essential to successful classroom teaching and student learning, and are possible for teachers to learn and enact in their classrooms. By participating in this online graduate certificate program, World Language teachers will not only improve their classroom practice, they will more effectively engage their students in learning activities across the three modes of communication, and thereby better help their students to develop proficiency in the world language.  
Section Items
This graduate certificate program consists of 12 credit hours, which include the following courses: 
EDUTL 6645 Language as a Resource in WL Education - 3 hrs 
EDUTL 5613 Core Practices in WL Education - 3 hrs 
EDUTL 5616 Core Practices in WL Assessment - 3 hrs 
EDUTL 5618 Advanced Core Practices in WL Education - 3 hrs 
These courses build participating teachers' ability to understand the theory that informs effective practice for instruction and assessment in the world language classroom, while they simultaneously enact those theories in practice with their students. 
Section Items
This graduate certificate program can help teachers along in their work toward promotion within their building or district, career advancement as a consultant, and in pursuing teaching opportunities abroad such as the Fulbright Teacher Exchange
Section Items
Grid Items
Prerequisites
Practicing world language teachers in the United States and beyond with an initial teaching licensure from a state/other licensing entity 

Advanced-Low Oral Proficiency and Writing Proficiency as documented by an ACTFL OPI and WPT or acceptable equivalents 

A bachelor's degree from an accredited institution 
International applicants need 85 TOEFL score
Application Materials:
A valid, standard Ohio teaching license or proof of out-of-state teaching license 

All transcripts from previous institutions 

Letter of support from supervisor on school letterhead 

Statement of purpose 

Resume 

Official ACTFL OPI and WPT score