Image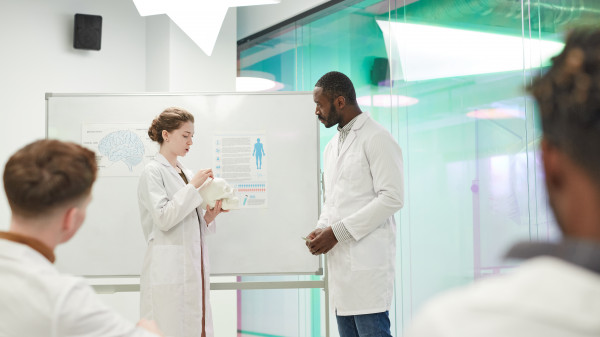 Master of Arts in Educational Studies, Biomedical Education
Section Items
The master's program in biomedical education is a thesis-only specialization combining the practice of clinical medicine with formal training in educational theory and practice. It is a partnership between the colleges of Education and Human Ecology and Medicine.
Section Items
Build expertise in six core competencies: medical knowledge, learner-centered, interpersonal and communication skills, professionalism and role modeling, practiced-based reflection, and systems-based practice. 
Seminars in competency-based medical education, leadership in medical education, employing simulation in medical education, and other current topics. 
Designed to provide formal training in educational philosophy, learning theory, and adult teaching practice, as well as educational research to prepare you for clinical and academic educational leadership roles.  
Section Items
Faculty
Laurie Belknap, DO, Assistant Professor of Biomedical Education and Anatomy, LSI Curriculum Expert Educator  
Dan Clinchot, MD, Professor and Chair of the Department of Biomedical Education and Anatomy Vice Dean for Education, Associate Vice President for Health Sciences Education  
Doug Danforth, PhD, Associate Professor of Obstetrics and Gynecology, Director of Part 1 of the LSI Curriculum  
Ashley Fernandes, MD, PhD, Associate Professor of Pediatrics, Director for Chronic Care Clerkship  
Alex Grieco, MD, Associate Professor of Biomedical Education and Anatomy, LSI Curriculum Expert Educator  
Larry Hurtubise, MA, Associate Director of the Center for Faculty Development  
Sorabh Khandelwal, MD, Professor of Emergency Medicine, Emergency Medicine Residency Director  
Nick Kman, MD, Associate Professor of Emergency Medicine, Director of Part 3 of the LSI Curriculum  
John Mahan, MD, Professor of Pediatrics, Assistant Dean for Faculty Development  
Daniel McFarlane, MD, Assistant Professor of Medicine and Pediatrics, Director of Medical Education Fellowship  
Ryan Nash, MD, Associate Professor of Biomedical Education and Anatomy, Director of the Center for Bioethics and Medical Humanities  
Sheryl Pfeil, MD, Professor of Clinical Medicine, Medical Director of the Clinical Skills Education and Assessment Center  
Kim Tartaglia, MD, Associate Professor of Medicine and Pediatrics, Director of Part 2 of the LSI Curriculum  
Section Items
Grid Items
Program start
Autumn, Summer and Spring semesters 
Deadline to apply
October 1 for spring semester;
March 1 for summer term;
April 1 for autumn semester
Grid Items
Prerequisite
MD, DO or equivalent