Image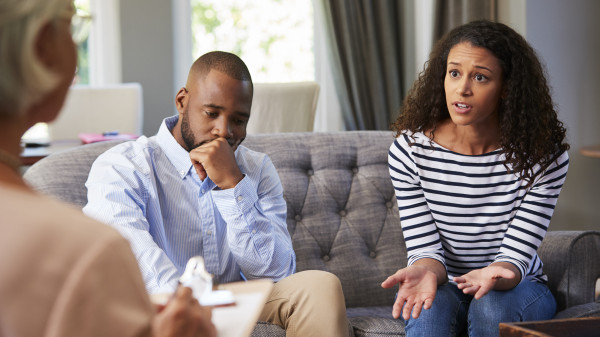 Couple and Family Therapy
Section Items
An optional curriculum for doctoral students accredited by the Commission on Accreditation for Marriage and Family Therapy Education. Heavy emphasis is on research and scholarship readying students to train others to become clinical researchers and scholars. 
Section Items
Identify ethical practices with human subjects and processes necessary to engage families to conduct quantitative and qualitative research 
Develop skills in scientific writing and grant proposal writing 
Develop preliminary supervisor skills that focus on trainee's theory development, intervention, and case management
Evaluate and critique current empirical research in Couple and Family Therapy effectiveness
Synthesize conceptual and intervention skills within a solidified theory of change
Know the literature relevant to diverse families and how diverse families access and engage in treatment 
Learn skills necessary to propose and present research at Couple and Family Therapy conferences
Additionally, students in the Human Development and Family Science doctoral program will: 
Develop the research skills to publish in top-ranked, peer-reviewed journals, present at national conferences and apply for grant funding 
Solidify a theory of change enabling work with many different clients 
Develop a philosophy of supervision and begin process of becoming an AAMFT Approved Supervisor 
Understand the context of the profession and be well versed in Couple and Family Therapy professional organizations 
Section Items
Clinical Training Facilities at Ohio State
Doctoral students pursuing the specialization utilize The Ohio State University Couple and Family Therapy Clinic. It is equipped with state-of-the-art video equipment and one-way mirrors for live observation of student work. During this initial experience, students are supervised by the faculty who are licensed clinicians with AAMFT-approved supervisor status, or equivalent (current faculty: Suzanne Bartle-Haring and Keeley Pratt). 
Supervision includes group and individual modalities, as well as live observation, video and case report. As students gain experience, they secure 9-12 month internships in community mental health clinic settings, psychiatric in-patient settings and clinical research settings or combinations of research, teaching, supervision, and/or clinical work. 
Client Contact Hours Requirement
Students must have 1,000 hours of face-to-face client contact. Students with a master's degree in Couple and Family Therapy need 500 hours of client contact beyond the master's degree. 
Students without a Couple and Family Therapy master's degree must obtain a minimum of 500 hours of client contact at The Ohio State University Couple and Family Therapy Clinic with the remainder of their hours completed at the clinic and/or internship site. 
Dedication to Diversity 
The Ohio State University Couple and Family Therapy Program is committed to the value of all people regardless of age, race, ethnic/minority background, socioeconomic status, gender, sexual orientation, religion, gender identity, relationship status, disability, national origin, or health status.  We believe that our work as clinicians, researchers, and academicians, and students should reflect this core belief. 
The Ohio State University Couple and Family Therapy Program respects and encourages the expression of the diversity of personal values and behaviors.  As family therapists, we are aware we will encounter clients, colleagues, and trainees that will have values divergent from our own.  We will endeavor to make the program a safe place in which trainees can explore their own values and biases in an effort to make them more aware of how these contribute or detract from their effectiveness as therapists. 
As family therapists we are committed to The American Association for Marriage and Family Therapy's Code of Ethics, in which it is considered unethical to deny family therapy services to anyone based on race, gender, religion, national origin, or sexual orientation.  As personal values are explored throughout the program, trainees will be encouraged to confront their ability to uphold this ethical guideline and explore options when their own core beliefs may prevent them from being therapeutic with clients. 
Medical Family Therapy
Medical family therapy is built upon family systems theory and the bio-psycho-social model. It provides a systemic interpretation of biological, psychological and social influences on couples and families for healthy lives. 
Medical family therapy offers students the opportunity to apply systems theory to patients, their families, their doctors and other health care professionals. 
HDFS students interested in medical family therapy gain experience: 
Initiating and facilitating communication among healthcare providers and patients/families 

Developing a collaboratively driven comprehensive plan of treatment 

Supporting patients and families through the change process 

Preparing patients and families for medical treatments 

Developing post-treatment plan to adjust to changes 

Addressing changes in couple's relationships as a result of treatment 

Talking to family members about anticipated changes post-treatment 

Assisting with feeling less conflicted about a medical regime 

Helping family with healthy lifestyle changes 

Addressing patient and family ambivalence or resistance 

Supporting patients in communicating needs to family 
Section Items
Licensure Requirements
In addition to the requirements for the Human Development and Family Science doctoral degree, students wishing to pursue the specialization must: 
Interview with the faculty who are licensed Couple and Family Therapy supervisors. 
If invited to interview, submit a research project proposal. 
Section Items
COAMFTE Accreditation
Ohio State's Couple and Family Therapy licensure is accredited by the Commission on Accreditation for Marriage and Family Therapy Education, meets the standards for licensure in the state of Ohio and is designed to prepare students to be clinical scholars and researchers. 
Our mission is to train excellent research clinicians for academic and research settings who have sustainable programs of research in areas that move the CFT and Family Science fields forward. 
Section Items
Let's Keep In Touch!
Prospective students are encouraged to complete an inquiry card so we can share information about virtual info sessions, opportunities to connect with current graduate students, program news and the admissions process.