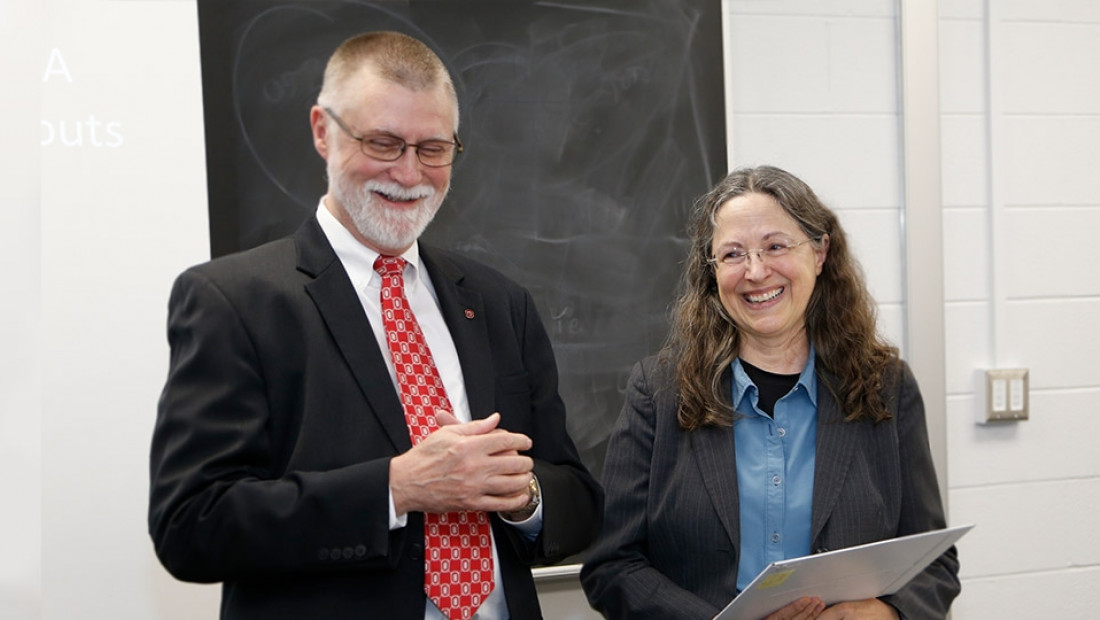 Typical of Jackie Blount, she was deeply engrossed in a discussion with her graduate students about how historical patterns of school funding and districting affect educational inequalities – and how activists have challenged these patterns.
Suddenly, a procession of university leaders disrupted the class, disorienting Blount. The visit's purpose dawned on her in slow motion.
Executive Vice President and Provost Bruce McPheron announced that she had earned the 2019 Alumni Award for Distinguished Teaching.
A touching mix of astonishment and awe crossed Blount's face, chased by a few tears.
"Your professor is one of 10 Alumni Association Distinguished Teachers this year," McPheron said.
"Let me put a finer point on this. Ten out of about 3,000 people who are eligible. What a thrill not only to be able to surprise you, but more importantly to be able to recognize your excellence," the provost said. "We're so grateful for the energy and commitment you bring."
The 10 award recipients will be recognized in the autumn at a home football game, where 100,000 Buckeye fans will cheer for them.
"I am deeply honored by and grateful for this award," Blount said.
Nurturer of future scholars
Blount, a professor of the philosophy and history of education, is known for an enthusiasm for her subject that is contagious.
"Jackie was one of the highlights of my graduate school experience…. Her excitement about history made history more exciting, which historically has not been very exciting for me…. We fondly talk about her and her contributions to the Higher Education and Student Affairs program. We enthusiastically encourage others to take her classes."
"Dr. Jackie Blount is phenomenal! … Jackie challenged the way that I thought about the history of higher education … The pedagogy that Jackie utilizes within her classrooms is innovative, thoughtful and impactful…. The committee would be hard pressed to find an instructor more deserving than Dr. Jackie Blount for this recognition and honor."
Doctoral student Spencer J. Smith, Blount's key nominator, said he is "blown away by Professor Blount's commitment to her students."
He described how he proposed a project Blount had seen before, and instead of discouraging him, she encouraged him to pursue it, trusting he might add something new. When his research did exactly that, she rejoiced with him about his project's originality.
"Because of her help, I am presenting the research started in her classroom at an international conference in November," Smith wrote. "In this way, she gave me the resources to start to work as a scholar in her discipline."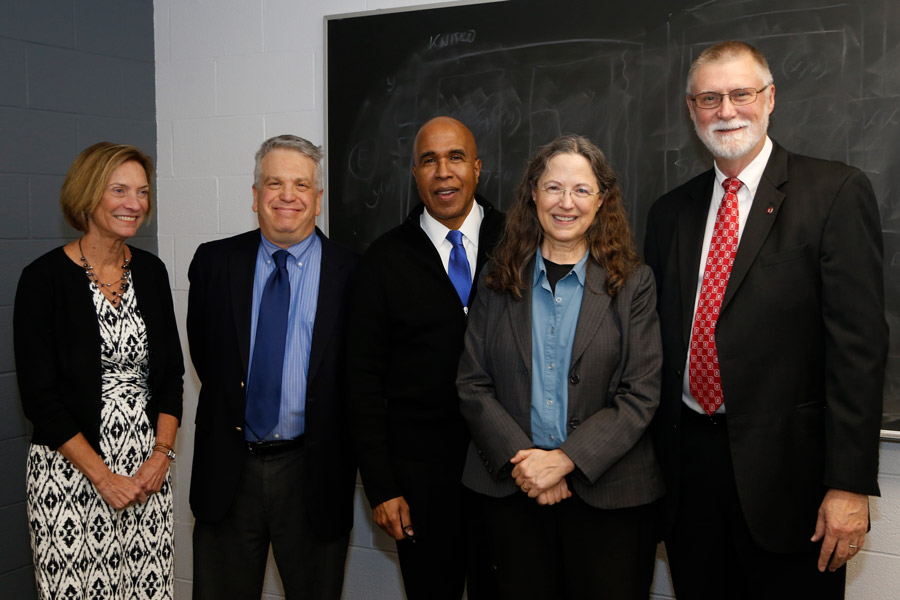 Innovative teaching strategies bring students value
Eric Anderman, professor and Department of Educational Studies chair, shared that Blount exercises "extraordinary pedagogical innovation."
Specifically, she has received outstanding student response for teaching the doctoral proseminar, a difficult-to-teach, two-semester sequence required of both PhD and EdD students in their first year.
The difficulty comes for two reasons: First, the proseminar must serve students focused on different career paths. PhD students aspire to become faculty researchers; EdD students usually are full-time school or postsecondary school administrators who use research for problem solving.
Second, the 50 students enrolled each year represent 12 distinct graduate programs.
In years past, students lamented that the proseminar did not meet the needs of all these populations – until Blount met the challenge.
"Jackie created projects that truly help the EdD students appreciate the importance of research," Anderman said, "and helped the PhD students understand the implications of research for practitioners and policymakers."
In each of two years, she did this by engaging the students in collaborative writing about educational equity in Ohio.
The first year resulted in the white paper Educational Inequality in Ohio.
The second year produced a website titled Educational Inequity in Franklin County, Ohio.
In both projects, students considered policy issues in relation to all their areas of study. "The final products are remarkable and valuable documents," Anderman said, "that should inform policy and practice in Ohio for many years."
A committee of Ohio State alumni selects up to 10 faculty members each year to receive the university's highest teaching award. Three Education and Human Ecology faculty received the award this year. The other two recipients are: Tami Augustine, clinical associate professor of teaching and learning and Claire Kamp Dush, associate professor of human development and family science.