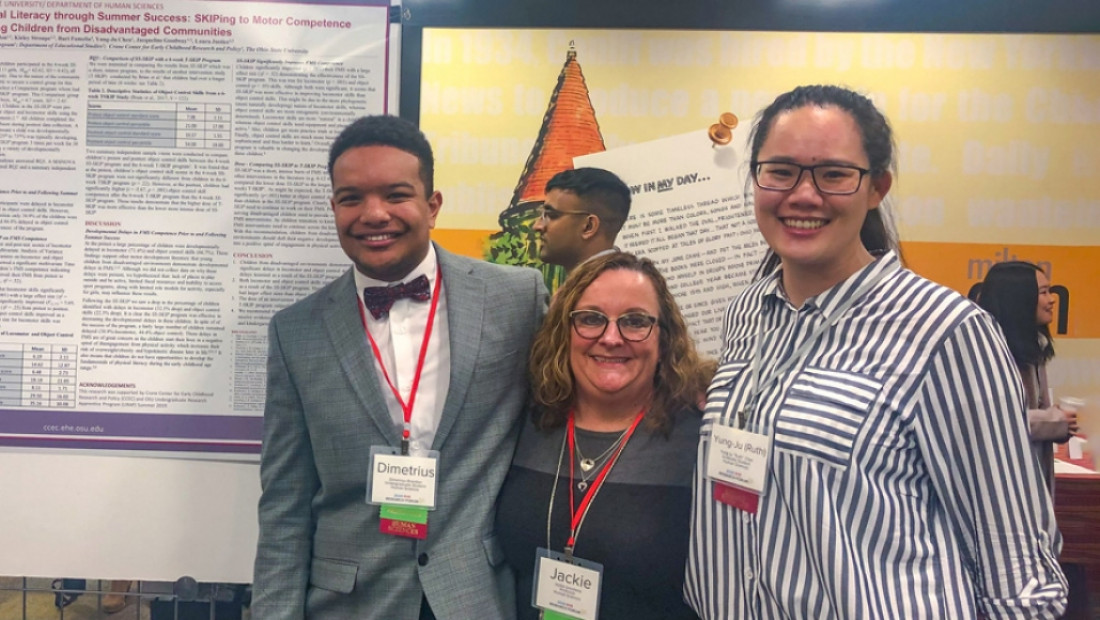 Researcher focuses on children's motor competence for lifelong fitness
Jackie Goodway became the latest professor in the College of Education and Human Ecology when she was inducted as a fellow into the National Academy of Kinesiology in September.
"Being a fellow in the academy is one of the most prestigious awards in our field," said Phillip Ward, professor of kinesiology and one of Goodway's nominators. "It recognizes impactful accomplishments in the field. Jackie's research has had that significant impact within the United States and globally in such countries as Wales, Indonesia, Turkey and Japan, both in teaching practices and policy. She is most deserving of fellow status."
Goodway, who joined Ohio State in 1999, is known as the first investigator in the field to highlight how young children growing up in poverty demonstrate significant delays in their fundamental motor skill competence, regardless of geographic region, culture or gender.
She focuses her research on promoting an active start in young children who are economically disadvantaged, and the role motor competence plays in leading a physically active lifestyle and maintaining a healthy weight.
Among her best-known work is the evidence-based SKIP, or Successful Kinesthetic Instruction for Preschoolers. After more than 27 years of training teachers, parents and others to use SKIP, her intervention has had significant impact on the lives of children from early childhood into adolescence. It is currently implemented in countries across four continents, including locally at the college's A. Sophie Rogers School for Early Learning at the Schoenbaum Family Center.
Goodway is first author of one of the leading motor development textbooks, as well as one of the lead scholars who developed a model showing the role motor competence plays in supporting children's physical activity behaviors across childhood. With more than 1,500 citations, it is one of the most often-cited models in the field.
She previously chaired the committee of SHAPE America, the Society of Health and Physical Educators, to revise the national Active Start guidelines for physical activity for children 5 years and younger.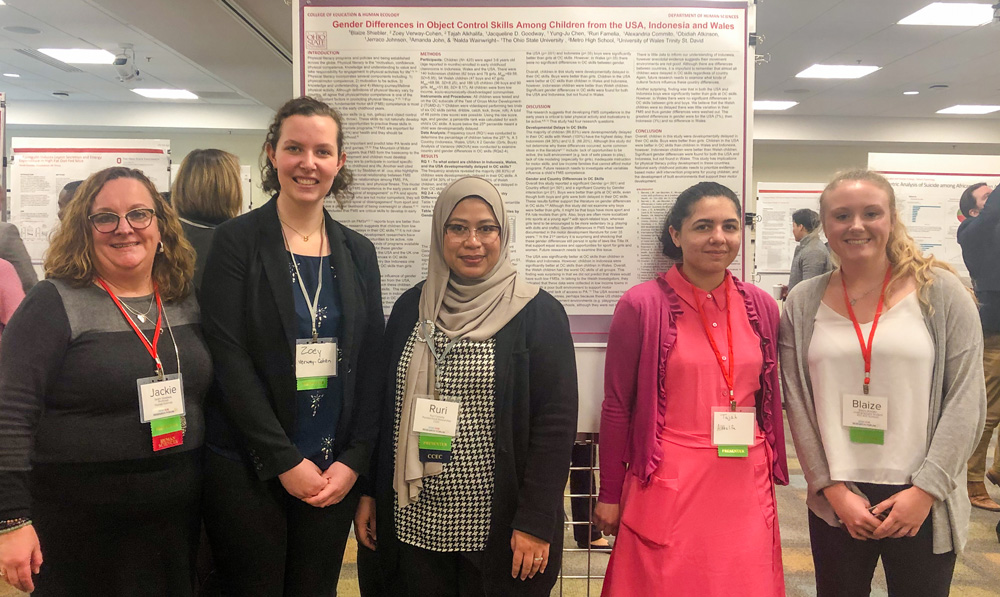 Multiple awards recognize Goodway's contributions
Goodway's work has been recognized by numerous awards and keynotes, and she has provided leadership to many national and international organizations. Her honors include:
the Lolas E. Halverson Young Investigator Award from the Motor Development Academy of the National Association of Sport and Physical Education;
the Mabel Lee Award from the American Alliance of Health, Physical Education, Recreation and Dance; and
fellow of the North American Society of Health, Physical Education, Recreation, Sport and Dance Professionals.
More recently, she co­founded the International Motor Development Research Consortium to bring motor development researchers together from around the world and to mentor the next generation of motor development scholars.
"We are incredibly proud of our colleague, Dr. Goodway, who exemplifies excellence in all of her academic pursuits," said Erik Porteli, chair of the Department of Human Sciences. "Her work devoted to motor skill development and physical activity in young children living in disadvantaged circumstances is of pressing global importance as more developed and developing nations recognize the lifelong implications of motor skill development, the decline in physical activity across the lifespan and their role in public health and human development."
"On behalf of the department and our Kinesiology program, we thank the National Academy of Kinesiology for recognizing Dr. Goodway as a leading and eminent scholar, and we look forward to her leadership as one of the 165 living academy fellows," Porfeli said.
Goodway is the fifth currently active Department of Human Sciences professor chosen for the prestigious honor. She joins professors Donna Pastore (2017), Samuel Hodge (2016), Phillip Ward (2015) and Carl Maresh (2005) as a National Academy of Kinesiology fellow at Ohio State. The college's Doctorate in Kinesiology Program is ranked 10th in the nation by the academy.
Goodway was nominated by Ward; alumnus Hans Van Der Mars, professor of physical education teacher education at Arizona State University; Jane Clark, professor emerita of kinesiology at the University of Maryland; and Mary Rudisill, director and Wayne T. Smith Distinguished Professor of Motor Development in the School of Kinesiology at Auburn University. Each nominator also is a National Academy fellow.
The National Academy of Kinesiology is an honorary organization composed of fellows who have moved the field of kinesiology forward through their distinguished and sustained contributions through scholarship and professional service.