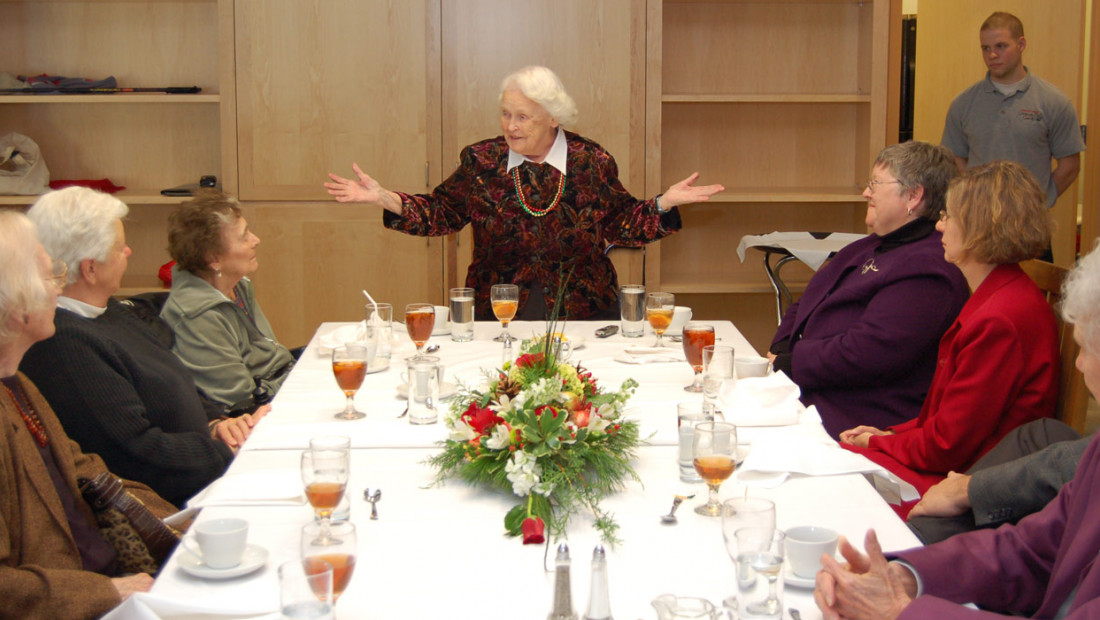 Honoring life of first female director of School of Physical Activity and Education Services
The college shares the sad news that Mary K. Beyrer, '59 PhD, of Columbus, Ohio, died Sunday, May 22.
Family will receive friends 1-2 p.m. Thursday, June 2, at Schoedinger Northwest Chapel, 1740 Zollinger Rd., Upper Arlington, Ohio, 43221. A memorial service will follow at 2 p.m.
The emerita professor and retired administrator led the advancement of health education during her 40-year career. She is best remembered as the first female director of the School of Health, Physical Education and Recreation in Ohio State's College of Education from 1977-1981. She skillfully led the school through a challenging economic period.
An innovator in the field of health education from early in her career, Beyrer coordinated the Health Education 400 Television Project for Ohio State freshmen from 1959-62. As faculty in health education, she presented and published widely, including the fourth edition of the prominent textbook, School Health Education,  with Ohio State Professor Delbert Oberteuffer in 1966.
The many doctoral students whom Beyrer advised became some of the best-known faculty, noted authors, administrators and teachers in the profession. She kept in touch with them, valuing their interactions and contributions to the field.
Beyrer contributed to the profession by holding offices in many organizations. Her service reached a pinnacle when she served as president of the American Alliance for Health, Physical Education, Recreation and Dance (AAHPERD) from 1982-83. The association consisted of seven national organizations with a membership of more than 40,000.
Recognized by professional organizations
She received numerous awards during her career. The Association for the Advancement of Health Education presented her with its Professional Service to Health Education Award in 1976. She was known for her carefully crafted speeches, and when named Alliance Scholar, she was invited to present her ingenious lecture at numerous universities. In 1980, the Alpha Chapter of Eta Sigma Gamma, the National Health Education Honorary, presented her with its Honor Award.
AAHPERD, now known as SHAPE America, honored her in 1988 with its highest honor, the Luther Halsey Gulick Medal, for her long and distinguished service.
In 2007, she named the Mary Beyrer Director's Suite in the Physical Activity and Education Services Building on the Ohio State campus. Contributions can be made in her memory to the Mary K. Beyrer Fund, #311741 at go.osu.edu/BeyrerFund, or send checks to The Ohio State University Foundation, 1480 W. Lane Ave., Columbus, Ohio 43221 and indicate the Beyrer Fund #311741 on the check.
The Schoedinger obituary is available online, where you can share memories of Dr. Beyrer.