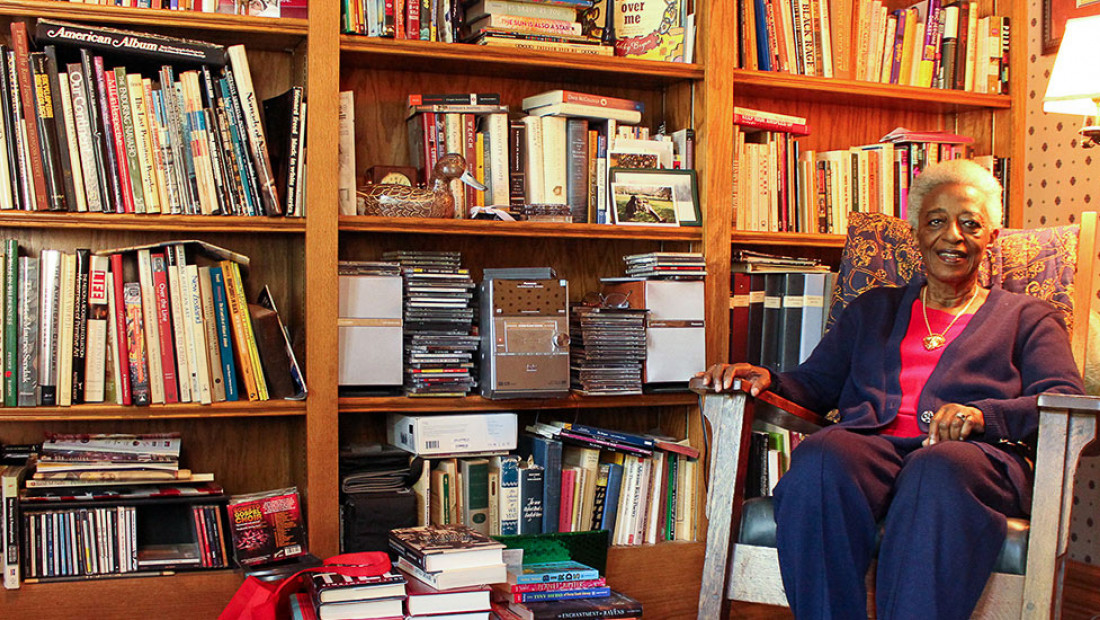 The legacy of a scholar, and what the esteemed professor emerita thinks of children's books today
A short stroll from The Ohio State University's Columbus campus, a stately Victorian house serves as a keeper of treasures.
A stunning collection by African American children's book illustrators lines the walls.

Floor-to-ceiling shelves hold volumes about famous painters, the black American experience; books written by Alice Walker, Ismael Reed and Henry Louis Gates. And then there is all the children's literature.
When she was teaching at the College of Education and Human Ecology, from 1986 to 2002, Rudine Sims Bishop could have walked to campus from her house. But she always had so many books to carry.
"I read them to my graduate students," she said. "Picture books. The whole thing in one sitting."
Cynthia Tyson, '91 MA, '97 PhD, was one of those students. Now an Ohio State professor of multicultural and equity studies in education, she says people gasp when she tells them Bishop was her advisor. They want to know what it was like.
"It is like sitting and learning at the feet of an angel," she tells them. "She is for me the epitome of what it means to think and question and learn with the mind, body and spirit."
Soft-spoken, erudite and unassuming, Bishop has somewhat of a cult following among educators, researchers and graduate students.
"We call her the mother of multicultural literature," said Ruth Lowery, interim chair of the Department of Teaching of Learning. "If you're my doctoral student, you have got to read (Bishop's) Shadow and Substance to understand where multicultural literature came from."
Her scholarship focused on the need for black children to see themselves in the books they read. It brought her and the university international acclaim, and made Rudine Sims Bishop a treasure in her own right.
Lifting as she climbed
The professor emerita gives visitors to her home a lesson in black American art. Her voice just above a whisper, she says the fanciful piece in the library was a gift from Columbus artist Aminah Robinson. Throughout the house, works by Jerry and Brian Pinkney, Tom Feelings, Floyd Cooper and James Ransome — to name a few — tell stories from inside their frames. Bishop translates them all.
The tours have been ongoing for years. In the 1990s, Bishop, her husband James and colleague Janet Hickman hosted renowned authors and artists as part the college's children's literature conferences. And they entertained celebrated illustrators — their friends — when they came to town. Always looking for opportunities for her graduate students, Bishop invited them, too, and told them to mingle, "just like we were guests," Tyson said. "That's the kind of mentor she was and continues to be — lifting as she climbed truly is a large part of her legacy."
Tyson met Tom Feelings, author and illustrator of The Middle Passage, at a small gathering. "I thought I was going to pass out," she said. "I couldn't even put two words together to make a sentence."
Black artists' work is an integral part of the scholarship Bishop introduced 40 years ago. Books like theirs were in short supply when she was growing up in the anthracite coal country of Pottersville, Pennsylvania. "I spent a lot of time in the public library when I was a child," she says. "I didn't find myself in those books."
As a young researcher at Wayne State University in the late 1970s, she began looking at representation of African Americans in children's literature.
"I got every realistic fiction book that I could lay my hands on," she said. "It turned out there were about 150 books" featuring black children. "I read them."
Shadow and Substance established a framework for analyzing literature about people of color; it remains a standard in the field.
Some of the books she studied, by white authors for white children, portrayed black people as exotic or "different." Others ignored cultural differences and connoted sameness. "You wouldn't know the characters were black unless you saw the pictures," she said.
Roughly a third of the books she examined — about 50 out of several thousand children's book titles at the time — were what Bishop calls culturally conscious.
These were rich in cultural memes, language and familiarity with true African American identity. The passages and illustrations reflect what children of color see in their everyday lives, and thus validate their experiences. Most were written and illustrated by African Americans. The art hanging in Bishop's home is a nod to them.
A reflection of who we are
At Ohio State in the 1990s, Bishop famously promoted literature as a tool of self-affirmation for all children.
"Books," she wrote, "are sometimes windows, offering views of worlds that may be real or imagined, familiar or strange."
"These windows are also sliding glass doors, and readers have only to walk through in imagination to become part of whatever world has been created and recreated by the author."
But if the light is right, the window becomes a mirror.
"Literature transforms human experience and reflects it back to us, and in that reflection we can see our own lives and experiences as part of the larger human experience."
The metaphor continues to be cited in academic journals, textbooks, conference presentations and university classrooms. It's the subject of TEDx talks and blogs. Teachers the world over stock classroom bookshelves based on its insights.
"Her words, so subtle yet powerful, became a rallying cry of sorts among academics, librarians, critics, scholars, and reviewers who advocated for the inclusion of 'multicultural literature,'" wrote Violet J. Harris in Language Arts.
She was inducted into the Reading Hall of Fame and received the International Reading Association's Arbuthnot Award. In 2017, she received the Coretta Scott King-Virginia Hamilton Award for Lifetime Achievement.
As chair of the Coretta Scott King committee that awards prizes to black authors, and on selection committees for Newbery Book Medals and Caldecott Medals, Bishop has had manifold books cross her doorstep.
In them, she looks for the seeds of self-reflection her scholarship calls for. "It's the issue of authenticity," she said. "You feel it. You recognize it. It mirrors something in your own experience or life."
All children need that, she said.
Page by page, she lately has found something she rarely saw when she began her studies: stories that represent a variety of cultures, faiths, families and perspectives.
"I am hopeful," she said, "because of the numbers and because of the quality and the fact that there are some really fine writers who are coming up."
And she has at last seen herself in unexpected places.
A few years back, as she leafed through the Sunday New York Times book reviews, she happened upon a comic strip by book author Gene Luen Yang. There in the fifth frame was her likeness, a black woman with graying hair, expostulating the value of children seeing and reading their likeness in books.
"Books can be windows into other people's lives and mirrors of their own," the smiling cartoon professor says.
Bishop framed the page and hung it on her wall, near her exquisite collection of children's book illustrations.