Image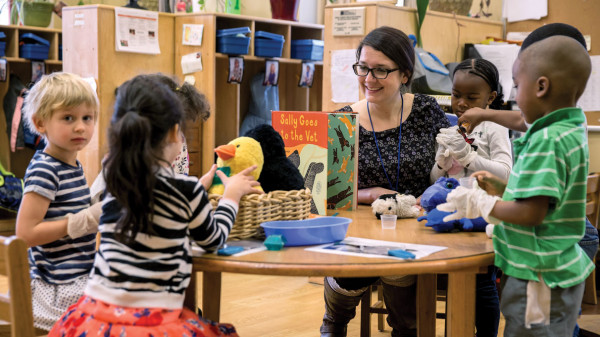 Primary Education (P-5), Master of Education
Section Items
The Primary P-5 Early Childhood/Elementary Master of Education program leads to an initial teaching license in the state of Ohio. Combined with a dedication to social justice and excellence for all children, students will be prepared to become a teacher leader who advocates for equity and justice in education. 
Section Items
A rigorous 3-semester program is consistently ranked among the top programs in the nation 
Fully grounded in a social constructivist approach to teaching and learning 
Coursework prepares you both conceptually and practically to think critically and reflectively about your teaching practice 
Leverage inventive techniques to teach using inquiry-based strategies within a cooperative learning context 
Engage in a field experience across two full semesters in schools throughout the metropolitan Columbus area that span the pre-k to fifth grade license 
Section Items
Grid Items
Prerequisites
Prerequisite Coursework with minimum 2.75 GPA, bachelor's degree, overall 3.0 GPA
This is a competitive program. Acceptance into the program is not guaranteed by completing prerequisites.
Deadline to apply
November 15
Grid Items
Program start
Summer Semester
Section Items
Licensure Disclosure 
Licensure requirements may be subject to change because of state-legislated mandates. Prospective students are encouraged to contact the Department of Teaching and Learning each year to ensure they have the most up-to-date information. 
Ohio State academic programs are designed to prepare students for licensure or certification in Ohio. If you plan to pursue licensure or certification in a state other than Ohio, please review state educational requirements for licensure and certification at go.osu.edu/onground.