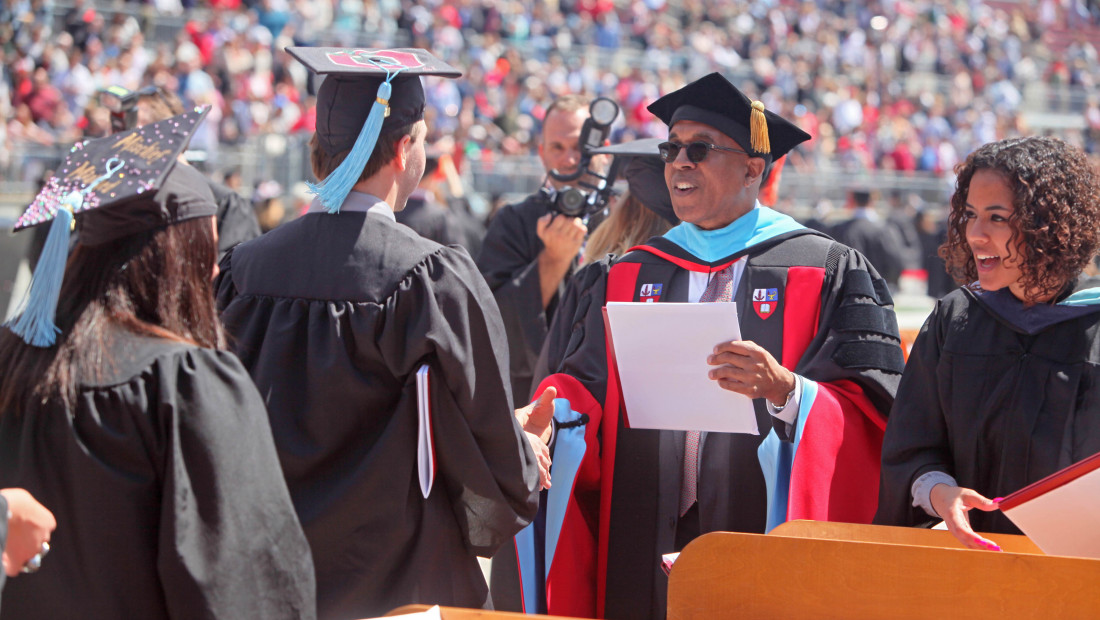 For more than a century, Ohio State's College of Education and Human Ecology has prepared exceptional teachers, school leaders and personnel and faculty for the education and university communities. In the latest U.S. News and World Report 2024 edition of America's Best Graduate Education Programs, the college continued its strong showing by moving up two spots to arrive at No. 25 in the nation.
With 272 schools ranked across the country this year, the college falls in the top 9.2%.  
This steady improvement represents the college's continued growth in the quality and strength of programs that create graduate students prepared to excel in their fields.
In Ohio, the college remains No. 1 in the state. This marks its status as foremost among the other graduate education schools in Ohio appearing in the rankings.
Among public universities, the college moved up to No. 17 nationwide. Within the Big Ten Academic Alliance, the college improved to No. 5. 
Seven specialty program rank in top 10 nationwide
Peers across the nation ranked seven of the college's specialty programs as delivering excellence. These programs are increasingly recognized for their high-achieving faculty and alumni impact on the field.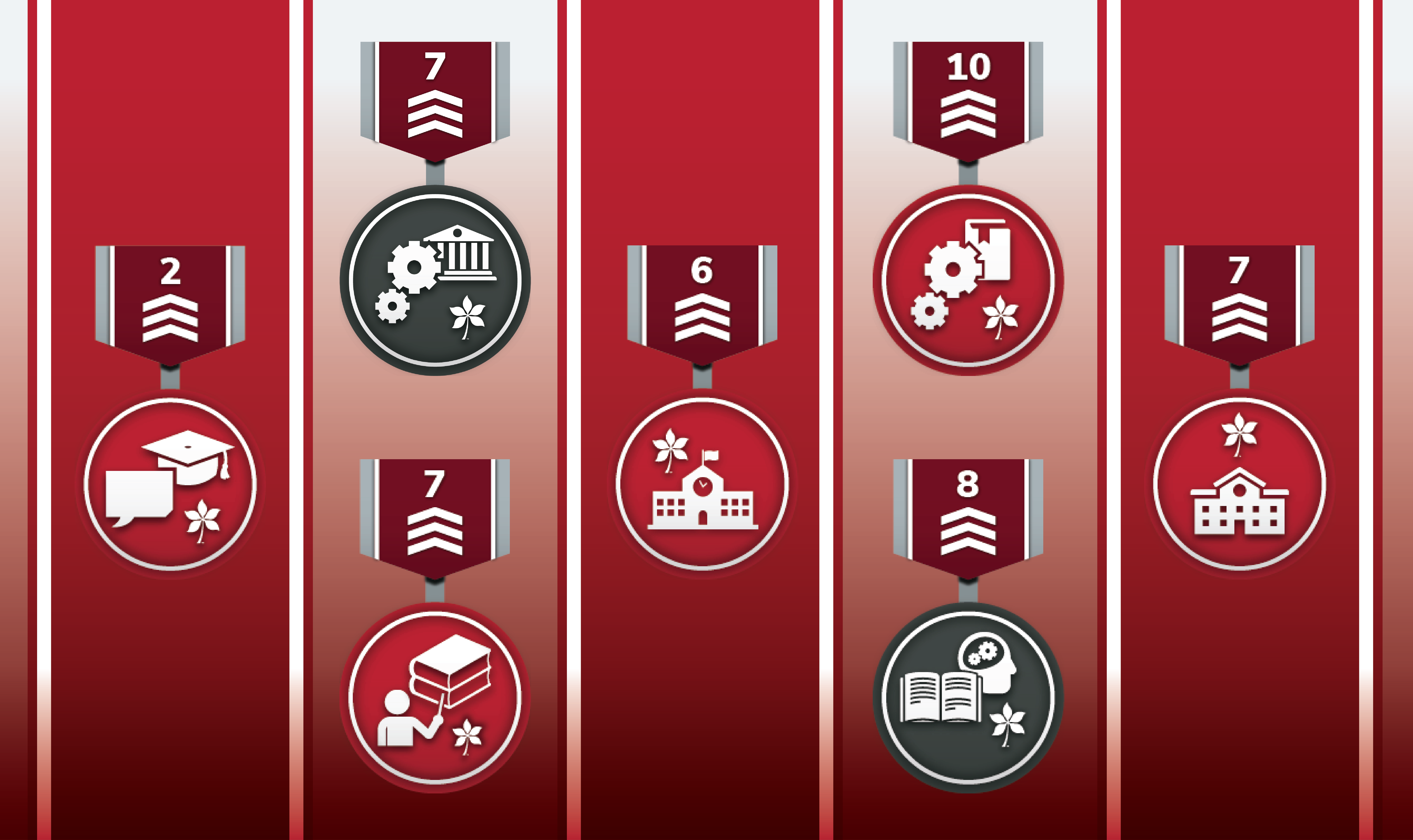 Department of Teaching and Learning
Secondary Teacher Education – No. 6
Curriculum and Instruction – No. 7
Elementary Teacher Education – No. 7
Department of Educational Studies
Student Counseling – No. 2
Higher Education Administration – No. 7
Educational Psychology – No. 8
Educational Administration – No. 10
"Our college focuses on recruiting and supporting an excellent, intellectually diverse faculty, which is why we're able to attract outstanding graduate students," Dean Don Pope-Davis said. "Students benefit from the support of quality staff and dedicated faculty mentors, who together ensure a rigorous experience. Overall, our graduates are known as being prepared to teach, serve, conduct meaningful research and for having an impact in their respective fields."
Five top-ranked specialty programs prepare leaders in education
The college's Department of Educational Studies has four graduate specialty programs that rank in the top 10 this year, up from three that ranked last year. An additional program ranks in the top 25.
"The rankings continue to reflect the dynamic and talented faculty in our department," said Lori Patton Davis, chair of the department and a professor of Higher Education Administration. "They continue to engage in some of the most critical and rigorous research that informs policy, practice and pedagogy."
The rankings continue to reflect the dynamic and talented faculty in our department They continue to engage in some of the most critical and rigorous research that informs policy, practice and pedagogy.
- Lori Patton Davis, chair, Department of Educational Studies
"We remain invested in our students by preparing them through consistent mentoring, exposing them to research and practitioner-based experiences and engaging with them as scholars and thinkers who will ultimately make a difference in the world."
"It is wonderful to see our Student Counseling, Higher Education Administration and Educational Administration specialties consistently ranked in the top 10," she said. "They are being recognized for the phenomenal work we do in supporting mental and psychological well-being in schools and communities, as well as the historical and contemporary impact on postsecondary student success, higher education policy and educational leadership."
"Our Educational Psychology and Educational Policy specializations continue to be attractive options for students interested in connecting with faculty who are key thought leaders in the field. These faculty are committed to enhancing student motivation and study habits, as well as engaging with the ever-changing policy context in the U.S."
"Overall, our ranked programs serve as key reminder and push for us to maintain the high quality and dedication to academic excellence in Educational Studies."
Student Counseling program ranks No. 2 in the nation
The Student Counseling program has three graduate tracks: Clinical Mental Health/Addictions, School Counseling and the PhD in Counselor Education.
"Graduates of the master's programs are hired in schools, clinics, hospitals and private practices," said Colette Dollarhide, professor and program chair. "Employers consistently tell us that our OSU grads are the best in the state."
"All students serve successful internships and practicum experiences with central Ohio schools or mental health providers." "Doctoral graduates contribute to the profession in faculty roles of teaching, research and leadership at colleges and universities nationwide."
"The Counselor Education program at OSU allowed me an opportunity to grow and develop beyond my expectations," said Whitney Moses, '22 MA, a grade 9-12 school counselor with Eastmoor Academy, Columbus City Schools. "The support given by the faculty and the depth to which we are able to reflect on our personal experiences helped me to become the counselor I am today. Now, I am able to build trusting relationships with my students because of the groundwork laid by my time in the program."
Educational Policy program enters specialty rankings in top 25
The Educational Policy program entered the rankings this year at No. 23.
"I like to think that this ranking is a testament to the quality of the work that is being done related to educational policy across a range of disciples and programs areas in our department," said Professor Bryan Warnick, program chair. "There is a depth and social consciousness to the work here that is unsurpassed and will only grow in national recognition."
Graduates from top 10 programs serve K-12 schools, academia
Graduate specialty programs in the Department of Teaching and Learning continue to make impressive showings in the rankings. Elementary Teacher Education ranks No. 7. and Secondary Teacher Education ranks No. 6. Curriculum and Instruction, which represents the pedagogy aspects of the college's elementary and secondary programs, ranks No. 7.
"Our faculty continue to provide our master's degree-level students with cutting-edge strategies and skills for the classroom," said Antoinette Miranda, chair of the Department of Teaching and Learning, a professor of school psychology and the Casto Endowed Professor of Intercultural Education.
"We know that a well-trained and effective teacher can help students achieve their full potential by creating a conducive learning environment that encourages critical thinking, creativity and problem solving. More than ever, there is a need for teachers to engage in transformative practices."
The master's-level programs offer multiple strengths. Students enter with a cohort of like-minded peers. The intensive program is led by experienced faculty, advisors and program managers. Students receive a well-designed curriculum, field-based practicums throughout the program, not just one semester at the end, and mentoring and guidance. Cohorts build a community of practice that supports each student's reflection on theory and what works in practice.
"We have been fortunate to attract exemplary graduate students," Miranda said. "Our master's students continue their education, gaining more in-depth knowledge and skill in their disciplines or adding a new specialization. This also helps them pursue leadership opportunities."
Kyle Michl is a high school social studies teacher at Marburn Academy, an independent day school in Central Ohio, after earning an MEd in 2022. "My time at Ohio State has been invaluable to my success as an educator," he said. "Not only was I given a vast array of tools and methods to pull from, but my collaboration with peers and professors laid the groundwork for the philosophy that guides my classroom. The emphasis on engaging and differentiated instruction has been especially useful at Marburn, a school devoted to students who learn differently. I feel equipped to empower students to take ownership of their learning and to continue investing in their community."
My time at Ohio State has been invaluable to my success as an educator. Not only was I given a vast array of tools and methods to pull from, but my collaboration with peers and professors laid the groundwork for the philosophy that guides my classroom. ... I feel equipped to empower students to take ownership of their learning and to continue investing in their community.
-Kyle Michl, '22 MEd, high school social studies teacher, Marburn Academy
"My training at Ohio State emphasized the importance of relationships both in the program and in the classrooms we hoped to establish," Michl said. "My relationship with my peers and professors made it possible for me to face the challenges that come with education. I made lifelong friends in the program, and I know that I will always be able to pull from the resources Ohio State provided for me."
With regard to the PhD programs in the Department of Teaching and Learning, Miranda said, "Our doctoral students have the opportunity to work with world-class faculty on research projects, publications and professional opportunities to advance their future careers. Our highly engaged and dedicated faculty members are committed to providing excellent training to our future educators."
Grace J. Kim, now an assistant professor of education at Bucknell University, Pennsylvania, earned her degree in spring 2022. "By completing the PhD in Multilingual Language Education, I was not only equipped with the knowledge, skills and tools," she said, "but was also given the opportunity to explore innovative research methods, theories and practices on how to create more relevant, inclusive and equitable learning environments for linguistically and culturally diverse learners."
"The research conducted by the faculty members is at the cutting edge in the field, and I gained diverse experience on both teaching and research through collaboration with the faculty members. Thanks to the courses, training, support and resources in the program, I learned the importance of connecting theory to practice, which has become a foundation to my work in academia."