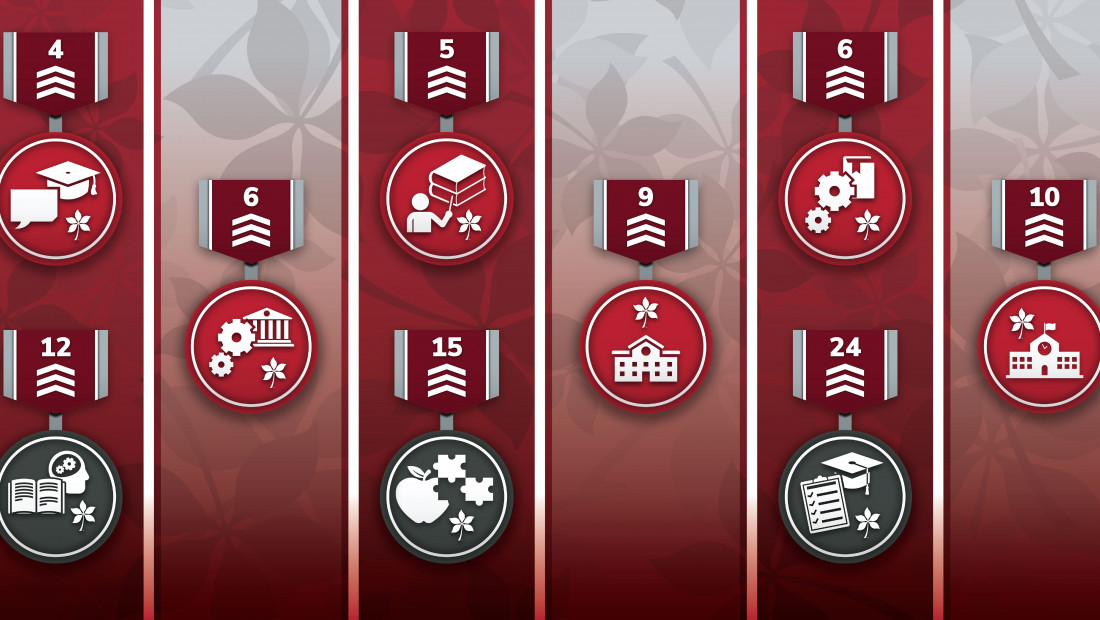 Graduate education programs at The Ohio State University grew in reputation this year, according to U.S. News and World Report in its 2023 Best Graduate Programs in Education rankings released on March 29.
In one year, the college doubled the number of specialty programs recognized as being among the top 10 such programs in the nation, from three in the 2022 rankings to six for 2023.
The six college programs that stand out within their disciplines are: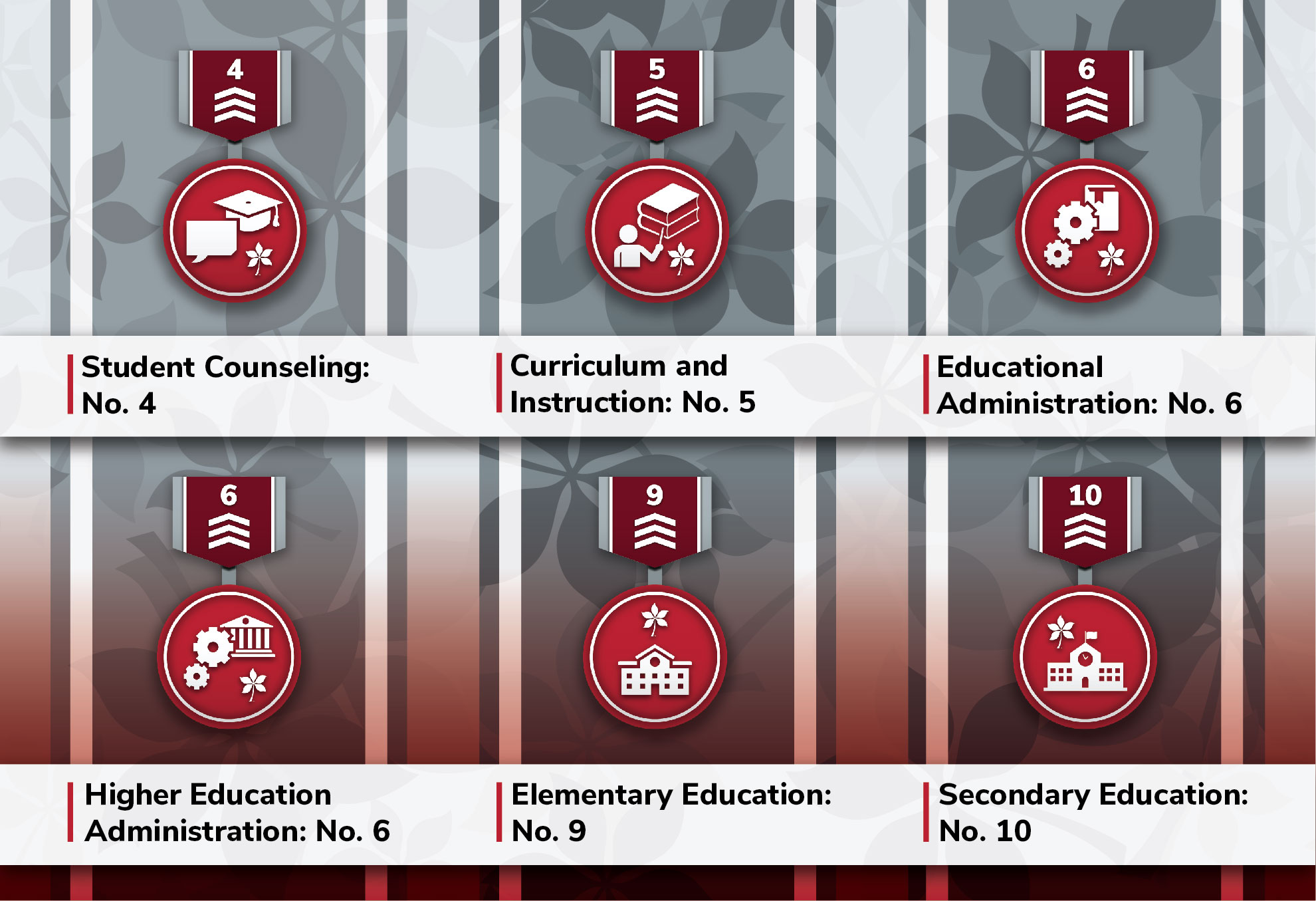 Department of Teaching and Learning
Curriculum and Instruction – No. 5
Elementary Teacher Education – No. 9
Secondary Teacher Education – No. 10
Department of Educational Studies
Student Counseling – No. 4
Educational Administration – No. 6
Higher Education Administration – No. 6
In addition, three more specialty programs in the Department of Educational Studies are highly ranked:
Educational Psychology – No. 12
Special Education – No. 15
Education Policy – No. 24
In its release of the rankings by U.S. News and World Report, overall the college is No. 27, improved from No. 28 last year. This places it in the top 9.9% of the 274 ranked graduate schools of education.
Among public universities, the college ranks No.19 and is No. 6 among graduate education programs at the 14 universities belonging to the Big Ten Academic Alliance.
In Ohio, the college's graduate education programs remain No. 1 in the state among the other university graduate education schools that are also ranked.
College initiatives benefit students, offer exceptional opportunities
"Our emphasis as a college is always on delivering a quality student experience, which includes diverse opportunities to develop as scholars through rigorous coursework, meaningful research and engaged mentorship," Dean Don Pope-Davis said. "Driven by our core values of excellence, justice, diversity, innovation and internationalization, we strive to ensure all of our students are prepared for success in their respective fields."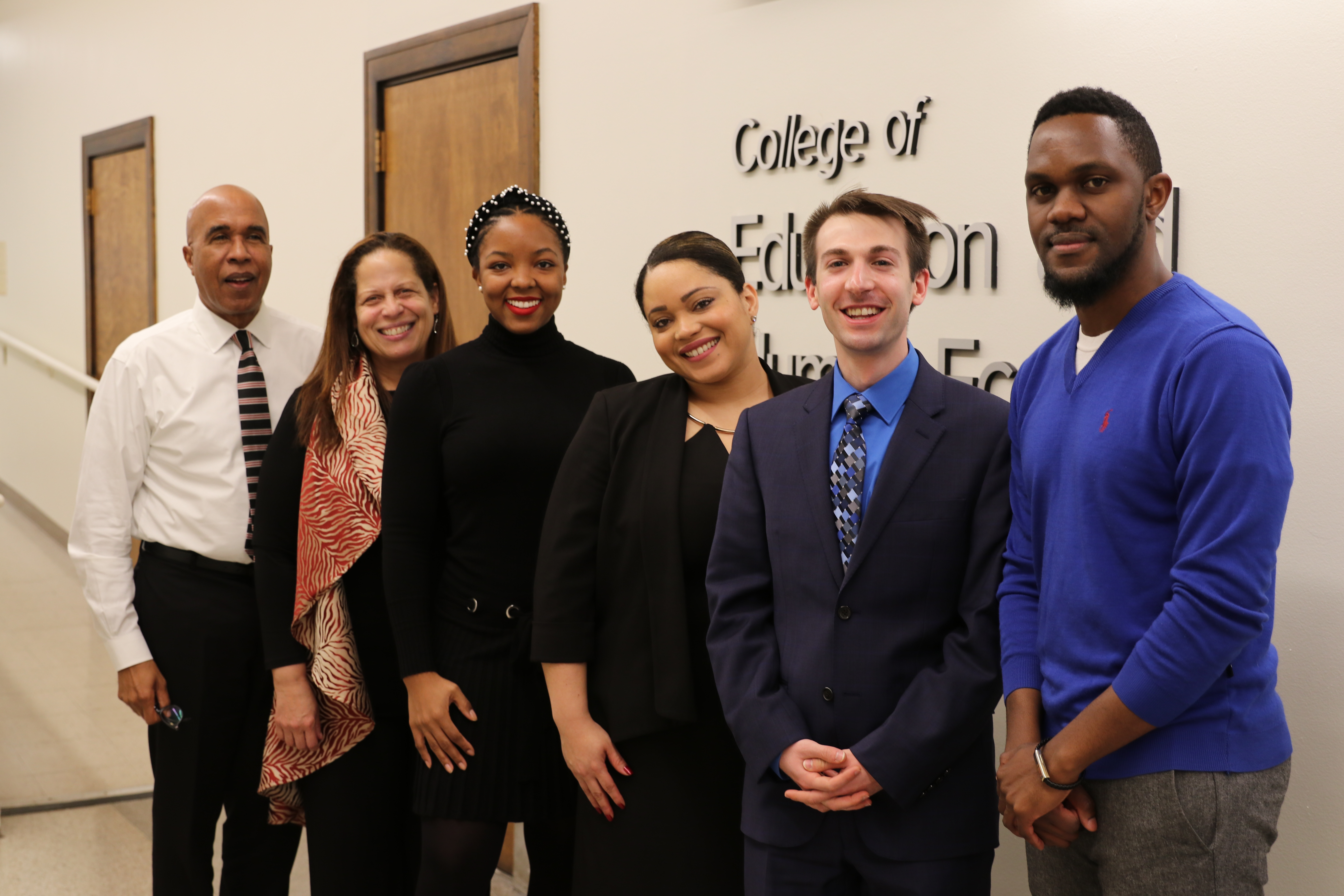 The college's leadership has focused on a variety of initiatives to achieve these core values.
"Diversifying the faculty has attracted high-quality students from many backgrounds," said Senior Associate Dean Noelle Arnold, Office of Equity, Diversity and Global Engagement. "In addition to being intentional as we recruit faculty, we initiated the Dean's Diversity Postdoctoral Fellows Program, which yielded five diverse tenure-track faculty hires as assistant professors last autumn. Students can currently count on 34.7% diversity among our 173 part-time and full-time faculty."*
In research, the college intentionally supports faculty in seeking external grants, which often provide research experience for students. For fiscal year 2021, faculty members received new, external funding totaling $33.3 million over the life of the awards, and they had 133 active, funded research projects totaling $102 million. This achievement is due, in part, to the college consistently offering seed grants, which faculty use to develop pilot data to increase competitiveness for external awards.
"We see a meaningful return on investment for every dollar we dedicate to seed grant opportunities," said Associate Dean Natasha Slesnick, Office of Research, Innovation and Collaboration. "In addition, our office provides grant proposal writing groups and one-on-one support, internal and external grant reviews, pre- and post-award support and consultations and workshops on quantitative and quantitative methodologies, as well as several additional incentive programs."
The college emphasizes opportunities for faculty and students to engage with schools in a variety of ways, from districts hosting practicum experiences for school psychology and counselor education graduate students to interactions with the college's Superintendents in Residence in college classes and in the school districts.
"We regularly collaborate with schools to address critical needs and give our graduate students experience in the field," said Chief of Staff and Strategic Operations Director Nicole Luthy. "For instance, four graduate students from programs across the college are being funded to work with staff at Columbus City Schools. They plan and implement strategies to better support school staff and students with needs that intensified as a result of the COVID-19 pandemic."
"Each graduate associate is assigned to a unit within the district," she said. "They provide consulting services surrounding curricular materials, co-create aligned resources and assist with creating a plan to roll out the strategy. This includes ideas for communicating and publicizing it within the district and externally amongst community members and other stakeholders."
Top-ranked programs refine student expertise in teaching
The college's top-ranked graduate programs in the Department of Teaching and Learning are known for their quality classroom learning, length of student teaching opportunities, depth of research, and more.
 
"In the area of curriculum and instruction, our faculty successfully enhance student's knowledge, skills and dispositions as they relate to quality teaching in the classroom," said Antoinette Miranda, chair of the college's Department of Teaching and Learning and the Casto Endowed Professor of Interprofessional Education. "We understand the importance of teaching strategies that assist P-12 students to learn more successfully."
 
"The rankings in elementary and secondary education reflect the faculty's ongoing attention to developing the essential skills to be an effective educator," she said. "This includes mentoring, guidance and field-based practicums through an intensive program led by an experienced faculty advisor and program manager, dedicated faculty teaching each course and high-quality advising staff."
 
"Master's students in the department spend two semesters (receiving) mentored teaching experience in schools with an emphasis on diversity and inclusion," Miranda said. "They also complete a final project. Our doctoral students engage in cutting-edge research methods and publish with our faculty, many of whom are journal editors."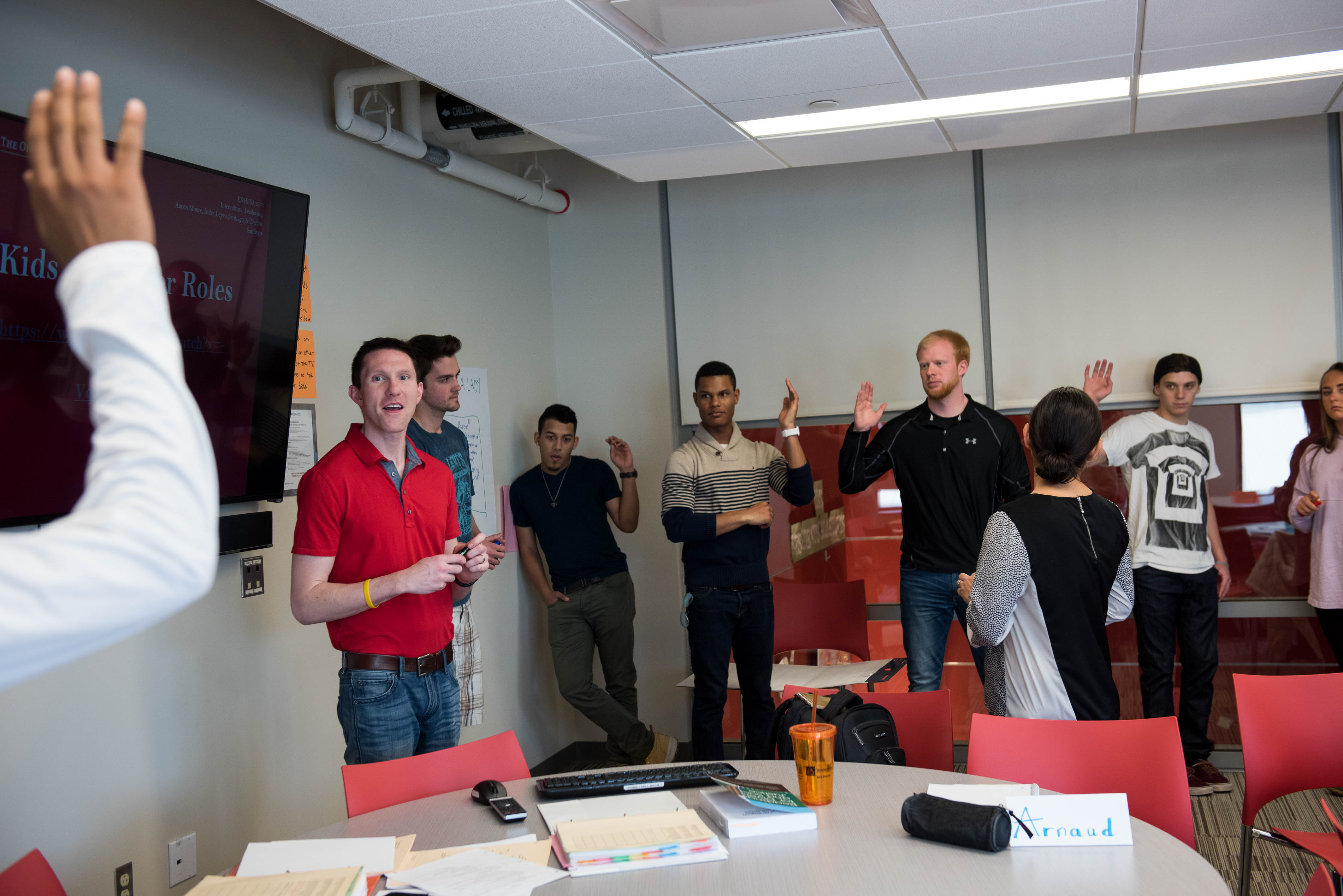 Noor Alghussain, '21 MEd, Integrated Social Studies, conducted his student teaching in Hilliard City School District and now is a social studies teacher at Hilliard Bradley High School.
"Adaptability is a core foundation of what I learned throughout my time in the program," he said. "Although we were in the midst of a pandemic, my experience with the program refined my teaching ability to be as flexible as possible. There has not been a challenge thrown at me during my first year of teaching that I could not handle."
"From lesson plan alterations to e-learning, from forming relationships with colleagues and students to constructively reflecting upon my own teaching, I have felt well prepared to be a highly qualified educator for my sophomores."
Hope Borton, '21 MEd, is a teacher in a blended second- and third-grade classroom at Indianola Informal K-8 in the Columbus City School District. The Elementary Education specialty is called the Primary Education program in the college.
"Upon graduating with my master's from the Primary Education program, I felt empowered by the teaching preparation I received," she said. "Some of the greatest strengths of the program are its heart for building connection and community, the incredible teaching staff and the direct teaching practice exposure that is priceless in preparing students for the role of educator."
"Some of the greatest strengths of the program are its heart for building connection and community, the incredible teaching staff and the direct teaching practice exposure that is priceless in preparing students for the role of educator."
- Hope Borton, '21 MEd
"In the program, I was guided in constructing and evaluating my educational pedagogy through research, instruction, discussion and work in a tightly knit cohort of students with the same drive and passion for working with children as I have," she said.
Standout programs groom graduates for leadership in education
The college's Department of Educational Studies has three programs that rank in the top 10.
"The rankings are really a testament to the stellar reputation of our programs and the stellar faculty who are engaging in cutting-edge research, responding to critical educational issues and mentoring, teaching and supporting excellent students," said Lori Patton Davis, chair of the department and professor of Higher Education and Student Affairs.
"Our commitment to excellence is definitely reflected in the rankings," she said. "The fact that Counselor Education, Higher Education and Student Affairs and Educational Administration are among the top 10 in the rankings speaks to their high quality, particularly in this critical moment when the need for knowledgeable educators and leaders in schools and higher education has increased due to the pandemic."
"Across our ranked programs, our engagement in the community, coupled with scholarship and commitment to students, is unwavering."
The Student Counseling specialty, known as the Counselor Education program in the college, is recognized for its excellence by its move to No. 4 for 2023. The program stands out for its robust internship and practicum experiences that are hosted in K-12 schools throughout the central Ohio area.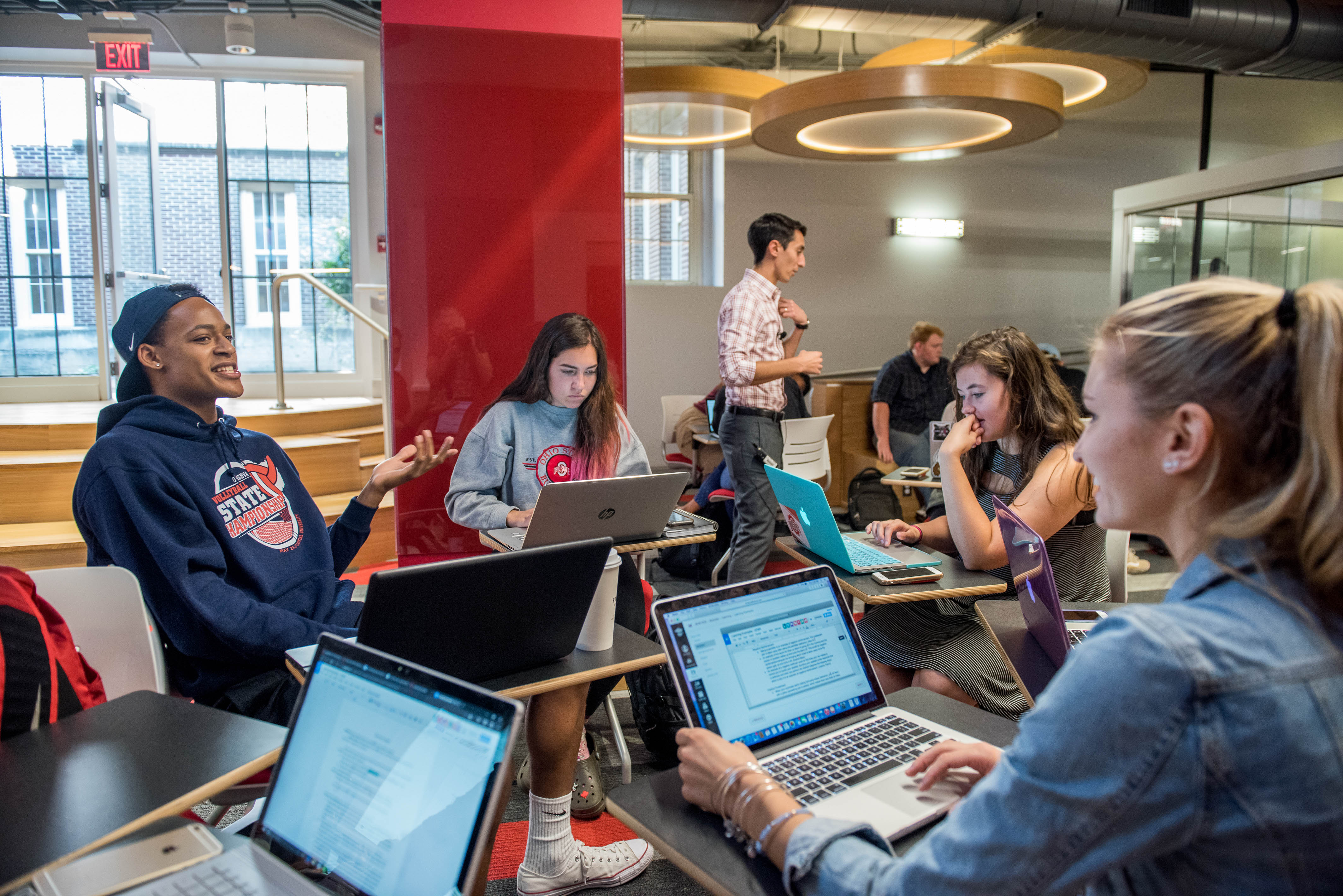 "The practicum is 100 hours of practicing counseling skills," said Professor Colette Dollarhide, chair of the program and past president of Counselors for Social Justice. "The 600-hour internship involves the students in all the professional work of the school counselor, including individual counseling, group counseling, presenting in classes, consulting for teachers and parents and partnering with administration to increase community presence in the school."
"Each semester, we can have as many as 24-30 students in the field," she said. "Our students report a 100% job placement rate, and 100% of our students pass the Ohio licensure exam."
Lauren Mahoney, '21 MA, is one of three counselors at White Oak Middle School in the Northwest Local School District, Cincinnati. Hailing from Chagrin Falls, Ohio, she chose the Counselor Education program after serving an internship with an adjunct faculty member during her undergraduate degree in psychology.
"The program provided me with the training and confidence to pursue a meaningful career in school counseling," she said. "Throughout my degree, I gained an extensive education on the fundamentals of counseling and was fully prepared for my first year in the field, despite changes in my education due to the pandemic."
"My professors are experts in the field and foster an inclusive environment in which they promote data-driven counseling tools and the importance of first-hand counseling experience," she said. "They adapted my practicum and internship placements to fit my needs while I learned remotely, as they were flexible, understanding and encouraged us to share our new knowledge through our field placement courses."
"My professors are experts in the field and foster an inclusive environment in which they promote data-driven counseling tools and the importance of first-hand counseling experience."
- Lauren Mahoney, '21 MA
"These courses allowed those of us within our cohort to problem solve, discuss specific cases and brainstorm ways to create a positive school climate with equitable services for students," she said. "My professors encouraged me to rely on my authentic self as the framework for my counseling career, which empowered me to be my best self while supporting others."
Higher Education Administration, known in the college as the Higher Education and Student Affairs program, has grown steadily in reputation over the years.
"One of the strongest features of the program is the faculty," said Associate Professor Stephen John Quaye, the program chair. "Recently, professors Lori Patton Davis and Anne-Marie Núñez were selected as Fellows by the American Educational Research Association. Patton Davis delivered the annual AERA Brown Lecture, and she was elected as a member of the National Academy of Education, both distinct honors."
Faculty strength is illustrated by service as editors of three of the top journals in the field of higher education scholarship. Quaye is editor of The Journal of Higher Education, and Professor Penny Pasque is editor of The Review of Higher Education. Associate Professor Marc Johnston-Guerrero is associate editor for the Review of Educational Research. These connections keep faculty apprised of trends and emergent issues in the field.
"The program faculty also support students' education through funded research projects," Quaye said. "The combination of these editorships and research enables faculty to provide guidance and mentorship for students, which benefits those seeking jobs in academia upon graduation."
A unique benefit of the Higher Education program is its Student Personnel Assistantship, which matches all qualified graduate students with supervised, funded student affairs positions at Ohio State or other universities. Students gain experience in the field while receiving support for their education.
The Higher Education program is committed to diversity, equity and inclusion. It awarded PhDs or EdDs to a record number of Black graduates last academic year.
In terms of students' doctoral research, faculty provide quality support, especially encouraging them to explore uncharted territory, said alumna Tiffany Steele, who graduated with a PhD from the program in 2020 and is an assistant professor in the Master's in Higher Education Program at Oakland University, Detroit, Michigan. She will transition to a more research-focused role this autumn at the Warner School of Education, University of Rochester.
"Honestly, the Higher Education and Student Affairs program helped me develop an understanding of how I can make my unique impact on the field through scholarship," Steele said. "My advisor and dissertation committee supported my nontraditional methodological approach while continuously connecting me with resources for us to learn alongside one another."
"This experience showed me how to remain student centered in both research and teaching by critically co-constructing knowledge inside and outside the classroom and challenging the status quo of higher education," she said. "I am grateful for the program's renowned faculty who continue to serve as mentors and sponsors along my academic career."
"This experience showed me how to remain student centered in both research and teaching by critically co-constructing knowledge inside and outside the classroom and challenging the status quo of higher education."
- Alumna Tiffany Steele, '20 PhD
In Educational Administration, "every faculty member either has been a school administrator or brings a high level of expertise to the work of schools as organizations," said Karen Beard, associate professor and program chair. "They understand the intricate legal and financial aspects involved in delivering appropriate, equitable, high-level instruction and schooling practices."
"In these matters, we support best practices for not only creating conditions in schools for effective teaching and learning, citizenship and well-being," she said, "but also for administrative skill development based on interdisciplinary research that guides all aspects of leadership."
Beard said the Educational Administration program, like others in the college, uses the cohort model, so that even as faculty lead instructional delivery, students also experience the breadth of shared knowledge and peer experience.
The program also works extensively with local schools, schools across the state and more beyond. "Several of our key assessments and research initiatives share our work or findings with the districts we serve," Beard said. "This allows for a great measure of good will. Area superintendents, some trained here, hire our program completers, which keeps us engaged with what school districts need as we prepare their workforce."
Another program strength is the role of the Superintendent in Residence, which recently expanded from one to three. "We now have one from each focus area: urban, suburban and rural or small town," Beard said. "They teach with us, are invited lecturers and help us keep a finger on the pulse of the field to guide our thinking."
* Reflects January 2022 new faculty hires and full-time and part-time faculty.