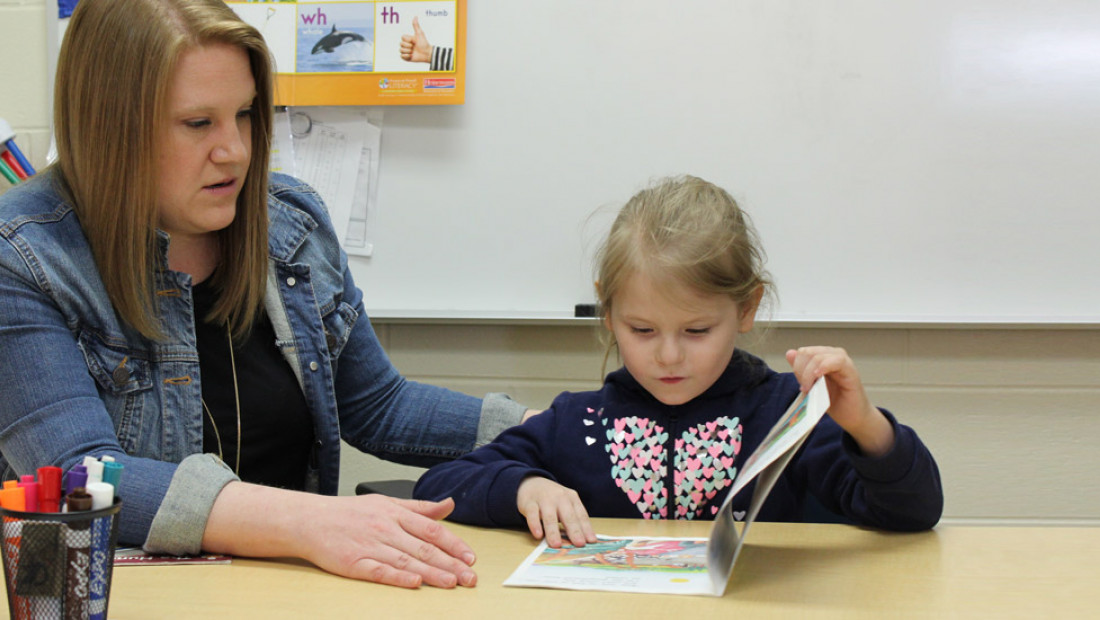 EHE researchers solve seemingly intractable problem
Tucking a lock of hair behind her ear, a first-grader dives into The Gingerbread Man. It's a familiar book, so she reads aloud with gusto, especially each time she repeats the lines, "Run, run, as fast as you can. You can't catch me, I'm the Gingerbread Man."
At her side is Casey Barnes, her special education teacher and enthusiastic supporter at Finland Elementary School, a South-Western City School in Grove City, Ohio.
"Samantha came in (to first grade) reading at an early kindergarten level," said Barnes, who has been teaching for seven years. "Now she's reading at a solid first-grade level. She's a hard worker and is very engaged in what we're doing."
In fact, thanks to Barnes' one-to-one lessons with Samantha, the 7-year-old gained almost two years of reading ability in one school year – an achievement generally unheard of among students assigned to special education for their reading.
In the last three years, Barnes also helped six more children assigned to special education for reading instruction catapult ahead in their reading skills.
Heather Blevins, Samantha's mother, is proud of the progress her daughter has made. "I love her being in this program," she said. "She loves to learn, and she has progressed so much. She was born premature and we always worried that she was behind, but she's come a long way since kindergarten."
Closing the gap by accelerating learning
Samantha and 329 other elementary students in Georgia, Ohio, South Carolina and Tennessee have made significant reading progress, despite their disabilities, because of a new intervention created in the College of Education and Human Ecology.
Emily Rodgers, associate professor of early and middle childhood literacy and a former special education teacher, recognized the challenge. "After decades of reading disabilities research, we still were not much further ahead in knowing how and what to teach young students in special education for reading so they could catch up to their peers," she said.
So she and Jerome D'Agostino, professor of research methods, received a three-year federal grant from the Office of Innovation and Improvement in the U.S. Department of Education in 2015. With Rodgers as the principal investigator, they focused on creating the best approach to help struggling young readers with disabilities.
They call the project HEROES, or Helping Early Readers Obtain Excellence in Special Education.
Partnering with two other universities — Georgia State and Clemson — the researchers trained 117 teachers in 95 schools from 21 districts to deliver one-to-one reading lessons to their students, ages 6-9. To qualify for the study, the students' reading difficulties could not be related to a motor problem or low IQ.
"Using an experimental design, we tested the intensity and content of instruction to identify which features work best in concert to improve students' achievement," D'Agostino said. "By the middle of the second year, the reading growth was between 2.5 and 3 times greater while children engaged in HEROES."
"These students made more progress in 12 weeks than they made in first two years of school," Rodgers added. "The comparison group, where they did business as usual — their trajectory continued at the same low level."
Before HEROES, D'Agostino and Rodgers gained vast experience in helping struggling young readers. From 2010 to 2015, they directed a nationwide scale-up of Ohio State's Reading Recovery, a proven intervention. More than 62,000 struggling first-grade readers in 38 states caught up with their peers in 20 or fewer weeks.
Thanks to the scale-up experience, "we had strong literacy theory and proven evidence that children would progress if they received regular, one-to-one instruction using solid literacy teaching practices," Rodgers said.
"We built on the evidence of what worked with one population to devise a successful solution for a different student population."
HEROES benefits students and teachers
Barnes, Samantha's special education teacher, praises the newfound knowledge and skill gained during her three years with HEROES. A year of Ohio State graduate courses and training "changed the way I teach literacy, and how I provide kids with a strong base for their learning," she said.
"There's also been continuous professional development, so that I constantly grow and learn as an educator how to refine my practices."
Sean Flynn, '15 MA, principal at Finland Elementary, is a fan of the intervention. "There's no doubt that if you give a student one-on-one attention, it's going to show some beneficial effects. Having the right teachers using the right resources can help students grow even faster."
Finland Elementary has two more special education teachers trained in HEROES, in addition to Barnes. Flynn said the intervention has helped some of the more challenged students.
But the difficulty for many schools is the time that one-to-one teaching takes, which is tied to workload and cost. And with the grant ending after three years, schools currently using HEROES may struggle to keep it going.
Flynn's school feels the squeeze. "Our special educators' case loads are typically pretty full; it doesn't allow a lot of time to provide (one-to-one) instruction," he said. "It's hard to do, but we see the benefit, and for certain students, there's no doubt it's the best way to help them grow.
"So if it's what's best for the students, we find a way."
Barnes is passionate about one-to-one instruction and is willing to go the extra mile. "All the training has given me the theory behind making informed teaching decisions. It's helped me carefully analyze children's reading and writing. I've really learned how to accelerate children's growth."
Rodgers emphasized the value of the HEROES teacher training. "During a special education undergraduate program, you become an expert in a lot of things, but you're not necessarily an expert in the pedagogy of reading. This training gives teachers the expertise."
Crossing the real finish line
The real success for these students, Rodgers said, is modifying the reading goal in their individual education plans so they're not instructed outside the classroom.
Once they've caught up with their peers, she explained, they're monitored by a special education teacher, but they now benefit from their classroom reading without special help.
To help more children in more schools, Rodgers and D'Agostino next plan to expand their research. "We have such good results behind us, people in school districts are asking for reports and research so they can talk to district administrators to keep the project going," Rodgers said. "We need to work with more teachers on a deeper use of HEROES to validate how well it works."
That validation will help HEROES gain traction in schools. In the meantime, the results for students like Samantha are proof the program works.
"Even at home, she's wanting to do more reading," Blevins said. "She'll read to me, or her dad, or she'll read to her little cousin. It's helped her a lot. I hope they do keep the program open for kids like Sammy who have trouble reading."