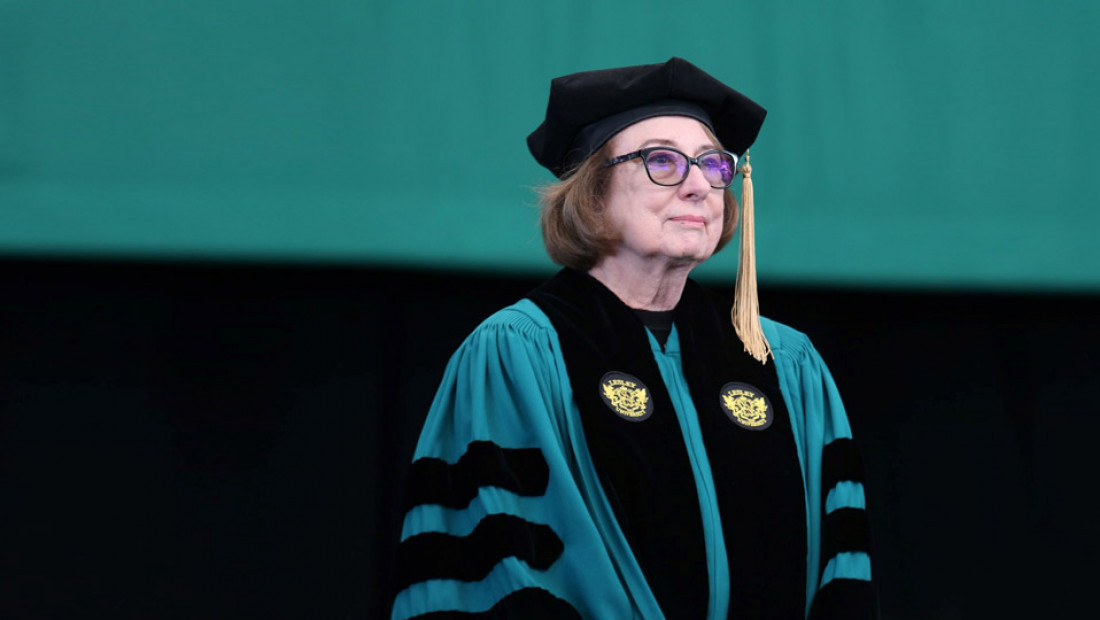 Faculty emerita, alumna models the power of dedication
Award-winning educator and researcher Gay Su Pinnell addressed thousands of students, faculty, families and friends gathered on May 19 in Boston to celebrate Lesley University's Class of 2018 Commencement.
Pinnell, professor emerita and an alumna ('68 MA, '75 PhD) of Ohio State's Department of Teaching and Learning, College of Education and Human Ecology, spoke to the master's and PhD candidates in Lesley's Graduate School of Education and Graduate School of Arts and Social Sciences. Her message focused on the liberation that literacy affords.
"There were reasons that it was illegal to teach slaves to read, and that even today, the poorest children are the most likely to be taught with a mindless, unthinking curriculum, and often don't learn to read very well," Pinnell said.
"It's not the mechanical act of decoding words that's so important, although that's essential," she said. "It's the way the words are strung together to create language that enters the human being's mind from the earliest listening to a book to the extensive reading I know all of you engage in."
Pinnell called on the next generation of Lesley teachers to help children harness the power of language.
"It's the thinking that emerges from deep comprehension of text after text, of talking with others about ideas and being inspired," she said. "As teachers, that's what we do."
At the ceremony, Lesley bestowed an Honorary Doctor of Humane Letters on Pinnell, with introduction by Cynthia Downend, assistant director of Primary Programs with the Literacy Collaborative at Lesley.
"As an international giant in the field of literacy education," Downend said, "your groundbreaking research, writing and teaching have helped millions of children realize the endless possibilities that life holds through the power of knowing how to read and write."
Years of empowering children through literacy
The honor recognized Pinnell's transformative work with Reading Recovery, an early intervention for literacy that she and Professor Charlotte Huck launched at Ohio State in 1984. Pinnell also co-led the creation of Literacy Collaborative, a comprehensive school reform that coaches teachers to improve reading, writing and language skills of elementary and middle-level children.
"Gay Su Pinnell is a leader in bringing Reading Recovery to North America," said Cheryl Achterberg, dean of the College of Education and Human Ecology. "We treasure her trailblazing influence on literacy education, which has helped millions of children over the years close the gap in reading and catch up with their peers."  
The degree adds to Pinnell's many honors, which include her receipt of the 2016 Professional Achievement Award from The Ohio State University, her induction into the Hall of Fame of Ohio State's College of Education and Human Ecology in 2015 and her 1999 induction into the Reading Hall of Fame.
Pinnell is the author of numerous professional publications, many of which she has co-authored with Lesley University Professor Irene Fountas.
Lesley University is one of 19 Reading Recovery University Training Centers that partner with The Ohio State University in preparing coaches and teachers to deliver the Reading Recovery intervention to thousands of first-graders each year. They also partner with Ohio State in offering Literacy Collaborative to local schools.